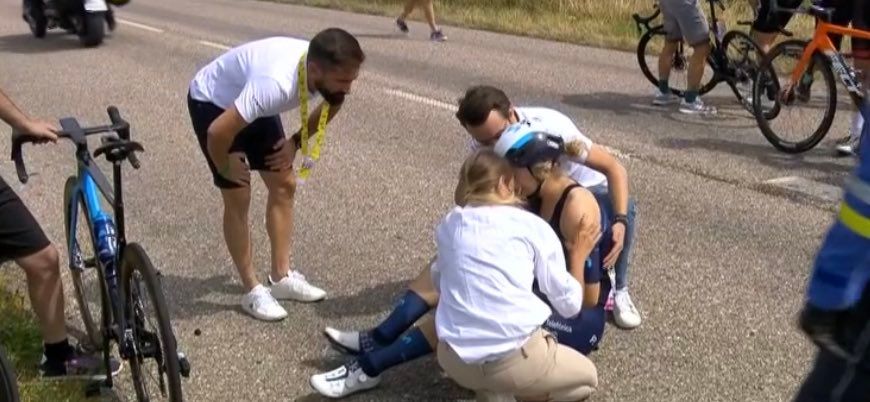 The Tour de France Femmes is also in the fifth stage startled by a nasty crash. This time it was a massive crash in the middle of the peloton. Many women fell to the ground or lay by it, with Emma Norsgaard of Movistar as the main victim.
There was little going on in the longest stage of this Tour (175 kilometers). There was a leading group of four away and the peloton was carefully controlled by two teams. However, on a straight and wide road it went wrong and a crash could not be prevented.
Norsgaard remained seated after the fall and immediately grabbed her left shoulder. Annemiek van Vleuten's Danish superservant shook his head at the doctors. The other riders were able to continue, although one had slightly more start-up problems than the other. This is how we saw a rider from EF stuck with her foot in her wheel.
In a press release, later in the evening, Movistar provided an update on Norsgaard, who was in pain in her neck, head and left shoulder after the crash. The results of the investigations in the hospital were announced later, namely on Friday morning. Norsgaard did not sustain any fractures in the crash.
=https://twitter.com/Eurosport_NL/status/1552645948496650242″ data service="twitter">
=https://twitter.com/Eurosport_NL/status/1552653450789343232″ data-service="twitter">