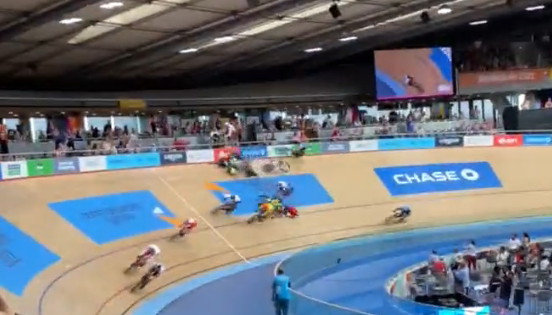 The Commonwealth Games have been rocked by a violent crash during the track cycling. In addition, Matthew Walls, rider of BORA-hansgrohe, very badly to fall. He was torpedoed into the crowd at full speed.
The accident happened on the Scratch section, where Walls played for England with his compatriot Matthew Bostock. Images of the crash show other riders crashing into the ground, after which Walls can no longer avoid them. The Englishman is then thrown into the air and flies over the railing. He hit several supporters.
Walls to hospital for research
British Cycling, the British cycling federation, lets via social media know that both riders on the track are being examined by the medical team. They will then be transferred to the hospital for further examination. At the moment it is not known what injuries they are left with from the drama on the velodrome.
According to reporters from the Daily Mail Several supporters were reportedly injured in the accident. One person had to be evacuated in a wheelchair, bleeding, while a young girl had to be treated on her arm. There she had suffered a wound from the crash.
The organization of the event decided to stop the races on the velodrome as a result of the accident. This is because another violent crash had already taken place on the Keirin. Joe Truman (England) was knocked out for a while. After regaining consciousness, he was given supplemental oxygen and had to get off the track in a wheelchair. He was also found to have broken his collarbone.
Video: Big crash during Commonwealth Games
=https://twitter.com/Freddie12989163/status/1553717260111515648″ data service="twitter">