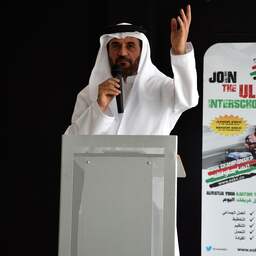 ---
23 jan 2023 om 19:14Update: 9 minuten geleden
According to the international motorsport federation FIA, Formula 1 is not only for sale for a big bag of money. That says chairman Mohammed Ben Sulayem on Monday. Saudi investors recently tried to buy the rights of the royal class of motorsport for 20 billion dollars (18.4 billion euros).
"As guardians of motorsport, the FIA, a non-profit organisation, is cautious about the allegedly inflated $20 billion price tags placed on Formula 1," said Ben Sulayem, who is from the United Arab Emirates. Twitter.
"Any potential buyer is advised to use common sense, to think of the common good of motorsport and to come up with a clear, sustainable plan. Not just a bag of cash."
The American Press Agency Bloomberg reported on Friday that Saudi Arabia's sovereign wealth fund has made a $20 billion bid for the Formula 1 rights, which are currently owned by Liberty Media. The offer was reportedly rejected, but according to Bloomberg an even higher bid will be made from Saudi Arabia later this year.
Liberty Media paid 4 billion for F1
Liberty Media took over Formula 1 in 2017 for an amount of more than 4 billion dollars from the Briton Bernie Ecclestone. The American media company made the top motorsport class more popular all over the world, thanks in part to the Netflix series Drive to Survive.
This year a record number of 23 races will be held in Formula 1. There were initially 24, but the Chinese Grand Prix in Shanghai was canceled due to corona. Last year there were 22 races on the calendar.
The Formula 1 season will start on March 5 with the Bahrain Grand Prix. The race in Zandvoort will be held on August 27. Max Verstappen has been world champion in the premier class of motorsport for the past two years.
---
---
---