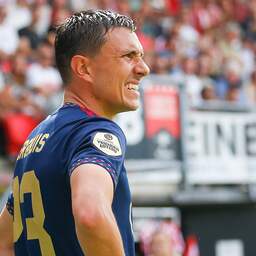 It is uncertain whether Steven Berghuis will be available at Ajax on Sunday for the away match against FC Twente. The attacker trained partly last week. Trainer John Heitinga will decide on Saturday whether to include him in his selection.
The 31-year-old Berghuis was injured almost a month ago during the lost cup final against PSV. He then missed the league matches against AZ, FC Groningen and FC Utrecht.
Ajax hopes to finish second in the Eredivisie on Sunday and thus enforce participation in the third preliminary round of the Champions League. Heitinga's team succeeds in this with a victory over FC Twente and a defeat of competitor PSV at AZ.
At the same time, Ajax has to look back, because AZ, as number four, has only two points less than number three from Amsterdam. The club that comes third qualifies for the play-offs of the Europa League, the number four awaits Conference League football.
FC Twente already knows that it will play the play-offs as number five. "But it will be a difficult afternoon for us," Heitinga said in front of the camera on Friday ESPN. "When Ajax comes to visit, every home team wants to win. But if we get an opportunity like this, we have to grab it with both hands."
The match between FC Twente and Ajax starts on Sunday, just like the eight other Eredivisie matches, at 2.30 p.m.