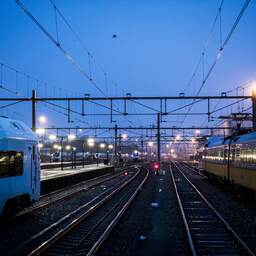 ---
May 26, 2023 at 11:53 PMUpdate: 23 minutes ago
Several arrests were made in a fight between different groups of men in the station area in Leeuwarden on Friday evening. Train traffic was also temporarily halted, because some of the men came onto the track.
According to Omrop Friesland it concerned football supporters of SC Cambuur and sc Heerenveen. A total of thirty to forty men are said to have been involved in the fight. A spokesman for the police cannot confirm this for privacy reasons. She does say that images of the incident are circulating on social media.
A video can be seen there posted by someone who says it is about a brawl between supporters of the clubs. You can see how men fight with each other. Patio chairs fly through the air and you can hear glass clinking.
The conflict started around 9 p.m. Train traffic had to be stopped moments later because some of the men also went onto the track. The trains are now running again and it is quiet again in the Frisian capital.
The police cannot say how many arrests have been made. More will probably be known about this on Saturday. The police turned out in large numbers. Police dogs would have been used to break up the groups.
Unfortunately, this content cannot be displayedWe do not have permission for the necessary cookies. Accept the cookies to view this content.