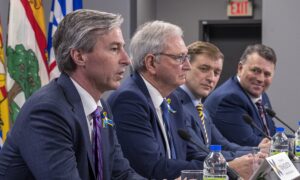 The premiers of Atlantic provinces are asking the federal government to delay the implementation of its new regulations on fuel, saying it will drive inflation and that their jurisdictions are disproportionately affected.
"As the July 1 implementation date of the federal Clean Fuel Regulations approaches, Atlantic Premiers remain concerned about the detrimental and disproportionate impact they will have on Atlantic Canadians," wrote the premiers in a joint statement issued on May 25.
"These increases will further add to inflationary pressures that will increase the costs of other goods imported to the region," they added, in reference to the combined rise of the Carbon Tax.
The Clean Fuel Regulations (CFR) seek to limit the carbon intensity in gasoline and diesel, as part of the federal government's push to reach net-zero emissions by 2050.
The Parliamentary Budget Officer (PBO) noted in a recent analysis that Environment and Climate Change Canada (ECCC) estimates the new regulations will increase the price of gasoline by up to 17 cents and diesel 16 cents by 2030. They will also reduce the gross domestic product by 0.3 percent or $9 billion.
The PBO also says it will have a "broadly regressive" effect by impacting households with lower income.
The watchdog's analysis says the provinces that will be the most affected by the household cost of the CFR are Saskatchewan, Alberta, and Newfoundland and Labrador. Other Atlantic provinces are also more affected than Quebec, Ontario, and British Columbia.
PBO Yves Giroux says this "reflects the higher fossil fuel intensity of their economies."
Environment Minister Steven Guilbeault has harshly criticized the PBO analysis, calling it "very partial," "unbalanced," and "incomplete."
"While we recognize the work of the PBO, their analysis takes the same unbalanced modeling approach as they did with the analysis of the price on pollution," Guilbeault said in a statement on May 19.
The statement from the premiers came the day after holding a virtual meeting with Guilbeault.
They said they were "disappointed" for the lack of clarity provided on the impact the CFR will have on fuel prices and fuel supplies, "despite acknowledging there will be a disproportionate impact to Atlantic Canadians."
Guilbeault reacted to the premiers in a statement emailed to The Epoch Times. He said the increased profits made by refineries in the region means they don't have to offload the cost of the new regulations on the consumers.
"Refineries in Atlantic Canada are reaping whopping new profits and have the ability to be part of the solution," he says.
"Under the Clean Fuel Regulations, oil companies and refiners have the time and the ability to invest to update their operations to meet the very small, incremental costs that the Clean Fuel Regulations require. There is simply no reason that they need to push costs onto consumers on July 1."
Peter Wilson contributed to this report.