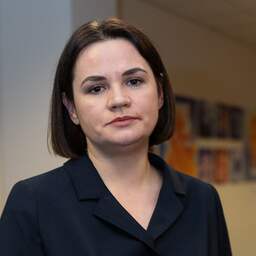 Belarusian opposition leader Svetlana Tikhanovskaya has been sentenced to 15 years in prison. She has been found guilty of high treason surrounding the major protests of 2020 and founding and leading an extremist organization.
Tikhanovskaya has not lived in Belarus for several years and was not present at the court's ruling.
She ran against Alexander Lukashenko in the 2020 presidential election. Her husband Sergei Tikhanovsky was actually supposed to participate in that election, but he was arrested before the polls and sentenced to eighteen years in prison. Tikhanovskaya was thus elected in his place and claimed victory afterwards.
But Lukashenko also claimed to have won and stayed on as president. In the months that followed, Belarusians took to the streets en masse to demonstrate against electoral fraud and Lukashenko. He intervened hard and arrested many activists. Tikhanovskaya had to flee the country and then lived in Poland and Lithuania.
Since then, many opposition members have been given long prison sentences. For example, last week Nobel Prize winner Ales Bialiatski was sentenced to ten years in prison. Tikhanovskaya was ashamed of that statement and called it a mock trial.