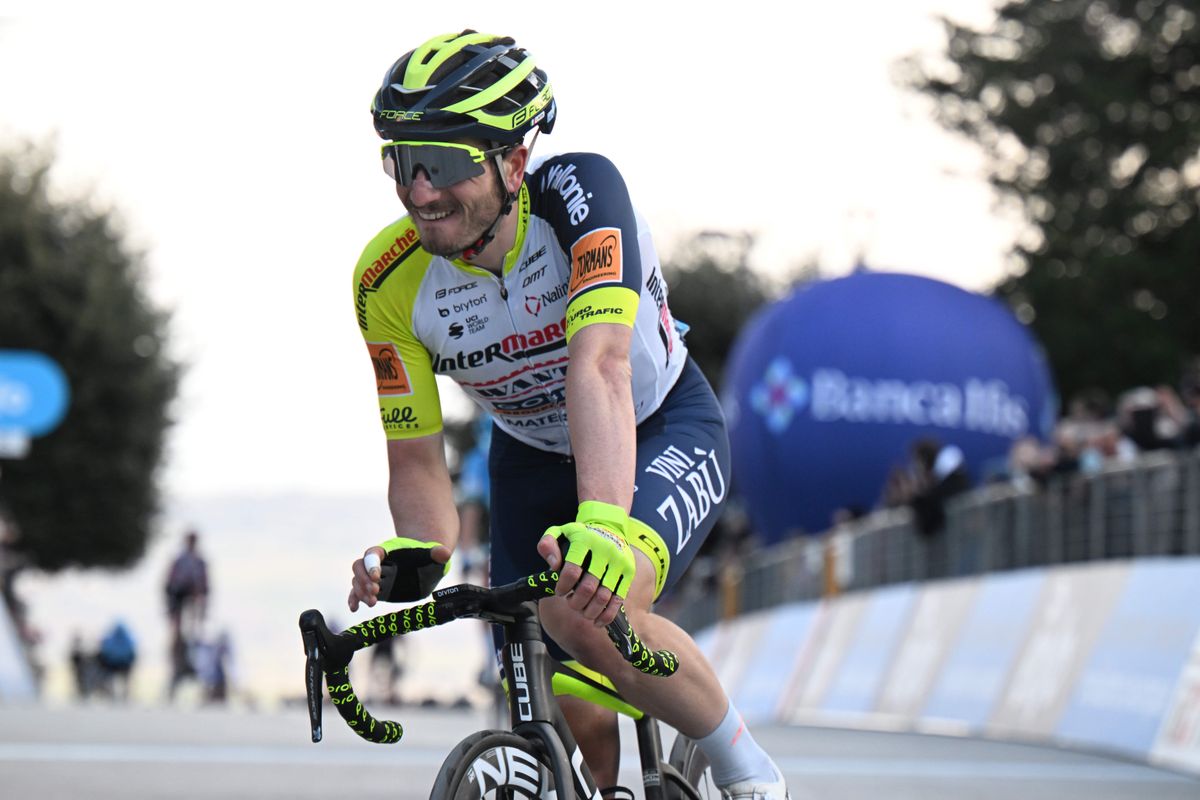 Kamiel Bonneu has taken the victory in the third stage of the Sazka Tour. The Belgian from Sport Vlaanderen-Baloise was the strongest of the favorites in a tough mountain stage – with an uphill finish. Lorenzo Rota retained the leader's jersey with a second on Anthon Charmig.
We had to wait a while, but after a long fight a leading group was formed. Twelve men went on an adventure together and received just under three minutes as a gift. Present were, among others, the Dutch Mathijs Paasschens (Bingoal Pauwels Sauces WB), Stijn Appel (À Bloc CT) and Lars Boven (Team Jumbo-Visma Development Team).
Intermarché-Wanty-Gobert, who led the general classification with Lorenzo Rota, had no one in the front. So the Belgian formation had to drive hard to close the gap. Fortunately, the men of Bardiani-CSF-Faizanè lend a hand and managed to limit the difference to about three minutes.
Leading group on the first passage caught up with a heavy climb
That difference was maintained towards the penultimate climb, the Pristresek pod Horni nadzri. The average gradient of this climb was distorted by 6.2 percent. In the second part, the ten-kilometer climb had two kilometers that went at more than ten percent on average. The climb had to be done a total of two times. At the last passage, after a short plateau, the riders even had to climb an extra two kilometers to the finish.
The climb was extra difficult because of the strong wind. The time difference quickly decreased and almost the entire leading group was caught up halfway the climb. Only Boven resisted for a while. However, he couldn't avoid being overtaken before the top by the group with leader Rota. In that group, Team BikExchange-Jayco accelerated. At the top, Damien Howson, Kevin Colleoni and Tsgabu Girmay of the team split the mountain points.
Peloton chasing Thalmann
The climb was followed by a quick descent, after which the riders returned to the climb for the second and final pass. Just before the foot, the Swiss Roland Thalmann (Team Vorarlberg) attacked. He started the final climb first and ran out to a 25 second lead over the thinned peloton.
Thalmann was not immediately a danger to Rota's leader's jersey with a deficit of more than a minute. The Swiss climber – recently third in the Tour Alsace – defended himself bravely and even ran out to thirty seconds. They had to wait for an answer from the chasing group. That happened, the pace went up, with the result that more and more riders had to unload.
Thalmann's lead also declined. With seven kilometers to go, he had twenty seconds left on the group Rota. It then went from twenty seconds to fifteen seconds, after which Thalmann saw his brave attack attempt stranded with five kilometers to go.
The pace in the group of favorites was high, so high that no one thought of attacking. With less than three kilometers to go, there was still a fairly large group (about 10 riders). The riders kept their powder dry for the last kilometer. It was a favorable scenario for leader Rota, as the Italian is explosive. However, he fell short in the final phase, it was surprisingly Bonneu van Sport Vlaanderen-Baloise who was the strongest in the sprint. Rota finished sixth and retained the leader's jersey by a second over Charmig. Johannes Staune Mittet was appointed kn on behalf of the Jumbo-Visma Development Team
Result stage 3 Sazka Tour 2022
Results powered by FirstCycling.com