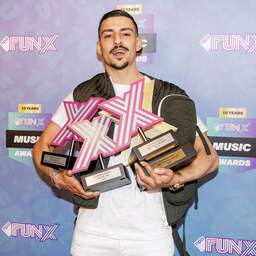 Boef became the big winner of the Funx Music Awards on Thursday evening. At the ceremony in AFAS Live in Amsterdam, the rapper received four prizes.
Boef won the award for best male artist, best social media, best mc and received the award for best collaboration for the song along with Cristian D and $hirak Problem.
Broederliefde also won several FunX Music Awards. The hip-hop collective was crowned best group and won the figurines for best song with Stunting. Their plate Beach On The Maas was awarded best album.
Yade Lauren, last year's big winner with three prizes, went home with one statuette on Thursday evening. The singer received the most votes from the listeners of radio station NPO FunX in the category best female artist. Other winners included KATNUF, Zoë Tauran and Trobi.
The FunX Music Awards were presented for the tenth time on Thursday. In addition to big winner Boef, Ronnie Flex, Bokoesam, Zoë Tauran and KATNUF, among others, also performed.