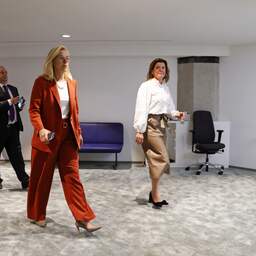 Chamber chairman Vera Bergkamp deprived FVD leader Thierry Baudet of the floor on Wednesday evening during the General Political Reflections. Just before that, Baudet had insulted Minister Sigrid Kaag (Finance). The entire cabinet then decided to leave the room during the most important debate of the year.
The debate was adjourned shortly afterwards by the President of the House. Baudet made all kinds of innuendo about Kaag and her studies at the University of Oxford.
It is unique that the cabinet leaves during a speech by a party chairman about the cabinet plans for the coming year.
It is more common for Baudet, or other FVD MPs, to provoke such that the President of the House has to intervene. A majority of the House of Representatives supported Bergkamp's intervention, although the President of the House ultimately makes the decision himself.
Rutte: 'We have crossed a border'
Prime Minister Mark Rutte said after a brief resumption of the debate that "we have crossed a border". He called Baudet's statements "unacceptable". Other cabinet members did not return to the room.
Rutte wanted to stay put, on the condition that Baudet would moderate his tone. Bergkamp then asked Baudet to take back his words towards Kaag. "No allegations against the finance minister," she said. When the FVD member refused, she denied him the floor. That is a rarity in Dutch parliamentary history.
"There is a drop for everything and this is the drop," Bergkamp said. "This is about a conspiracy about the finance minister and where she studied."
Right-wing opposition critical of running away from cabinet, others for intervention
Some right-wing opposition parties criticized the departure of the cabinet. "The government should be here," said PVV leader Geert Wilders. "It cannot be that whether the Prime Minister stays here or not depends on what is said here."
SP member Lilian Marijnissen also "greatly objected" to the idea that the cabinet would end the debate.
GroenLinks leader Jesse Klaver is "fully behind" Bergkamp's intervention. "We have just agreed to intervene more actively when things go over the line."
D66 party chairman Jan Paternotte pointed out that his party colleague Sjoerd Sjoerdsma was still in court on Friday because of a case about death threats. Sjoerdsma received this a few days after an FVD MP had threatened him during a debate. "Words matter," said Paternotte. "I support the President of the House so that the dignity of Parliament remains intact."