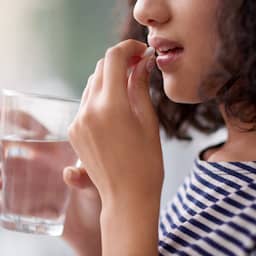 Now that the r is back in the month, many people turn to pills with vitamins, minerals and other substances that are said to be good for health. But are those vitamin pills necessary? And can you also take too much of it?
By Naomi Defoer
"Extra vitamins and minerals provide most people with no additional health benefits if they eat a varied diet," says Patricia Schutte, spokesperson at the Nutrition Center. "In general, there is therefore no good reason to take them, but there are a number of exceptions."
"For example, it may be the case that someone gets too few vitamins through food. For children up to three years of age, people with dark skin, women over the age of fifty and men over the age of seventy, it is recommended to take vitamin D. Folic acid can be good for women who are pregnant and women who want to get pregnant, and for vegans it can be good to take vitamin B12."
Vitamins and minerals are indispensable for our daily functioning. "Some are involved in energy management," says Renger Witkamp, ​​biologist, pharmacologist and professor of Nutritional Biology at Wageningen University & Research. "Other in the defense, growth and maintenance of bones and muscles."
Swallowing too much can be harmful
Although it is not a vitamin or mineral, it can be wise to take omega 3 (fish oil) if you do not eat fish. "Research shows that this provides a boost for the heart and blood vessels and that it helps to keep your immune system in balance."
Taking too many certain vitamins for a long time can be harmful. "If you take more than 2 grams of vitamin C daily, you can suffer from intestinal complaints," Schutte warns. "With an excess of vitamin A – then it is more than 3,000 micrograms – poisoning can occur, which can cause headaches, nausea, dizziness, fatigue and abnormalities of the eyes, skin and bones."
---
The human body is built to function properly without vitamin pills.
Renger Witkamp, ​​biologist, pharmacologist and professor
---
"In pregnant women, an excess of this vitamin increases the risk of having a baby with a birth defect. Taking too much (100 micrograms) of vitamin D for a long time can lead to kidney stones and calcium deposits around organs and tissues. Too much vitamin B6 (more than 1, 5 milligrams a day) can cause severe nerve pain in the hands and feet. Taking too many multivitamins for a long time can also be harmful. Multivitamins are not a substitute for fruit and vegetables."
Nutrition scientist Witkamp agrees. He does say that multivitamins are recommended if you participate in endurance sports such as running, cycling or skating. "Endurance athletes use a lot of energy and often get too little. But the human body is built to function properly without vitamin pills. For example, most people make enough vitamin D themselves under the influence of sunlight."
More vitamins in food than in pills
Contrary to what you sometimes hear, fruits and vegetables still provide as many vitamins as they used to. "For example, with one orange you already have your portion of vitamin C for that day," says Witkamp. "When you combine that one orange with whole-grain products, dairy and occasionally meat or good alternatives, you'll be fine."
It is good to know that food contains more vitamins than the pill variants. "Take fiber, which is important for your intestinal flora and bowel movements, and you miss them if you only take a multivitamin. If you cannot meet the recommended daily amount every day, this does not immediately cause a vitamin deficiency. As long as you eat a varied diet. "
If you do want to add vitamins or supplements to your diet, Schutte and Witkamp recommend that you buy them from a drugstore or other known point of sale, to ensure that they do not contain any prohibited or dangerous substances.
---