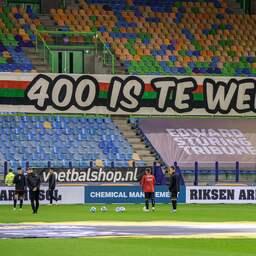 ---
06 mrt 2023 om 12:52Update: 3 minuten geleden
The Gelderland derby between NEC and Vitesse will be played in Nijmegen with away supporters in a month. After the riots at the mutual meeting in October 2021, fans of the visiting club were banned from one derby.
In January, NEC was allowed to take supporters to Arnhem again for the mutual meeting. Fans of the team from Nijmegen then decided to boycott the match, because NEC was not allowed to take the maximum number of fans to the GelreDome.
The restrictive measures were taken because of the derby in October 2021 that got completely out of hand. Supporters of NEC, which had lost 0-1 to Vitesse in De Goffert, confronted the police outside the stadium. In the run-up to that match, there were already several incidents between the two groups of supporters.
It was also the match in which the NEC away section partly collapsed, although that was completely separate from the disturbances. The construction collapsed under the weight of jumping Vitesse supporters, who celebrated the victory.
'Have confidence that clubs and fans have learned'
The last two derbies (without away supporters) went without incident. The so-called quadrangle – mayor, police, Public Prosecution Service (OM) and NEC – therefore dares to have Vitesse take five hundred supporters next month.
"We made a conscious choice for the maximum capacity in the visitors' section", say general manager Wilco van Schaik of NEC. "We are confident that the clubs and supporters have learned from the previous edition in Nijmegen."
The Gelderland derby between NEC and Vitesse will be played on April 16. If there are any disturbances in the run-up to the match, the decision to admit away supporters can be reviewed.