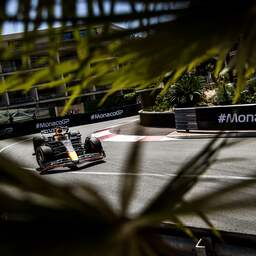 After two free practice sessions for the Monaco Grand Prix, two conclusions could be drawn on Friday: Red Bull is not as slow as it predicted, but Max Verstappen's dominant team cannot afford any mistakes in the Principality.
"I still need a buffer", Verstappen was clear on Friday after the second free practice session. Although the Dutchman narrowly clocked the fastest time in that second session, he feels the hot breath of Charles Leclerc, Carlos Sainz, Fernando Alonso and normally also his own teammate Sergio Pérez.
Red Bull collectively tempered expectations in the run-up to Monaco. On the winding track through the Mediterranean tax haven, it's not about DRS zones, top speeds and other aspects in which this year's dominant car excels.
Remarkably enough, it was Ferrari that had the speed on the straights on Friday, although the difference was no more than a few kilometers per hour.
Both Sainz and Leclerc went faster up the road towards the casino and through the tunnel. Verstappen especially noticed that the Scuderia goes over the bumps and curbs more easily. "We still fall short of that," he said. And bumps abound in Monaco, despite a fresh asphalt layer recently applied.
Top ten second workout
1. Max Verstappen (Red Bull): 1.12.462
2. Charles Leclerc (Ferrari): +0.065
3. Carlos Sainz (Ferrari): +0.107
4. Fernando Alonso (Aston Martin): +0.220
5. Lando Norris (McLaren): +0.444
6. Lewis Hamilton (Mercedes): +0.498
7. Sergio Perez (Red Bull): +0.529
8. Valtteri Bottas (Alfa Romeo): +0.588
9. Pierre Gasly (Alpine): +0.627
10. Esteban Ocon (Alpine): +0.700
The Red Bull does not like bumps very much
In the first practice it was especially noticeable that the Red Bull bumps sideways in the chicane after the tunnel when hitting the large yellow kerbstone, and Verstappen therefore had to wait before he could accelerate again. Both the Ferrari and the Aston Martin went over that more smoothly.
These are small moments, but the differences were marginal in Monaco on Friday. With the fastest sector times tied together, Sainz was even the fastest, ahead of Alonso and Verstappen. But the Spaniard drove those fastest sectors in several laps and later even crashed into the wall in a way that Leclerc and Verstappen already did. It looked like a preview of Saturday's hectic qualifying session.
Unfortunately, this content cannot be displayedWe do not have permission for the necessary cookies. Accept the cookies to view this content.
Optimistic Alonso under the radar
Alonso remained somewhat under the radar with his Aston Martin, but the experienced Spaniard knows better than anyone that Monaco is all about Saturday, not Friday.
"It was especially important to find my rhythm. I liked the car to drive, that helps a lot here. So I'm looking forward to qualifying", was his verdict after two practice sessions. In 2007, the now 41-year-old veteran took pole for the last time in Monaco.
Leclerc succeeded in this in the past two editions. On Friday, the home favorite seemed to take it a bit easy. The Monegask came close to Verstappen's fastest time with his Ferrari, but throughout the day it was mainly Sainz who stood out. The home crowd is still waiting for a typical Leclerc lap, full of risk between the guardrails.
"Charles is a raw talent who takes a lot of risks and can therefore come close to that 100 per cent in Monaco," Ferrari's Lauren Mekiés praised his driver earlier in the day. Apparently Leclerc wants to build up to qualifying on Saturday afternoon after his recent crashes in Miami and Baku.
Pérez in the fog with the adjustment
The main absentee at the top of the times tables was Sergio Pérez. There are no worries yet with last year's winner, but Friday did not go as planned for the Mexican. "The first practice went well, the second a little less. We made some adjustments in between, but we'll have to talk about that for tomorrow's qualifying," said Pérez.
Where Verstappen managed to make the car better with his engineer Gianpiero Lambiase, it went wrong with Pérez. In a normal weekend that would not immediately be problematic for a Red Bull driver, but Monaco is anything but normal. "We are good at fast and medium corners, which you hardly get here," Christian Horner summarized the situation earlier in the day.
Simply put, the Red Bull cannot stretch its legs in Monaco. In addition, Verstappen and Pérez will not benefit from their superior race pace if they are stuck behind another car on Sunday. Qualifying on Saturday will therefore be crucial. And the competition is very close to Red Bull's heels.
Timetable GP Monaco
Saturday 12.30-1.30 pm: Third free practice

Saturday 4-5 pm: Qualification

Sunday 3 p.m.: Race
(TagsToTranslate)Formula 1

Source link