After eleven years in the shadow of Bayern Munich, Borussia Dortmund can finally become champions of Germany on Saturday. The craving at 'BVB' is huge. The road to the possible title reads like a fairy tale, with Sébastien Haller, who has recovered from cancer, playing a prominent role.
Dutch Dortmund supporter Sjoerd Oude Weernink still gets goosebumps on his arms when he thinks back to January 22. It's a golden date in Dortmund's season. It is the day Haller makes his comeback, after six months of operations and chemotherapy to combat testicular cancer.
In the home match against Augsburg, the former striker of Ajax comes on in the 62nd minute. Oude Weernink, season ticket holder from Borne and chairman of the Dutch Dortmund fan club, cannot believe his eyes when he looks around. That while he has been standing on the 'Gelbe Wand' for some years, the imposing standing grandstand behind the goal.
"The stadium exploded. Everyone stood up and clapped for their first minutes. Emotionally it was a unique moment. And also a moment that suits Dortmund. A club of ups and downs, of one team, one task."
After ten titles in a row for Bayern Munich, it is Haller who finally seems to give Dortmund the championship. After his return, the striker has already scored nine league goals, including five in the past three matches. German media are talking about the 'Wonder of Haller'. A win on the last day against Mainz, which has already been played out, is enough for 'BVB'.
Unfortunately, this content cannot be displayedWe do not have permission for the necessary cookies. Accept the cookies to view this content.
Dortmund is still sixth halfway through
Haller's comeback is a fairy tale in a yellow and black fairy tale book. The chapters are numerous. What about club boy Marco Reus, who after twelve years, 386 duels and many injuries can finally become champion with his club.
Or the club's scouting apparatus, which once again successfully capitalized on the departure of a top talent to a top European club – this time Erling Haaland to Manchester City. Or about trainer Edin Terzic, a 40-year-old Bosnian Croat who played as a footballer on the margins of German professional football and is immediately successful with his dream club in his first year as a full-fledged coach.
The likely title had to come a long way for Dortmund. Going into the World Cup break in November, it looked as if Dortmund would be going through another season like all the other years since the last title in 2012. The club was sixth, nine points behind leaders Bayern Munich. The prevailing sentiment: again lots of ambition, yearning and top talent, again no prize.
Dortmund hit the same stone again, Erik Meijer saw. The former striker analyzes the matches in the Bundesliga every week for the German channel Sky. "All those talents also form an Achilles' heel. It is sometimes wild, rash and they sometimes go crazy. But then the truth was told by experienced players such as Mats Hummels, Reus and Niklas Süle. And several players stood up."
Bundesliga last round
Program:
3.30pm: Borussia Dortmund-Mainz

3.30 pm: FC Köln-Bayern Munich
Position:
Borussia Dortmund 33-70 (+39)

Bayern Munich 33-68 (+53)
'Image around Malen completely changed'
One of the eye-catchers of the unlikely advance after the winter break is Orange international Donyell Malen. The attacker was taken over from PSV two years ago for 30 million euros, but was unable to live up to the high expectations in his first year in Dortmund.
In the first half of the season it seemed that it would not work again with Malen. He also started the second half of the season as a bench seat. In recent months, Dortmund fans have seen a completely different Malen. He dribbles past defenders, provides assists and scores. With nine goals, he is currently joint club top scorer in the Bundesliga. He scored all his goals after the winter break.
Football analyst Meijer sees that Malen excels thanks to Haller. "Haller is a big and strong guy, a point of contact in the striker. Malen can therefore make his actions, take on a one-two. Then he comes into his power as a square football player. Fellow players now also play him more often. In Germany the image is completely changed around him."
Meijer also points to nineteen-year-old Jude Bellingham, the English super talent in midfield. "I came across such a figure once as a player at Liverpool. Then there was a 19-year-old named Steven Gerrard. Bellingham is just such a brilliant footballer." According to the latest rumors, Bellingham will not be retained for Dortmund. He would go to Real Madrid next summer.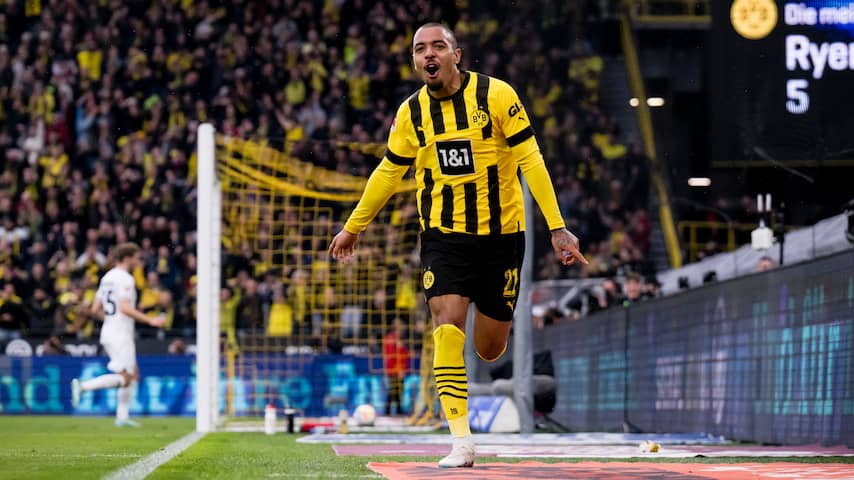 'Bayern made huge mistakes'
Dortmund also owes the likely title to the failure of Bayern Munich, says Meijer. The much wealthier Bayern fell from the throne in an extremely noisy season. The club fired Crown Prince Julian Nagelsmann in March because of the disappointing results, while the record champion was still playing for the prizes on all fronts.
His successor Thomas Tuchel immediately won the squatter against Dortmund 4-2 and guided Bayern to the lead, but then things went wrong. Hassle in the staff and the group of players came to the surface. Saturday's 1-3 home defeat against RB Leipzig seems to have been the fatal blow in the title fight.
Meijer: "I did not understand the change of coach at all. Bayern picked up Nagelsmann for 25 million euros from RB Leipzig, gave him a five-year contract with all the bells and whistles and he was allowed to do everything to his own will. After a year and a half, the club concluded that this it was. Directors Oliver Kahn and Hasan Salihamidzic made huge mistakes."
The loss of Robert Lewandowski was also felt. This time Bayern did not incur the wrath of the Bundesliga by snatching the best players from the competition, as happened for years with the likes of Hummels, Lewandowski and Mario Götze (all from Dortmund).
'All weekend will be a party'
Oude Weernink saw Bayern's defeat against Leipzig with great pleasure. His phone exploded on Saturday. Group apps with Dortmund fans went on a rampage, especially after Dortmund made no mistake at Augsburg (0-3) a day later and took over the lead from Bayern.
Numerous requests for tickets for the all-deciding home game against 1. FSV Mainz 05 came in. The chairman of the Dutch supporters association all dismissed those from outsiders. Because: "We are not a ticket shop, but a fan club."
Oude Weernink drives early on Saturday morning to the Signal Iduna Park, an hour and a half's drive from his hometown Borne. First, he goes out for a beer with friends in town. And then on to the stadium, which opens 2.5 hours before kick-off. Then he greets supporters and looks forward nervously to 3.30 pm.
It will be a madhouse in the stadium, predicts Oude Weernink. And certainly at the ceremony a day later in the city, if it comes to that. "The whole weekend will be a party. And that will be much more extreme than in the Netherlands with a Feyenoord or Ajax title. The craving is much greater with us. We have been waiting for it for years." Police expect at least 200,000 fans to attend the ceremony.
There will be a sigh of relief through Germany when Dortmund becomes champion, says analyst Meijer. Especially for the occasion, he moves with Sky from the studio in Munich to the field in Dortmund. "It's good to show the world that the Bundesliga is not just Bayern Munich." And that mainly thanks to the 'Miracle of Haller'.
Sjoerd Oude Weernink's love for Dortmund
Sjoerd Oude Weernink (28) always watched the German sports program with his father Sports show and thus became a fan of Borussia Dortmund. In 2016 he visited the club for the first time and once in the imposing Signal Iduna Park (capacity: 81,365) he fell in love with 'BVB'.
Oude Weernink is a season ticket holder at the club and chairman of the Dutch supporters association recognized by Dortmund, which has more than a hundred members. Every two weeks he travels from Borne in Overijssel by car for an hour and a half to Dortmund's home games.
"Dortmund is a passion that you share with people, all in the same colors and for the same club. That is reflected in the matches. Young and old are on the 'Gelbe Wand'. They sing along every song at the top of their lungs, ninety minutes long. You don't see that anywhere in the Netherlands."
Oude Weernink, who is also a season ticket holder at Heracles Almelo, is in contact with fan clubs all over the world. "It's one big family. Every game gives me so much satisfaction. I always give my friends and family the chance to come along. Then they understand why I go there every home game. The experience is indescribable."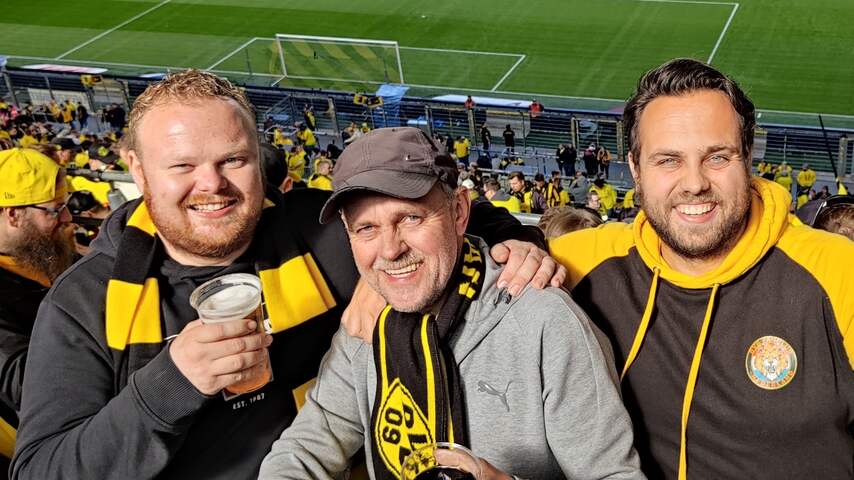 (TagsToTranslate)Borussia Dortmund

Source link