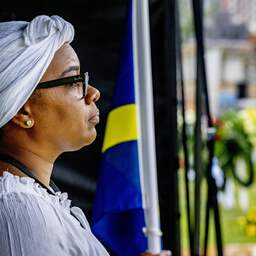 So far, one Utrecht resident has reported to the municipality because he wants to change his surname from the slavery past for free. The municipality of Utrecht informs NU.nl about this. Since February, the municipality has been paying the costs of a name change for Utrecht residents whose surname has an origin in the slavery period.
People who want a different surname because of that origin run into high bills and a lot of paperwork. Utrecht decided therefore remove that threshold.
So, since February, only one Utrecht resident has come forward. That happened last week. This is because there is still a lot involved in a name change, the municipality thinks.
For example, all subscriptions and bank accounts must be converted. The application procedure via the Justis government service also takes a lot of time. "So you really have to want it," says a spokesperson for the municipality.
Change 'slavery last name' becomes free for everyone
The National Institute of Dutch Slavery History and Legacy (NiNsee) is pleased that the first resident has registered. "The symbolic value of this opportunity is great," said chair Linda Nooitmeer. "I think more people will follow."
Other Dutch people who want to change their last name because it has a link with slavery will soon be able to do so free to do.
The cabinet took the plunge on Monday. However, it remains to be determined who exactly qualifies for this. It is also unclear how the plan will be implemented.
Examples of surnames with a possible colonial background
Some surnames are based on that of a former slave owner. Think of 'Vriesde', derived from 'De Vries'. Or 'Kenswil', from 'Wilkens'.

Former enslaved people were sometimes given a surname based on a European city. For example 'Barneveld' or 'Seedorf', but also 'Madretsma', 'Amsterdam' backwards.

Dutch officials also found the names of plantations suitable as surnames in some cases. 'Unity' is an example.

Former enslaved persons were not allowed to have typical Dutch surnames, such as 'Janssen', by a Dutch committee that judged on the surnames. This resulted in many Dutch-sounding surnames such as 'Berghout', 'Lepelblad' and 'Wijntak'.
Costs can run into thousands of euros
Dutch people who want a different surname can submit a request to Justis. This screening service of the Ministry of Justice and Security charges at least 835 euros for this.
For example, if your name is Poppy, you do not have to prove that you are bothered by your last name. But when changing surnames that have their origin in the colonial past of the Netherlands, a psychological examination is also mandatory.
Together, these costs can amount to thousands of euros. If the request is rejected, you will still lose the money.