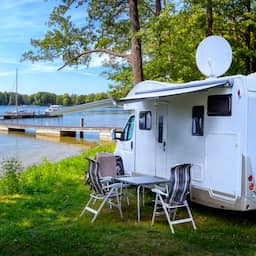 Summer is just around the corner, so the Dutch will be pulling their caravan or motorhome out of the garage en masse in the coming weeks to go on holiday. A television is often part of the standard equipment, but watching TV at the campsite remains a challenge.
There are roughly two ways to watch TV at the campsite: via satellite or streaming with an app via a (mobile) internet connection. Those who stay in the Netherlands also have Digitenne as a third option.
"Digitenne is the easiest way to watch TV at the Dutch campsite," expert Jarco Kriek of the website TotaalTV tells NU.nl. "The installation is simple and it can be used almost anywhere in the Netherlands."
Just like the FM radio, Digitenne is broadcast throughout the Netherlands. It is like receiving the radio with a small antenna. But according to Kriek, Digitenne is also the least interesting solution. Only annual subscriptions are available for this and it only works in the Netherlands.
For a few weeks of watching TV in the summer via Digitenne, you pay 18 euros per month for a year. Digitenne costs EUR 5 per month for KPN customers with a TV subscription at home.
Watching TV via satellite on holiday is the cheapest
Satellite TV is financially the most interesting, knows Kriek. "In the Netherlands, Canal Digital offers satellite TV with subscriptions for one, three, six or twelve months."
Watching TV via satellite is possible in the Netherlands as well as in large parts of Europe. But it is more difficult to install. This is because the dish must be aimed very precisely at the satellite. In addition, the satellite signal in southern Europe is weaker. A larger dish or even more precise adjustment is required there.
"If the dish is not aimed accurately enough at the satellite, you get a bad signal," says Kriek. "The first time I went to install it, a number of curses escaped from my mouth."
In addition, satellite TV is also susceptible to interference. "A heavy downpour causes your TV signal to falter," says Kriek. "But those are precisely the moments when you enter the caravan or motorhome to take shelter and watch TV."
Streaming television via an app
You can also watch TV via an app. Most TV providers have TV apps for your smartphone, tablet, Chromecast or smart TV. You can use it for free as a subscriber. If you do not have a TV subscription, you can use NPO Plus or NLZiet, for example.
Streaming TV requires a high-speed internet connection. This can be done via WiFi, but also via the mobile internet. But on many campsites the WiFi is too slow to watch TV. That leaves mobile internet. You can turn your smartphone into a WiFi hotspot that shares your phone's internet connection with the TV.
"Streaming television consumes 2 to 3 GB per hour of data traffic," Kriek calculates. "In the Netherlands, this is not a problem with an unlimited internet subscription. But abroad, a data limit also applies to those subscriptions."
Pay attention to unexpected costs and the data limit abroad
With T-Mobile, the data limit for unlimited subscriptions in other EU countries is 35 GB per month. Vodafone applies a ceiling of 40 GB and KPN of 50 GB. This allows you to watch TV abroad between 11 and 25 hours a month via your mobile internet connection.
Some providers reduce the speed after reaching the data limit, so watching TV is no longer possible. But there are also providers who charge a surcharge for data usage above that limit. The latter can cause a hefty telephone bill. "That is why satellite TV abroad is the only good solution," says Kriek.
Test everything before departure to avoid frustrations on vacation
Kriek has another good tip for owners of satellite receivers: "In the Netherlands, test your satellite receiver, decoder and smart card well before departure."
If a satellite receiver has not been used for a long time, the smart card must be reactivated. Updates must also be downloaded. "If the smart card no longer works or the receiver no longer works, it is better to arrange this in the Netherlands than from your holiday address," concludes Kriek.