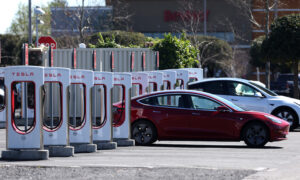 Ford EV customers will gain access to Tesla's 12,000 high-speed Superchargers in North America in early 2024, according to the CEOs of the two companies.
Ford CEO Jim Farley disclosed the deal during a live chat with Tesla CEO Elon Musk on Twitter Spaces on Thursday.
The deal makes Ford the first major car manufacturer to embrace Tesla's charging connector standard, providing the company with access to the most extensive high-speed Supercharger network in the United States.
Farley said he's excited about partnering with Tesla to provide current and future Ford EV customers with a better experience on the roads. Ford customers already have access to 10,000 fast chargers, and Farley emphasized the significance of gaining access to Tesla's 12,000 charging stations.
"I think it's pretty amazing what you and your team have done for the customers," Farley said, praising Tesla for their supercharger locations, reliability, routing software, and the connector's user-friendliness and overall reliability.
Current Ford EV owners will need to purchase an adapter, which Musk estimated would cost "in the hundreds of dollars range."
Starting in 2025, Ford plans to offer EVs with North American Charging Standard (NACS) connectors that are compatible with Tesla Superchargers, thereby "eliminating the need for an adapter."
Ford has also taken measures to enable vehicle owners to pay for Tesla charging through the FordPass and Ford Pro Intelligence apps.
"We're ramping production and we think this is a huge move for our industry and for all electric customers," Farley said during the Twitter Spaces.
Going live here with @ElonMusk at 5:30 EST. https://t.co/EbhWcgI9Gp

— Jim Farley (@jimfarley98) May 25, 2023
North American Standard
In November 2022, Tesla made its EV connector design available to the public in order to "accelerate the world's transition to sustainable energy." The EV manufacturer extended an invitation to charging network operators and vehicle manufacturers to incorporate the Tesla charging connector and charge port, now known as NACS, into their equipment and vehicles.
Ford is the first automaker to accept Tesla's offer. However, in February, the White House announced that Tesla would open a portion of its Supercharger and destination charger network to non-Tesla EVs by the end of 2024.
According to Tesla, its charging connector design is the most prevalent in North America. During their Twitter Spaces discussion, Musk expressed a wish for Tesla and Ford to make their connector the North American standard. "I think the consumers will be all the better for it," Musk said.
Musk expressed his desire for Tesla's Supercharger network to support sustainable transportation in general and avoid being limited like a "walled garden."
"We truly appreciate Ford's interest in partnering on this front. Our intention is to do everything possible to support Ford and have them on an equal footing at Tesla Superchargers," Musk said.
During their conversation, Farley told Musk that it was while on a family vacation he realized that Tesla had done a great job for their customers in providing charging stations along their route.
"I was on vacation with my family last year in Lake Tahoe. I was driving back, I think to Monterey, and my kids kept looking at me and going: 'Hey, dad, there's another supercharger. Can we stop there? How about there? How about on the I-5, dad?' I was like, 'No, we have to go over here behind this other building.' And so it kind of became obvious to me, you know, the job your team had done and what it means for customers," Farley said.
Ford owners will continue to have access to the BlueOval Charge Network, which comprises over 84,000 chargers.