Morning Sports Update
Pioli explained how Belichick's hard-line stances on scouting was sometimes "either a test, or he would be doing it in a joking way for the humor element."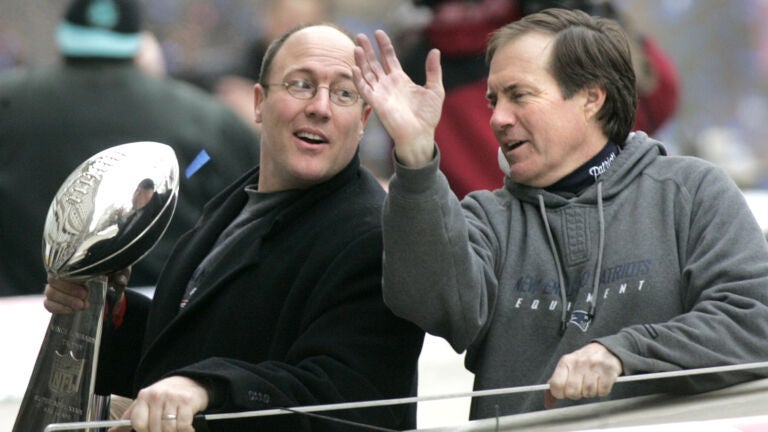 The Celtics lost to the Knicks in double overtime 131-129 on Sunday. Jayson Tatum led Boston with 40 points, 11 rebounds, and six assists.
Tonight, the Celtics will be back in action in Cleveland against the Cavaliers at 7 p.m.
Scott Pioli's best "shareable" Bill Belichick draft story: Former Patriots vice president of player personnel, Scott Pioli (now an analyst for NFL Network), joined "The Rich Eisen Show" over the weekend to offer some of his thoughts on the NFL rookie scouting combine, as well as the upcoming NFL Draft.
As happens often with former Patriots players, coaches, or executives, the conversation turned to their time in New England.
Asked for his "best [or most memorable] Bill Belichick draft day story," Pioli chuckled before noting that the Patriots coach is "still family," and that he would have to be careful with what he shared.
Guest host Bobby Bones specified that he wanted Pioli's "most shareable" version.
"We were talking about drafting an offensive lineman," Pioli began. "Sometimes Bill is far funnier than people believe. There were times where he would be hard-line about something, but it was either a test, or he would be doing it in a joking way for the humor element.
"I remember we were in this meeting and we were talking about Logan Mankins," Pioli continued. "Bill, I think for theater — which he doesn't do often — but he was being very funny about it because I knew he loved Logan Mankins too and we the 32nd pick that year in the draft. There were a number of other players that we were hoping were going to be at 32."
Pioli explained that while he always loved lineman, Belichick favored "skill position" players, which added to their apparent pre-draft disagreement. Part of it, however, was Belichick's well-hidden sense of humor.
"He had said in this meeting, 'I don't care if that f****** guy is John Hannah, we ain't picking a guard in the first round,'" Pioli recalled Belichick saying. "I knew he didn't mean it. There were people in the meeting sitting there like, 'Oh my gosh.'"
Eventually, as Patriots fans will remember, events came to a head on drafting Mankins with the 32nd pick.
"Sure enough, days later we're in the first round of the draft, the couple of guys that we had that we would take ahead of Logan Mankins, I mean the board was picked cleaner than a two-day old turkey after Thanksgiving. And there is Logan Mankins staring us in the face, and I wanted Logan so bad. Deep down inside I know Bill did too.
"Bill just smiled at me like, 'F*** you, put the card in,'" Pioli joked. "It was one of those moments, because there were people in the draft room that had been in that other meeting and I know Bill wanted [to draft] Logan Mankins too, just as much as I did, but it was a funny moment because I think the theater of [a few] days before, there were a couple scouts like, 'Oh my gosh we're going to have to pick Logan Mankins and Bill's going to be pissed.' It was actually a very funny moment the way it unfolded."
Mankins, selected 32nd overall, was a pick that wasn't initially beloved. However, Mankins won over his critics by playing at an extremely high level. He was named an All-Pro six times, and was eventually named to the NFL's 2010s All-Decade Team.
Trivia: Logan Mankins was drafted by the Patriots out of Fresno State. What four-time Pro Bowl quarterback (currently a free agent) also played his college football there?
(Answer at the bottom).
Hint: He was a second-round pick in 2014.
More from Boston.com:
Julian Edelman's take on the Celtics:
On this day: One year ago, Jayson Tatum led the Celtics to a 126-120 win over the Nets, scoring a staggering 54 points in the process.
Daily highlight: No. 9 seeded Northern Arizona stunned top-seeded Eastern Washington in the Big Sky Conference Tournament on Sunday with a desperation three-pointer from Oakland Fort at the buzzer.
Trivia answer: Derek Carr
Get the latest Boston sports news
Receive updates on your favorite Boston teams, straight from our newsroom to your inbox.