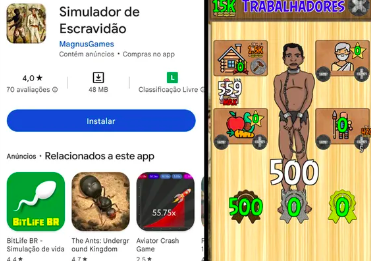 The game was available at least until last Wednesday, May 24, but the rain of criticism it was subjected to, namely in Brazil, led to Google deciding to remove it from the app store.
According to reports from those who downloaded the game (more than 1000 people have done so), it showed images of chained people, some of them black, alongside white men "in elegant clothes", while blacks " enslaved were half naked".
In addition to these images, the user was encouraged to "make a profit" from the sale of slaves, and there was also "an option to sexually exploit enslaved people in this virtual universe".
"We do not allow apps that promote violence or incite hatred against individuals or groups based on race or ethnic origin, or that depict or promote gratuitous violence or other dangerous activities. Anyone who believes they have encountered an app that is at variance with our rules can file a complaint", reads the statement sent by Google after receiving the complaints.