Celtics
"I'll make them both. I'll make them both."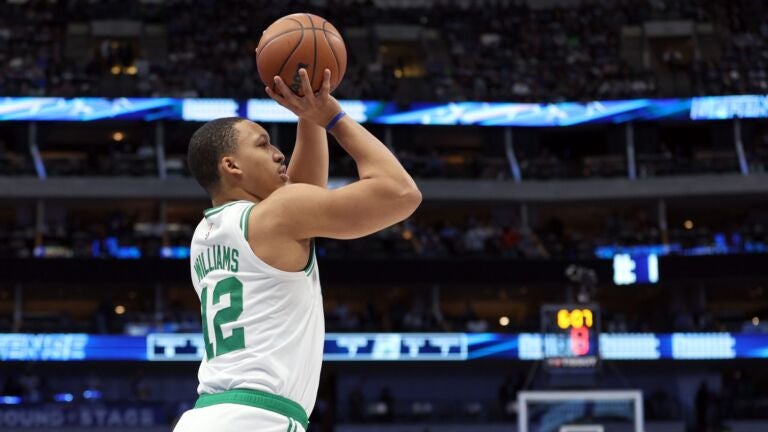 Grant Williams, the Celtics' most vocal rotation regular, has a reputation for trash-talking. And on Monday night, he lived up to that reputation.
Stepping to the free-throw line in a 109-109 deadlock between the Celtics and Cavaliers, Williams had the opportunity to ice the game for Boston with just 0.8 seconds left in regulation.
Before attempting his two potential game-winning shots, cameras caught Williams jawing with Cavaliers star Donovan Mitchell. Never one to doubt his own talents, Williams told Donovan, "I'll make them both" twice before settling in at the charity stripe.
That bold prediction ultimately backfired for Williams and the Celtics, as the fourth-year pro missed both of his attempts to force Boston into its second-straight overtime contest.
The Celtics — who have already tied their franchise record with 11 overtime games in a single season — ultimately fell to Cleveland, 118-114, in the extra frame.
It was a brutal ending for Williams, who was called for a ticky-tack foul on Mitchell with just 3.6 seconds on the clock in a two-point game.
After Mitchell sank both of his free throws, Payton Prichard made Williams' free-throw opportunity possible by racing up the court and attempting a layup at the rim. Williams was fouled while going up for the offensive board, setting up his pivotal attempts at the line.
The last few weeks have not gone well for Williams, who was mired in a shooting slump before sinking four of his five 3-point attempts against Cleveland on Monday. Last week, Williams was benched in Boston's home win over the Cavaliers. 
Postgame, Joe Mazzulla kept things brief when asked about his message to Williams after his failed free-throw attempts.
"Tell him I love him," Mazzulla said, per NBC Sports Boston. "It's part of the game. He didn't miss them on purpose. Got to be able to move on from it."
Newsletter Signup
Stay up to date on all the latest news from Boston.com