Travel
The carrier scored high in cabin features and low in timeliness.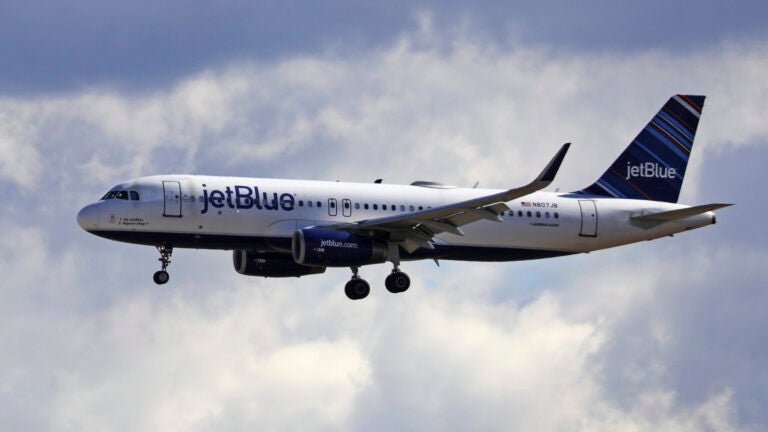 JetBlue customers in 2022 enjoyed the largest economy seats in the U.S., but faced delays and cancellations, according to The Points Guy.
JetBlue, Logan International Airport's largest carrier, ranked No. 7 on the travel website's annual list of the best airlines in the U.S., the same place as last year. For the fifth year in a row, the site named Delta Air Lines the best airline in America.
The site examined the following factors to determine the ranking: reliability (30%), experience (25%), loyalty (25%), and costs and reach (20%), using airline data from Jan. 1, 2022 through Dec. 31, 2022.
JetBlue scored 47.68 out of 100 (down from 49.51 last year), while bottom-scoring Frontier scored 27.74 and top-scoring Delta scored 66.31 out of 100.
As a whole, airlines did a worse job in 2022 than in 2021, according to the site, with most airlines producing lower scores than the previous year (except for Spirit, United, American, and Alaska) and customer complaints increasing from 3.14 complaints per 100,000 passengers to 5.89 per 100,000 — a jump of 87.6% year over year.
JetBlue shined in the experience category, particularly in cabin features.
"Once again, JetBlue was the top airline for cabin features, with complimentary Wi-Fi across its entire fleet plus seatback TVs and the largest economy seats in the U.S.," wrote the site.
JetBlue's lowest performing areas were timeliness (how frequently a flight on the airline was delayed), cancellations (how frequently a flight on the airline was canceled), and the handling of wheelchairs and scooters (how frequently an airline mishandled a mobility device).
Southwest dropped from second place to fifth place, largely due to the airline's holiday meltdown last year, according to the site.
A recent report by the US PIRG Education Fund said JetBlue had among the worst complaint ratios in 2022.
Need weekend plans?
The best things to do around the city, delivered to your inbox.