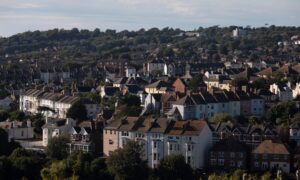 British households with fixed-term mortgage deals will feel the impact of higher interest rates when their current deals expire by the end of next year, a Barclay's chief has warned.
Barclay's CEO CS Venkatakrishnan told the Wall Street Journal CEO Council that a higher portion of households' earnings will be spent on mortgage payments, leading to a "huge income shock."
"By our assumptions, for the median family income with the median mortgage, what they have paid as their mortgage or rental payments in the last two decades—the '90s to 2020—was about 20 percent of their income. That is going to be about 28 percent to 30 percent of their income. So there is a huge income shock," Venkatakrishnan said.
The Office of National Statistics (ONS) has analysed how increases in housing costs impact households, reporting that more than 1.4 million households in the UK are facing the prospect of interest rate increases when they renew their fixed-rate mortgages in 2023.
A fixed-rate contracts mortgage is typically for two or five years. Once a household's current fixed-rate contract expires, it is automatically moved on to the lender's standard variable rate, unless a new deal is brokered.
With mortgage rates increasing, homeowners are set to feel the pinch when brokering new deals. Some lenders, including Santander, Halifax, and Kensington Mortgages have already increased mortgage rates this week by up to 0.2 percentage points.
As people start to spend more on mortgages, their consumption will be affected. This comes in addition to other factors, Venkatakrishnan said, such as the effect of inflation on food, energy, and basic goods and services.
Markets have already registered a slowdown in consumption for households across Britain, the Barclay's boss said.
"They [our customers] are paying down high debt on credit cards—our credit card balances have dropped by about 40 percent, pre-pandemic to now. Spending is basically falling short of inflation, so people are spending on an annualised rate of … about 5 percent, when inflation is running at 9 percent or 10 percent," he added.
What consumers experience now is credit distress, Venkatakrishnan suggested, adding it cannot been seen yet, "except at the very fringes."
The Bank of England's (BoE's) current bank rate, or the single most important interest rate in the UK, is at 4.5 percent. Given the current high inflation rate of 8.7 percent, which stands in contrast to the government target of 2 percent, the BoE may be pressured to raise the interest rate in June.
Venkatakrishnan told the council, whose members represent 28 countries in a wide cross-section of industries, that UK consumers are "economising" and substituting premium brands for generic ones. Britons are also spending more on essentials and less on non-essentials, he added.
Market Volatility
Mortgage rates soared last year in the wake of the 2022 mini-budget under the former Conservative leadership. Former Chancellor Kwasi Kwarteng had proposed to cut income taxes without a clear plan to pay for the cuts, which in turn triggered market volatility.
At the time, major lenders including NatWest, Barclays, Halifax, and Virgin Money all pulled deals to increase their prices.
The new Tory government led by Prime Minister Rishi Sunak has pledged to limit mortgage rates.
"I absolutely recognise the anxiety that people have about mortgages. It's one of the biggest bills people have. So what I want to say to people is that I'm going to do absolutely everything I can to grip this problem, to limit the rise in those mortgage rates," Sunak said in an interview with The Times of London.
"I think inflation is the number one enemy, as Margaret Thatcher rightly said. Inflation has the biggest impact on those with the lowest incomes. I want to get a grip of inflation," he added.
The UK's inflation rate remains high, despite a drop in April, with consumers still face rising food prices.
Sunak's government has been criticised for failing to deliver on the promise to halve inflation. Earlier this month, the Liberal Democrats called on Chancellor Jeremy Hunt to resign if he fails to meet his inflation target of 2 percent and help lower food bills.