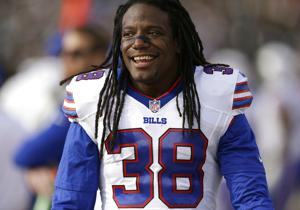 Staff and Wire Reports

Sergio Brown, who played eight games with the Buffalo Bills in 2016, is missing, police in suburban Chicago said Sunday, after they found his mother dead in a near a creek behind her home, The Chicago Tribune reported.
Police were notified Saturday by family members that they could not reach either Sergio Brown or Myrtle Simmons-Brown.
After initially being unable to locate Simmon-Brown, 73, police said they conducted a wider search and found her unresponsive. Her death was ruled a homicide by the Cook County Medical Examiner's Officer on Sunday, with officials saying she suffered multiple injuries during an assault.
Police said they are still trying to locate Sergio Brown, a safety who played 94 games over seven season from 2010 to 2017 with the Patriots, Colts, Jaguars and Bills. Brown, 35, made five tackles with the Bills and primarily played special teams, participating in 74% of the Bills' special teams play while he was on the roster.
Nick Brown, Sergio Brown's brother, took to Facebook on Sunday asking for help in locating his brother.  
"I want him to know that I love you and please come home," Nick Brown wrote.
Detectives with the Maywood Police Department have asked anyone with information to call 708-368-4131 or an anonymous tip line at 708-450-1787.