Specializing in catering supplies, specifically brasseries, restaurants, beaches… Cash Alimentaire du Sud-Est first established itself in the BtoB segment, becoming the wholesaler for numerous establishments, thus choosing to not address another sector, the more complex one of communities. " We have the right products for catering customers », Explains Christophe Tripodi, its general director. " We do fresh produce, groceries, hygiene, frozen foods, fruits and vegetables… We try to bring as many products as possible to all our customers ".
What is at stake in the negotiations
Cash Food from the South-East which is not ignoring the challenges of food transition, an evolution in the way of eating and in the demands that are being observed, says Christophe Tripodi, " rather at the individual level. In restaurants, basic dishes like hamburgers, pasta, pizza are still in demand ".
On the supplier side, it is often Made in France and Made in the regions which take precedence, even Made in Italy for products of transalpine origin and even Made in Belgium. for the fries » as well as in Spain.
President of the Alpes-Maritimes food wholesalers' union, Christophe Tripodi talks about price negotiations, a major step for the profession which takes place – unlike mass distribution – at the start of each calendar year. " Large retailers are much stronger, more powerful than us, so we need more detailed negotiations. We are the managers of our companies and therefore do not have the same way of negotiating as a buyer. But we know our business and perhaps get better prices than others ". Inflation, obviously, weighed on price conditions last year but " now prices are decreasing compared to mass distribution. We do not have the same negotiation process, large retailers begin negotiations in April while for us, it is at the beginning of January. Our reductions have therefore already been passed on ". A repercussion normal » for Christophe Tripodi, who explains that he is more in a partnership relationship than a client/supplier relationship.
Short circuits, a desire of customers but a possible reality? Not really, tempers Christophe Tripodi, recalling that the price remains higher in the short circuit and that this creates a form of dissuasion which does not favor the use of local production.
Unfair competition and logistics, the challenges of proximity
If its core business is wholesale supply for catering, Cash Alimentaire du Sud-Est has also turned to BtoC by opening stores in the city center. A choice that its general manager explains by the desire to provide its customers with relay points in order to offer them the possibility of troubleshooting. " As we are wholesalers, semi-wholesalers and retailers, we have also opened our market to individuals, who buy high quality products at low prices at wholesale prices. ".
The proximity to Italy being a characteristic of the Alpes-Maritimes, the sector faces, quite inevitably and quite logically, cross-border competition, which the president of the food wholesalers' union deplores, emphasizing competition perceived as unfair. . " Our costs in France are higher than those of our Italian neighbors. We can't compete with them » says Christophe Tripodi, indicating that it is the notion of service that makes the difference.
Invisible to individuals but a real cause for concern which clashes with business models, the establishment of Low Emission Zones (ZFE) is forcing companies to review their supply chain. Concerning Cash Alimentaire du Sud-Est, it is to Transcan, a company based in Carros, that the Nice SME will delegate its local delivery.
Replay here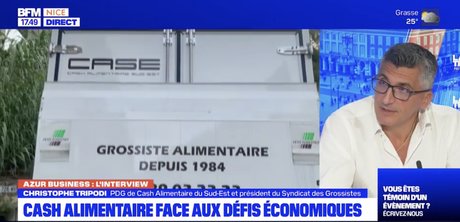 A budget guest every week
As a reminder, since November 2021, The gallery And BFM Nice come together to offer each week an eco column, called Marseille Business, which deciphers the region's economy, its issues, its challenges, the successes and the problems. Every Tuesday, a guest comes to shed light on a specific theme.
BFM Nice Côte d'Azur can be found on channel 31 of regional TNT and on boxes on channel 285/518 (SFR) and 360 (Bouygues).
The column is hosted by Celine Moncel for BFM Nice and Laurence Bottero, editor-in-chief of the Provence Alpes Côte d'Azur office of the economic daily La Tribune.