Bruins
"The D-men need to be more selfish."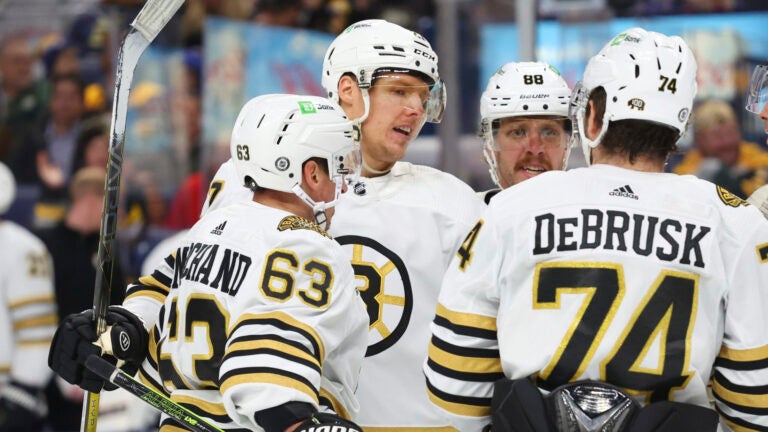 The 12-1-2 Bruins are no stranger to accruing points.
But Tuesday's 5-2 win over the Sabres did stand as an outlier for Jim Montgomery's squad.
Despite their perch atop the NHL standings, the Bruins haven't necessarily made things easy on themselves when it comes to manufacturing some breathing room on the scoreboard.
Of their 15 games this season, seven have been decided by one goal.
Tuesday's lopsided victory marked just the second time this year that Boston lit the lamp at least five times. Last season's record-setting roster scored 5+ goals in 25 of their 82 games.
Of course, it was to be expected for there to be a dip in scoring following the departures of several key forwards via retirement, trades, and free agency last offseason.
But all it takes is a glance at Tuesday's scoresheet to discern why Boston's offense spiked against the Sabres.
On a night where the Bruins landed an early knockout punch and four different skaters buried their first goal of the 2023-24 campaign, it should come as little surprise that most of Boston's offense was sparked by a D corps that peppered Buffalo's net.
Brandon Carlo and Hampus Lindholm accounted for two of Boston's five goals at KeyBank Center, while Charlie McAvoy chipped in with two helpers.
It was a step in the right direction for a Bruins team entering the night with just four goals and 25 total points from their D corps.
But for Montgomery, getting his blueliners to buy into those best practices for steady 5v5 offense remains a work in progress.
"Yes, but not enough still," Montgomery said Wednesday of Boston's defensemen adopting a shot-first mentality. "I think we got a couple of goals and then I thought we had times to pound pucks and now we're up 4-0 or whatever and we're trying to get cute.
"We do need our defensemen to be more shot-ready and it's every one of them. When there's traffic at the net and I think we have a team that is doing a really good job this year with our forwards at getting traffic at the net — the D-men need to be more selfish. It's not because they don't want to score goals. It's just we got to create more consistent habits at getting pucks to the net."
Carlo's decision to join the play on a 3-on-1 rush (orchestrated off of an aggressive poke check from Linus Ullmark) paid dividends on Tuesday night.
But Carlo's primary job description whenever he hops over the boards usually revolves around anchoring Boston's PK and snuffing out scoring chances — rather than jumping into the rush.
Montgomery and his staff will certainly welcome instances of defensemen activating and joining the play when the opportunity arises.
But when those quality looks fail to present themselves against stouter defensive structures, a solid contingency plan for manufacturing Grade-A chances involves volley after volley of pucks sailing in from the blue line.
The Hurricanes' buzzsaw of a 5v5 offensive attack might be rooted in a suffocating forecheck. But it's often a salvo of shots from an active and aggressive D corps that kindles Grade-A scoring chances — or a blistering puck sailing into twine.
Last season, five of Carolina's D-men (Brent Burns, Brady Skjei, Shayne Gostisbehere, Brett Pesce, and Jaccob Slavin) were ranked within the top 51 NHL defensemen with the most shots on goal.
A team that brews a similar potent mix of a punishing forecheck and shot-heavy blue line? The Florida Panthers — who had Brandon Montour, Aaron Ekblad, and Gustav Forsling rank fourth, fifth, and sixth, respectively, in most pucks fired by a defenseman in 2022-23.
The Bruins can attest to how dangerous (and demoralizing) it can be when a gifted playmaker like Montour can join the attack by way of a booming shot.
As gifted as Boston's D corps is at both shutting down plays and pushing the puck in transition, firing off pucks down the other end of the frozen sheet is a bit more of an arduous undertaking.
Hampus Lindholm (158 shots, 29th overall) was the lone Bruins defenseman to rank within the top 50 of NHL blueliners as far as putting pucks on net last year.
Lindholm's power-play blast on Tuesday that bounced past Devon Levi stood as a welcome sight, but there's plenty of work to be done.
This season, Lindholm ranks 140th out of a pool of 197 NHL defensemen in shots per 60 minutes of 5-on-5 play at 3.33, per Natural Stat Trick. Only Derek Forbort (2.72, 167th) has a lower shot rate on Boston's blue line.
"Quality over quantity" has been a hallmark of Montgomery's O-zone approach since taking the reins in Boston. 
Rather than snap off pucks from every conceivable angle across the ice, Boston's forwards have shifted their strategy in search of Grade-A looks, opting to be more selective with their shots to avoid relinquishing puck possession.
But for as much as Boston's forwards have adhered to that strategy by loitering in and around the opposing net in search of quality looks, 14 other NHL teams have generated more high-danger scoring chances per 60 minutes of 5-on-5 play than the Bruins' 11.75 rate.
As evidenced by Danton Heinen's first-period tally against Buffalo — a rebound goal generated off of a shot from McAvoy — an easy way to juice that rate is for Boston's D-men to hammer home pucks early and often, at least when a mass of black-and-gold sweaters are parked near the crease.
"If the defenseman is outside the dots and we have two at the net, take the shot," Montgomery explained. "No one's in your shot lane. The chances of that going in if we have two at the net is really good. You have no one at the net? You don't want anyone to shoot that puck."
The Bruins' O-zone attack is no longer anchored by two star pivots in Patrice Bergeron and David Krejci. Proven top-six stalwarts like Taylor Hall and Tyler Berutzzi aren't putting defenses on the ropes off of rush chances and netfront scrambles.
But so long as Boston's revamped forward group keeps planting itself around the net, the Grade-A chances will be there.
All it takes is a few blasts from the blue line to set Montgomery's plans in motion.
Sign up for Bruins updates🏒
Get breaking news and analysis delivered to your inbox during hockey season.