Summary
Matt Shakman, Monarch: Legacy of Monsters' director and executive producer, explains the show's first Godzilla sequence and why it's important to the larger Monsterverse.
Episode 1 will feature a new look at Godzilla's Golden Gate Bridge devastation, but it will be explored from the perspective of new character Cate (Anna Sawai), teasing the larger consequences of San Francisco's destruction.
While the show promises to be a more character-driven approach to the Monsterverse, there will seemingly still be plenty of Godzilla action, including a potential re-examination of Godzilla's first emergence at Bikini Atoll in the 1950s.
Monarch: Legacy of Monsters director and executive producer Matt Shakman explains the importance of the show's first big Godzilla sequence, touching on its connection to the larger Monsterverse. The world of Legendary's Monsterverse is set to expand in a big way with Apple TV's upcoming TV show, Monarch: Legacy of Monsters. The upcoming series takes a dual-timeline approach, chronicling different periods in the life of Army officer Lee Shaw (played by real-life father and son Kurt and Wyatt Russell) as he goes down a mysterious rabbit hole regarding the organization known as Monarch.
Now, ahead of the Monarch: Legacy of Monsters release date, Shakman sits down for an interview with CBR, touching on a crucial Godzilla sequence during episode 1. The episode features events that take place during the 2014 Godzilla timeline, showing a new look at kaiju's devastation of San Francisco, and its repercussions. Check out Shakman's full comment below:
"I would also point to the opening episode sequence on the Golden Gate Bridge, wanting to make sure that it felt like it was honoring the continuity and choreography of Gareth Edwards' movie, that you could feel like there are a million stories that could've been told from that day on that bridge.

"He told one on one side, and we happened to tell Cate's at this bus at this moment, but maybe you could tell 10-15 other shows from what happened from that day and all the folks that were impacted by that moment. It's a wonderful challenge in ways that you want to make things different and ways that you want to make things similar."
How Much Will Godzilla Be In Monarch: Legacy Of Monsters?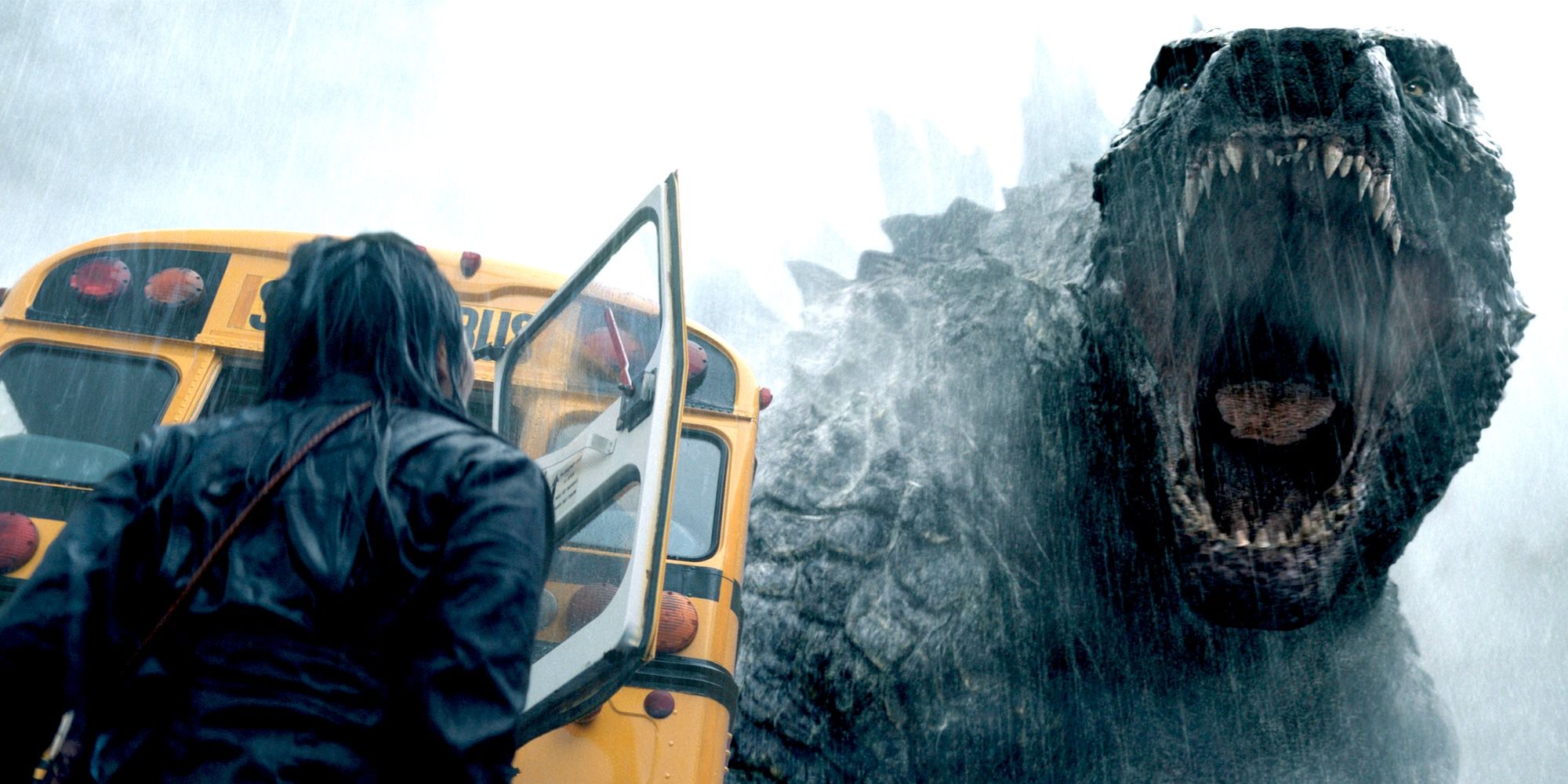 The Monarch: Legacy of Monsters timeline means that audiences will get to see a breadth of Godzilla interactions. It's notable, for example, that one time period that the show explores will be the 1950s. As revealed in Gareth Edwards' Godzilla, the nuclear bomb testing that took place at Bikini Atoll in the '50s is what is responsible for awakening the monster in the first place, and it's possible that more footage will show Godzilla's initial interactions with humans.
The 1950s Bikini Atoll Godzilla scenes featured in the 2014 movie are presented in the found-footage style, but the show's '50s setting means that audiences might get to re-experience these events from Lee Shaw's perspective.
As Shakman teases and as Monarch: Legacy of Monsters' trailers have also hinted at, a re-exploration of the devastation of San Francisco is also on the cards. While this sequence was a highlight in the 2014 movie, the show will seemingly be taking a look at these events through a new perspective, which will mean additional scenes of Godzilla in action. The arrival of a new, long-legged kaiju suggests that there will also be new Godzilla scenes that haven't been seen previously.
Despite confirmation that the kaiju will feature in some big sequences, it's worth noting that the Monarch: Legacy of Monsters reviews affirm that the show will serve as a more character-driven approach to the Monsterverse. This means more drama set firmly in the realm of the human characters and perhaps a little of a focus on the blockbuster Godzilla action.
Source: CBR
Cast:

Kurt Russell, Wyatt Russell, Anna Sawai, Kiersey Clemons, Ren Watabe, Mari Yamamoto, Anders Holm, Joe Tippett, Elisa Lasowski

Genres:

Action, Sci-Fi

Rating:

Not Yet Rated

Seasons:

1

Writers:

Chris Black, Matt Fraction

Streaming Service:

Apple TV+

Franchise(s):

Monsterverse, Godzilla, King Kong

Directors:

Matt Shakman

Showrunner:

Chris Black, Matt Fraction