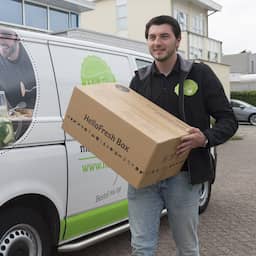 The German company HelloFresh lost more than a fifth in value on the Frankfurt stock exchange on Thursday. It is the largest share price loss for the meal box delivery company since its IPO in 2017.
The stock market fell because investors were shocked by a profit alarm from the company, which is struggling with disappointing sales growth in the American market and higher costs.
Last month, HelloFresh reported that the company had already delivered fewer meal boxes in the third quarter. However, the delivery company maintained its annual expectations for profit and turnover.
But the company encountered unexpected problems in the United States this month. In that country, the company is struggling with, among other things, "a long start-up" of the new production facility in the state of Arizona. Also, planned maintenance at another production facility in the state of Illinois is taking longer than expected.
According to the company, the problems are temporary and will be resolved before 2024. But because the US is HelloFresh's most important market, annual expectations have now been lowered.
A profit of 430 million to 470 million euros is expected this year. Previously, a profit of 470 million to 540 million euros was expected. Annual sales will grow by 2 to 5 percent, against a previous forecast of a maximum of 8 percent.