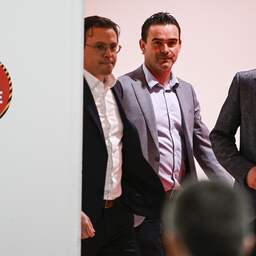 Nov 16, 2023 at 1:23 pm Update: 5 minutes ago
Marc Overmars was suspended on Thursday due to sexual harassment during his time at Ajax. The former international is therefore not allowed to work in Dutch football for a year.
Overmars is allowed to continue his work at the Belgian Royal Antwerp despite the suspension. The penalty imposed by the Sports Jurisdiction Institute (ISR) only applies within the KNVB and organizations affiliated with the Dutch Football Association.
At two years (one of which is conditional), Overmars' sentence is considerably lower than the requirement of five years (of which two are conditional). The ISR reports that when determining the sentence, it was taken into account that the issue had received a lot of publicity and that Overmars had been damaged as a result.
The ISR also notes that Overmars has been guilty of inappropriate behavior for a long time and has therefore repeatedly acted in violation of the Sexual Harassment regulations. Overmars himself agreed that transgressive behavior had occurred to him several times.
Ajax previously hired an external agency to investigate Overmars' work culture and behavior. The results came into the hands of the Ajax management in May last year, but were not shared with the outside world.
This message is being supplemented.