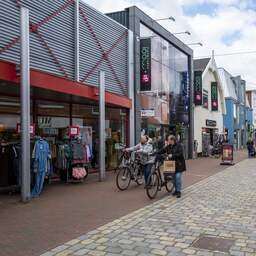 Retailers have seen fewer products sold for six quarters in a row. Clothing and shoes in particular are purchased less. They can only increase their turnover through price increases. Meanwhile, the number of store closures is increasing.
In the third quarter of this year, stores sold 3 percent less than in the same period last year. It was already the sixth quarter in a row in which sales volume fell, according to new figures from statistics agency CBS. Consumers have been keeping their hands on their purse strings since the autumn of 2022.
We mainly skimp on clothes and shoes. In clothing stores, sales were even 8 percent lower than last year and in shoe stores the number of sales fell by more than 7 percent.
Fewer products also ended up on the treadmill in supermarkets. There was a decrease of 3 percent compared to last year. The number of products sold at butchers and cheese farmers also decreased slightly (4 percent).
Retailers managed to increase their turnover by raising prices. In the food sector, turnover increased by 7 percent. And in the so-called non-food sector, turnover increased by 1 percent.
Consumption back to pre-corona levels
Another CBS publication shows that Dutch consumption has returned to pre-corona levels this year. We spend an average of around 4,800 euros on consumer expenditure per quarter. Spending in 2018 and 2019 was also around that level. But price increases mean you can buy less and less of it.
The fact that the retail sector is struggling with consumer cuts is also becoming clear because more and more stores are having to close. In the past quarter, 75 retail companies went bankrupt, 60 percent more than in the same period last year. One in eleven bankruptcies involved a retail company.