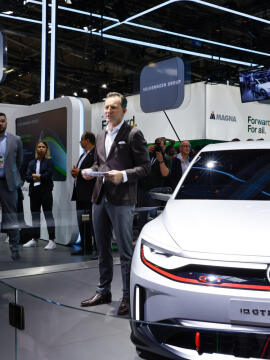 The automotive giants maneuver through difficult terrain and ride on the edge. The German Volkswagen has recently been putting out its problems, and its problems are starting to take on real contours.
While some time ago the cumbersomeness of electromobility seemed to be a temporary complication, recently the solutions to this unmanageable trend require first negative decisions and sacrifices.
However, the development of this trend is not going to be reversed. This is also indicated by the latest statistics in sales of electric vehicles, which confirm that pessimism in the market will last for a while.
With the threat of bankruptcy
Volkswagen management is preparing for a major transformation. It confirms the first plans regarding restructuring and staff reductions.
While so far many were only at the level of assumptions and considerations, especially in connection with the plants in Emden and Zwickau, where not only employees, but also reductions in production were to be affected, the concern recently claims that it needs to save and increase profits by up to ten billion euros.
It wants to achieve this not only by reducing overall costs by about a fifth by 2026, Volkswagen CEO Thomas Schäfer warned, but especially by increasing sales of its electric vehicles.
As the head of the company added, in case of further unfavorable developments in the field of electric vehicles, the risk of bankruptcy of the brand is becoming more and more real. According to him, the organization in its current form is too slow, lazy and complicated when compared to its competition on the European and global market.
Improving sales will therefore be key for one of the world's largest automotive giants, and Volkswagen already has a set plan for this. He sees the solution to the sales problem in the new model being prepared.
Although Volkswagen has not yet made a decision on the production of this electric car with a price tag of 20,000 euros, the CEO of the entire concern, Oliver Blume, is convinced that the company must get to it in the second half of the decade at the latest.
Subscribe to TREND for the best price starting from €1/week
Full access to premium articles and archive
Premium access to Medialne, TRENDreality and ENJOY websites
Less advertising on TREND.sk
Order a subscription

Already subscribed?

Log in