Patriots
The Patriots appear to be on track to have a high draft pick next spring, so it's not too early to peek ahead.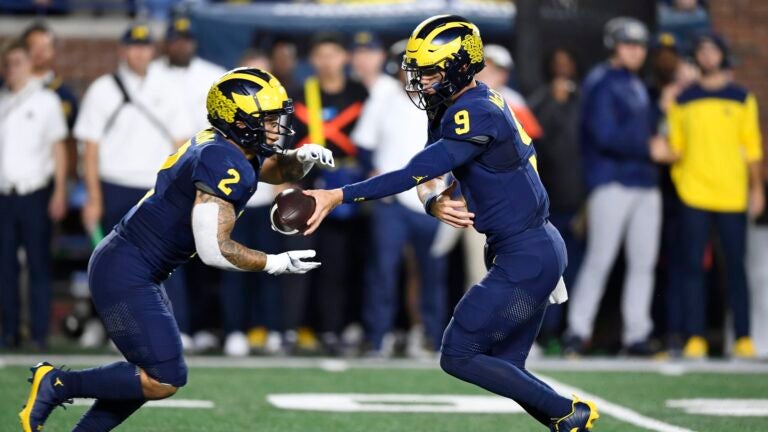 As the Patriots enter their bye week, the best scouting fans can do this weekend is to take in the action on Saturday, not Sunday.
Sitting at 2-8, New England is all but certain to miss the playoffs this season. It also currently holds the No. 3 overall pick in the 2024 NFL Draft, putting it in a prime spot to potentially grab a franchise-altering player.
Here are nine players to watch in college football on Saturday.
USC QB Caleb Williams
The Patriots are in play to end up with the No. 1 overall pick. If they finish with the league's worst record, Williams will likely be the favorite to be the No. 1 overall pick.
Williams was viewed by many draft evaluators as the presumptive No. 1 overall pick for the 2024 NFL Draft entering the 2023 season, though his standing seems to have taken a slight hit this year. USC has failed to live up to its title contender expectations, losing its last two games to fall to 7-4 on the season.
However, Williams has been just as impressive statistically this season as he was last year. He's thrown for 3,249 yards, 29 touchdowns, and four interceptions with 162 rushing yards. He's also completed more passes (67.9 percent), rushed for more touchdowns (11), thrown for more yards per attempt (9.4), and has a higher passer rating (172.1) this season compared to last season when he won the Heisman.
Williams has been often compared to Patrick Mahomes since he won the Heisman last season due to his ability to make plays with his legs and throw on the run. He might only have one more game to showcase that ability at the college level when USC takes on UCLA on Saturday, which is the Trojans' regular-season finale. Players who declare for the draft and are slated to be high draft picks have often sat out their team's bowl games in recent seasons. With USC having no hopes of a title, Williams could end up doing that.
UNC QB Drake Maye
If Williams isn't the No. 1 overall pick next spring, there's a very good chance that Maye will be the one to hold that honor instead.
The UNC quarterback has been held in high regard by draft evaluators since he became the team's starting quarterback last season, when he threw for 4,321 yards, 38 touchdowns, and seven interceptions with 698 rushing yards plus seven rushing touchdowns.
Maye has arguably elevated his play as a redshirt sophomore this season. He's completed 65.8 percent of his passes for 3,145 yards, 21 touchdowns, and six interceptions with 276 rushing yards and eight rushing touchdowns, playing more efficiently.
NFL Network lead draft analyst Daniel Jeremiah compared Maye, a 6-foot-5, 220-pound player, to former NFL quarterback Carson Palmer prior to the season, though he noted "there isn't a perfect comp" for him.
Maye goes up against a Clemson defense he struggled against last season in the ACC Championship Game on Saturday. He completed 26 of 42 passes for 268 yards with two interceptions and a rushing score in UNC's 39-10 loss to Clemson, so Maye will be looking for some revenge on the road this weekend.
Ohio State WR Marvin Harrison Jr.
The son of Pro Football Hall of Famer Marvin Harrison, the younger Harrison is widely considered to be the best non-quarterback prospect in the 2024 NFL Draft, if not the best overall prospect.
Harrison has shredded opposing defenses in the Big Ten and across the country over the last two seasons. Somehow, he's played even better as the year has gone along, too, as Ohio State has had relatively less-than-stellar quarterback play. He scored a touchdown on Ohio State's first three drives against Michigan State last week, one of which was a rushing touchdown, as he had seven receptions for 149 yards in the victory.
Over Ohio State's last six games, Harrison's recorded at least 100 receiving yards in five of them and has nine receiving touchdowns. His second-half dominance has put him in play to potentially win the Heisman too, holding the fourth-best odds on most sportsbooks to win the prestigious award entering the weekend.
When combing his production and traits with his 6-foot-4, 215-pound frame, Harrison has been viewed by some draft evaluators as a "generational" wide receiver prospect, joining the likes of Calvin Johnson, Julio Jones, and A.J. Green in recent history.
Harrison will look to keep his Heisman momentum alive against Minnesota on Saturday.
Michigan QB J.J. McCarthy (and many of his teammates)
With the draft still over five months away, there are still many things that have to be figured out. Heck, maybe Williams ends up staying in school (which his father has said is a possibility) or something unforeseen causes any of the prior three players to slip in the draft.
The Patriots could also win some games down the stretch of the season and fall out of picking in the top three. That could cause a problem for the Patriots if the Mac Jones era is indeed over as there certainly doesn't seem to be as much of a consensus on who the third-best quarterback is in the 2024 draft.
But McCarthy has made a strong case to earn that spot this season. The junior quarterback has completed 76.2 percent of his passes for 2,194 yards, 18 touchdowns, and three interceptions with 171 rushing yards and three rushing touchdowns, leading Michigan to an undefeated record. While his rushing stats might not be the most eye-popping, McCarthy has speed, reportedly recording a 4.48 40-yard dash time recently, making him an even more intriguing prospect.
There is a reason, though, why McCarthy was able to not throw a pass in the second half of Michigan's road win over Penn State last week. The Wolverines are loaded with future draft picks on their roster as there's some belief that they could break Georgia's record for most players selected in a draft class next year (15). Defensive tackle Kris Jenkins, running backs Blake Corum and Donovan Edwards, safety Rod Moore, guard Zak Zinter, and wide receiver Roman Wilson are just a handful of Michigan players who could be selected in the first few rounds of next year's draft.
McCarthy and Michigan will be without coach Jim Harbaugh again when they face Maryland on Saturday.
LSU QB Jayden Daniels and WR Malik Nabers
Arguably the top QB-WR duo in college football this season resides in Baton Rouge, Louisiana.
In fact, Daniels might be having the best year out of anyone in the sport. He's thrown for 3,164 yards and leads the nation in passing touchdowns (30) plus yards per attempt (11.6), making a strong late-season run to win the Heisman.
But Daniels is just as explosive on his legs, too. He's rushed for over 700 yards for the third straight season, rushing for 918 yards and eight touchdowns so far this year. He arguably had the most impressive performance of his five-year collegiate career last week, when he threw for 372 yards and rushed for 234 yards while scoring five total touchdowns in LSU's win over Florida.
Daniels's ascension this season has also seen him climb up some draft boards as he appears to be in the running to possibly be the third quarterback selected in next spring's draft. With his 6-foot-3 frame and dual-threat ability, it's easy to see why Daniels could become a top prospect come draft time.
Nabers, meanwhile, has 72 receptions for 1,284 yards and 10 touchdowns this season, ranking in the top 10 nationwide in all three and leading the nation in receiving yards. The 6-foot-1 junior could end up being the second receiver taken in next year's draft.
Daniels and Nabers have a prime chance to stat-pad this weekend when LSU faces Georgia State.
Washington QB Michael Penix
Another one of the favorites to win the Heisman, Penix has also made a push this year to be a first-round pick.
The sixth-year senior has dominated opponents in just about every game this season, completing 68 percent of his passes for a nation-high 3,533 yards, 28 touchdowns, and seven interceptions to lead Washington to a 10-0 start.
While the lefty has mostly played well during his college career, some concerns could hamper his draft status come springtime. He suffered two ACL tears during his time at Indiana before transferring to Washington in 2022 and he'll be 24 by the time he makes his NFL debut, which is a relatively old age for a rookie quarterback.
Still, Penix has been one of the most impressive quarterbacks in the sport in recent years. He might have his toughest challenge to date yet on Saturday when Washington travels to No. 11 Oregon State, which has the third-best defense in the Pac-12 and has won 16 of its last 17 home games.
Penn State OT Olu Fashanu and Notre Dame OT Joe Alt
As this list has exclusively been quarterbacks and wide receivers to this point, let's mention a pair of offensive linemen.
Fashanu and Alt are both regarded as the best offensive tackle prospects in the 2024 NFL Draft at the moment. Fashanu opted to stay at Penn State and passed on entering the NFL despite some projecting that he could've been a top 10 pick.
Both players have been studs, too. Fashanu hasn't allowed a sack and has given up just one QB hit over the last three seasons, per Pro Football Focus. Alt has only given up one sack this year, according to PFF.
Penn State takes on Rutgers this weekend while Notre Dame has a game against Wake Forest.
Obviously, there are many other names to consider as well as the college football regular season nears its end. Georgia tight end Brock Bowers might be the most dominant player in the country as he's earned some comparisons to Rob Gronkowski. But he just returned to action from an ankle sprain and could be used a bit more sporadically when Georgia faces Tennessee.
If you think (for some reason) the Patriots should select a defensive player, UCLA edge Laiatu Latu could be the best defensive player in the draft. He's recorded 12 sacks and 39 pressures this year, per PFF, as he looks to end Williams's college career on a sour note.
Sign up for Patriots updates🏈
Get breaking news and analysis delivered to your inbox during football season.