College Sports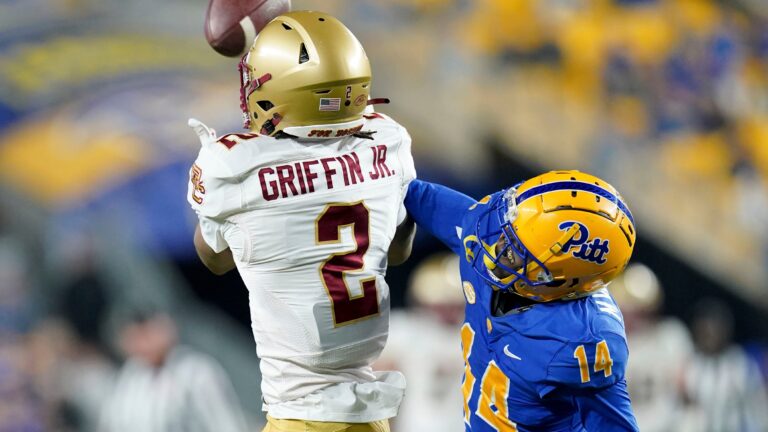 It's been nearly impossible to predict which version of the Boston College football team will show up on a weekly basis.
There's the version that started the season 1-3 and allowed 600 yards in a fourth loss to Virginia Tech last Saturday. There's also the version that ripped off five straight wins, each more gutsy and significant than the last, to improbably become bowl eligible.
Thursday night on the road, the Eagles sprinkled in a little bit of both versions against a struggling Pittsburgh team at Acrisure Stadium. Ultimately, BC's inconsistency on both sides of the ball proved insurmountable in a 24-16 loss.
The Eagles (6-5, 3-4 Atlantic Coast Conference) settled for field goals and couldn't stop the Panthers (3-8, 2-5) when it mattered most.
"We need to play better than that," BC coach Jeff Hafley said. "That's a missed opportunity."
After a back-and-forth three-plus quarters, Rodney Hammond Jr. ripped off a 66-yard touchdown run for Pitt to extend BC's deficit to 8 points with 4:29 left. The Eagles came up well short in their last gasp to try and tie it, as M.J. Devonshire intercepted Thomas Castellanos's heave on fourth and 20.
BC has found a way to outlast opponents in the fourth for the bulk of the season, but the Panthers got the last laugh in this one as the Eagles allowed 400-plus yards once again.
"We didn't deserve to win today," Castellanos said.
In the first half, Boston College allowed four sacks and committed two penalties — one an obvious targeting call on defensive back Khari Johnson. Hafley said it "looked like the right call," but that he doesn't believe Johnson was "purposely trying to target the kid." On the flip side, BC won the possession battle, and made timely stops on defense in spurts.
The Eagles converted on fourth and 1 from their own 24 to open the game, which led to a 42-yard field goal from Liam Connor midway through the first quarter. Pittsburgh tied it with a 42-yard field goal of its own from Ben Sauls for a 3-3 score entering the second.
Pitt started pressuring Castellanos (13 for 25, 171 yards, touchdown, 2 interceptions) with more conviction and forced BC into regular third-and-long situations. The Panthers got the ball back and orchestrated a 15-play, 85-yard drive, beating the Eagles at their own game. Nate Yarnell, making his second career start at quarterback, scampered in from 4 yards out in Castellanos style to put Pitt ahead, 10-3, with 9:07 left in the half.
The Panthers looked poised to tack on more, but Vinny DePalma made a key tackle on fourth and 1 from the BC 18.
Castellanos found Dino Tomlin — playing in his hometown and in front of his father, Steelers coach Mike Tomlin — for a gain of 22 yards, then hit Joe Griffin Jr. for 38 yards. Connor nailed a 45-yard field goal with 26 seconds left in the half and, as poorly as they had played in stretches, the Eagles only trailed 10-6.
BC surged in front, 13-10, with 8:56 left in the third quarter on a 24-yard touchdown pass from Castellanos to Lewis Bond. A long review determined that Bond made the catch before the ball came free.
Pitt answered right back less than two minutes later. Yarnell found a wide-open Bub Means for a 61-yard TD to give the Panthers a 17-13 edge.
One big play led to the next, as the setbacks mounted.
"We did some uncharacteristic things on defense," Eagles linebacker Kam Arnold said.
The Pittsburgh offense took advantage of a depleted BC secondary missing Elijah Jones, Cole Batson, and Johnson. 
Kye Robichaux (24 carries, 118 yards) and Tomlin helped the Eagles enter the red zone, but Castellanos forced a pass into double coverage and Phillip O'Brien Jr. swooped in for the Panthers and intercepted it late in the third.
"It's QB 101, don't throw the ball late over the middle," Castellanos said. "That one's on me. Got to be better. I take the blame for that."
After Sauls missed a 52-yard field goal attempt, BC punter Sam Candotti pinned the Panthers at the 3, then the offense got the ball back and Connor nailed a 33-yarder to slice the deficit to 17-16 with 5:19 to go.
Two plays later, Hammond broke free in style.
The Eagles couldn't tie it, as they dropped a winnable game to a lesser opponent. Miami comes to Alumni Stadium next Friday to wrap up a BC regular season filled with promise that has quickly soured.
"Congrats to Pitt on the victory," Hafley said. "Very disappointed."
Get the latest Boston sports news
Receive updates on your favorite Boston teams, straight from our newsroom to your inbox.