It turns out, the Kardashians know a thing or two about how to make vegetables taste delicious. In a recent issue of US Weekly, Kris Jenner and Khloe Kardashian shared their own recipe for a tasty lemon-basil roasted vegetables medley—and it's totally vegan.
The new recipe is part of Kardashian and Jenner's partnership with Country Crock, the popular Upfield-owned spread brand. The duo has been promoting its Plant Butter alternative since April when they posted a baking video with Kardashian's daughter, True Thompson.
"What I love about Country Crock, it's the one thing I have in my refrigerator that's older than I am," Jenner said in the video. "I have had this around since the dawn of time. The fact that they have the Plant Butter makes me really happy because you guys [her daughters] are trying to get me to eat the same way you eat, and I don't want to taste a difference."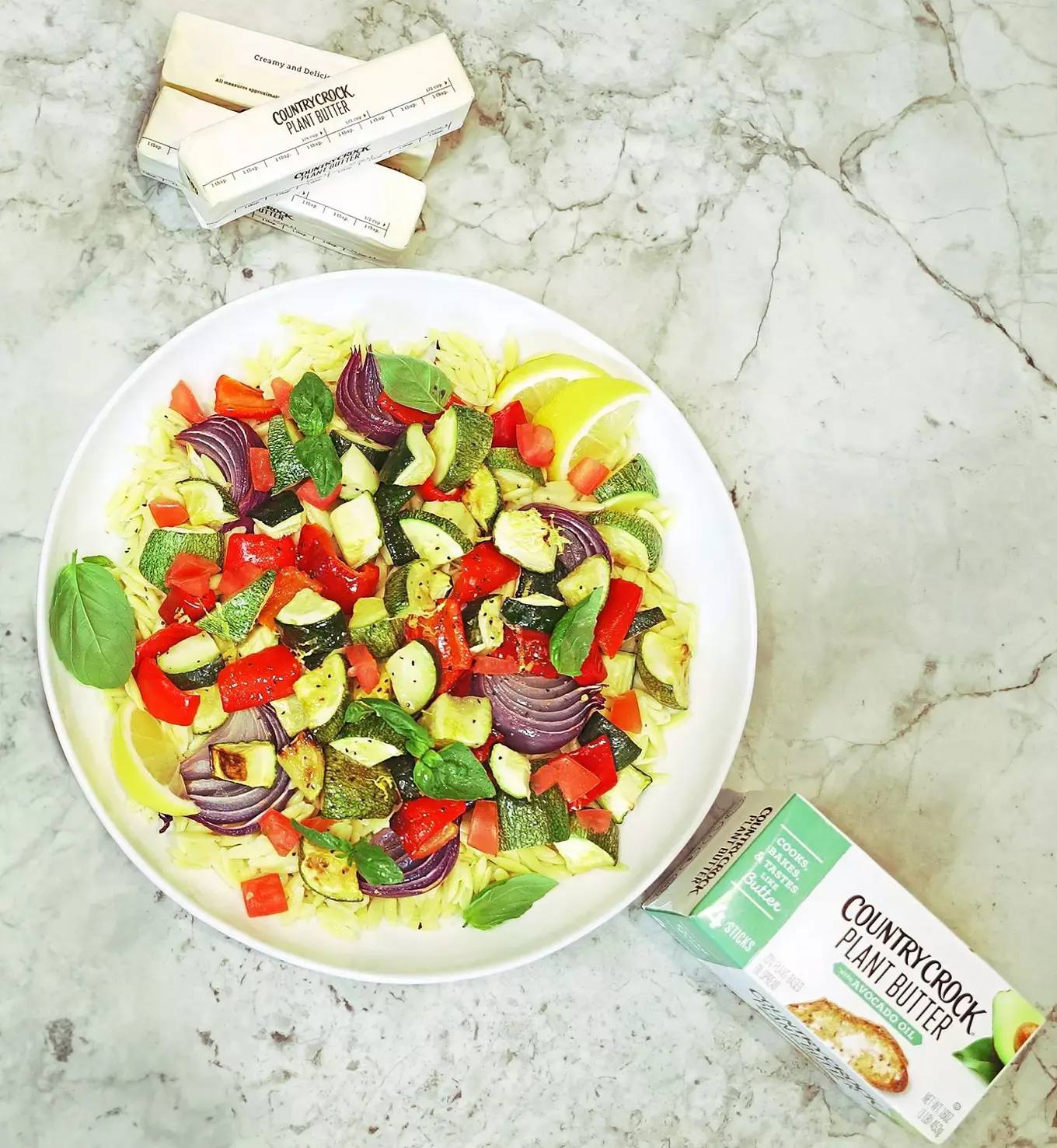 Nick Saglimbeni/US Weekly
Khloe Kardashian and Kris Jenner's roasted vegetables recipe
The simple vegetable medley recipe involves tossing Country Crock Plant Butter in a shallow roasting pan with zucchini, red peppers, and red onion, before roasting them until they are tender and tossing again with garlic.
After that, they are mixed with tomatoes, basil, lemon juice, lemon peel, and black pepper. They can then be served warm, chilled, or at room temperature.
"It's so versatile and always tastes good," Kardashian said. "It's guaranteed to be a crowd-pleaser, especially when using fresh vegetables and Country Crock Plant Butter." 
The mother-daughter duo also recommends serving the vegetables over hot couscous or orzo "for an elevated dish."
According to Country Crock, the Kardashians are a "natural fit" for a brand partnership.
"Kris has used Country Crock Original Spread in her kitchen, in her words, 'since the dawn of time,' and since Khloe is incorporating more dairy-free products into her diet and has been influencing Kris to do the same, Country Crock Plant Butter is the perfect ingredient for Khloé and Kris to use in their dishes this spring," Courtney Cotter, Country Crock's Brand Director, told VegNews earlier this year.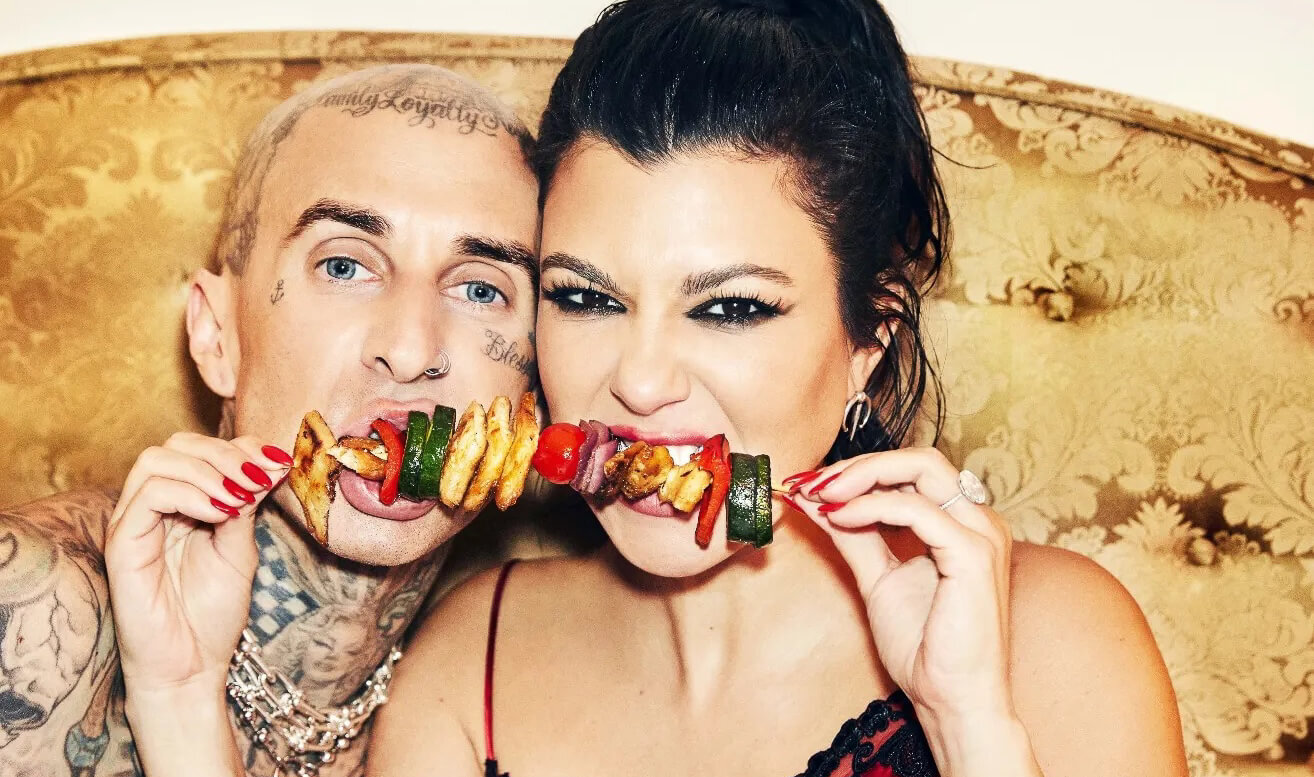 Ellen von Unwerth
Are the Kardashians vegan?
The Kardashians aren't 100 percent vegan, but many members of the famous family have shown an interest in plant-based living. Kourtney Kardashian has claimed in the past that she is "95 percent" vegan, while her husband, Travis Barker, has been entirely vegan since 2008.
Kim Kardashian is also mostly vegan and has even previously shared her vegan recipes on Poosh, Kourtney's wellness platform. The reality star and entrepreneur also shared that eating more vegan food has helped to keep her psoriasis under control. The autoimmune disease causes itchy red scaly patches to appear on the skin.
This is likely because plant-based whole foods help to ease inflammation. "Foods that have the biggest impact on skin health include those with anti-inflammatory properties, all of which come from plants," Amy Lawson, RDN, LDN recently told VegNews.
Like her mom and sister, Kim has also promoted vegan products. In 2022, she partnered with plant-based meat brand Beyond Meat to become its "chief taste consultant."
"I've been focusing on going more plant-based and can tell you that Beyond Meat is my absolute favorite—I love how all their products not only taste amazing but are also good for me and my family," Kardashian said in a statement at the time. "Plus, my kids are obsessed with my Beyond Beef taco recipe, the Beyond Burger for BBQs, and Beyond Chicken Tenders for a quick snack."
Kourtney and Barker are also big vegan meat fans. The couple, who recently welcomed a new baby together, have worked with vegan chicken brand Daring on multiple occasions. 
"I've been on a health and wellness journey for the past 13 years, which has made me super conscious of what I put into my body and my kids' bodies," Kourtney said in a statement after their first campaign with Daring in 2022. "I'm not fully vegan, but Travis has helped me keep to a mostly plant-based diet, which is so much easier with Daring."
"When I went fully vegan 15 years ago, the options were basically straight vegetables, so I'm excited to see more plant-based choices on menus," Barker added. "That's why I invested in Crossroads Kitchen and Monty's [two vegan restaurants] and why this partnership with Daring felt so right for Kourt and me."
For the latest vegan news, read: