By Sally French | NerdWallet
In Orlando, Florida, there's no shortage of bars that'll make you a mocktail.
Many are almost certainly designed for the under-21 crowd, including "The Simpsons"-inspired Flaming Moe. The bubbling, citrusy, nonalcoholic concoction is served at Universal Studios Florida.
But in the city known for being family-friendly, there's an entirely different set of bars specifically not for kids, such as The Bandbox, a 1920s Art Deco-inspired speakeasy. Customers must be 21 or older, and while there's no official dress code, there's a more elegant vibe at this intimate lounge.
The Bandbox owner, Kevin Zepf, emphasizes that his bar doesn't serve traditional mocktails, which tend to be ultra-sweet and contain ingredients like juices, syrups and sodas.
In contrast to classics like Shirley Temples, virgin Piña Coladas or even the Flaming Moe, The Bandbox serves nonalcoholic craft cocktails using alternative or distilled spirits.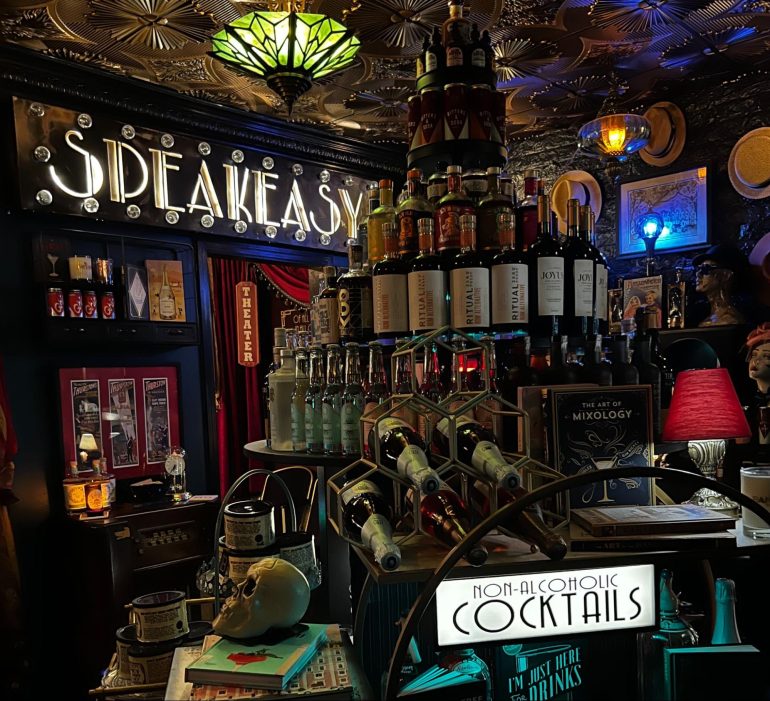 The interior of The Bandbox in Orlando. (Photo by Hamilton Nguyen)
When The Bandbox opened in 2022, it became Orlando's first spirit-free cocktail-tasting lounge and bottle shop. While it's Orlando's first, it's just one of a growing list of bars, hotels and cruise lines worldwide that serve high-end, alcohol-free cocktails.
The same month that The Bandbox opened, the ette-brand hotel in Orlando opened nearby. The ette hotel doesn't serve any alcohol (though guests can pack their own). Unlike the myriad kid-friendly hotels nearby serving up Mickey waffles, the 126-room luxury property distinguishes itself with quiet grounds and a serene spa — a sharp contrast to Walt Disney World just a mile away.
It's not just Orlando that's booming with nonalcoholic drinks. In Portland, Oregon, a city known for craft beers, the nonalcoholic scene is brewing thanks to brands like Portland-based Lolo Hops. Lolo Hops uses Pacific Northwest-grown hops to make sparkling nonalcoholic beverages that sell at markets throughout the city.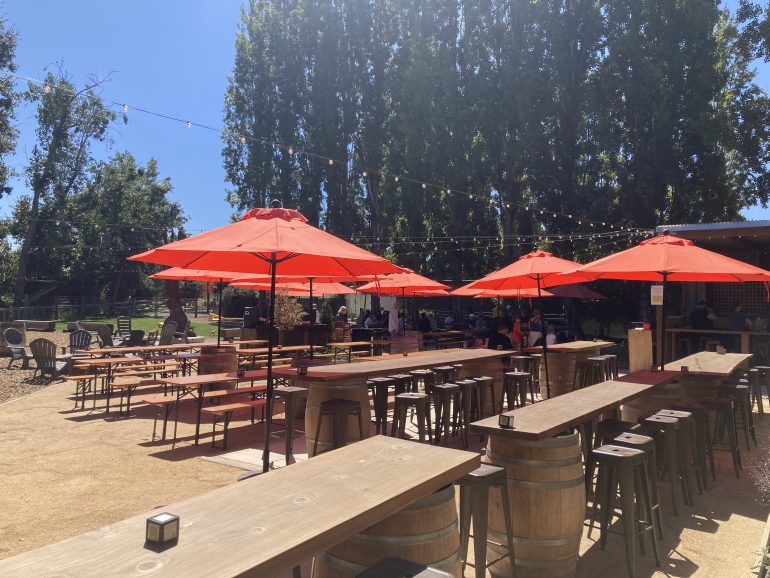 Napa Yard – Oxbow Gardens. (Photo by Sally French)
In Napa, which is far and away California's top wine region, locals flock to Napa Yard – Oxbow Gardens, which is a beer garden style restaurant just on the edge of downtown Napa. Though the spot does have a robust beer garden and cocktail menu, there are only a few wines on the menu — and people flock there for reasons that don't involve drinking at all.
There's a yard for kids and dogs to play all sorts of lawn games, plus they host pig roasts and paella parties. Rather than alcohol, the beer garden's crown jewel is the food that comes straight from the garden, like fried zucchini blossoms.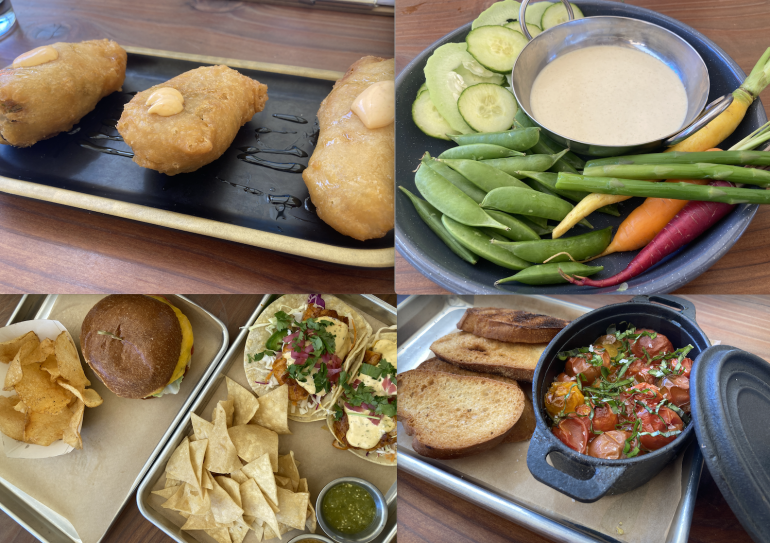 Food (not alcohol) is the star at Napa Yard – Oxbow Gardens. Clockwise from top left: fried zucchini blossoms, miso dip & spring crudites, grilled burger, fish tacos, roasted cherry tomatoes & sourdough. (Photo by Sally French)
Big travel brands are joining the booze-free trend, too. This spring, Carnival Cruise Line's Alchemy Bar launched a menu of seven cocktails made with nonalcoholic spirits. Note that you'll still need to be at least 21 years old to get in.
With the new menu, Carnival has claimed the title of first cruise line to offer a full range of mocktails. Similarly, bars inside the newest Hilton brand, Tempo by Hilton, serves what the company calls "free-spirited" cocktails. Carnival and Hilton use products from nonalcoholic spirit-maker Lyre's as primary ingredients, rather than juices and sodas seen in typical mocktails.
Who are alcohol-free drinks for?
Nonalcoholic beverages aren't necessarily designed just for people who won't drink alcohol. In fact, 78% of people who say they drink no- or low-alcohol drinks also partake in full-strength alcohol, according to IWSR, a company that provides data and analysis on the global beverage alcohol market.
While just 18% of people who drink nonalcoholic drinks are people who refrain from drinking alcohol altogether, IWSR says that figure is growing, led by younger (drinking-age) consumers.
"People come in for a variety of reasons, from women who can't drink because they are pregnant, to folks looking for a sober-curious experience," says The Bandbox's Zepf. "Because we don't offer alcohol, it takes pressure off those who don't like to be pressured into drinking."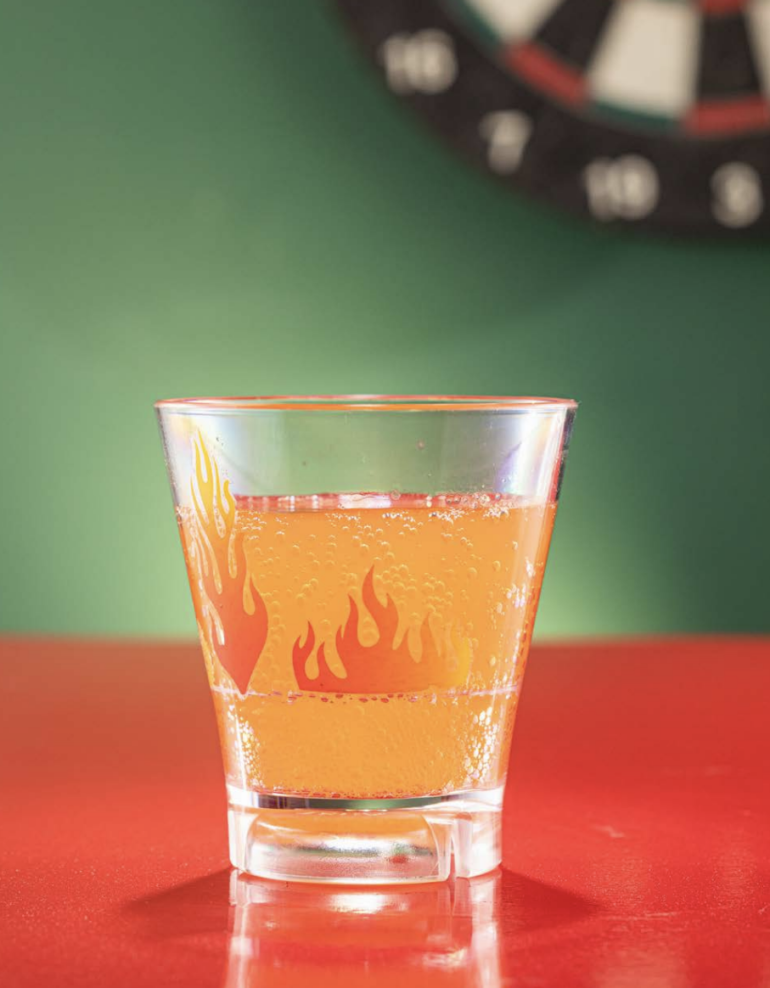 The Flaming Moe, as pictured in "The Unofficial Universal Theme Parks Cookbook." (Photo courtesy of Ashley Craft)
Nonalcoholic craft cocktails are pricier than most other nonalcoholic drinks.
The Flaming Moe — which "The Unofficial Universal Theme Parks Cookbook" author Ashley Craft concocts using three ingredients: Fanta Orange, fruit punch and dry ice — can be purchased inside Universal Studios Florida for $9. It includes a collectible cup that is specially designed, which Craft says is necessary given the dry ice compartment.
While $9 is far more than the roughly $4 the same restaurant charges for simply a Fanta Orange, it's still less than the $12 cost for a draft beer.
When sailing with Carnival, cruisers can opt in to unlimited soda and juice packages, starting at $9.50 per day. But the package that includes cocktails starts at $59.95 per day — and that's whether you opt for alcoholic or nonalcoholic cocktails.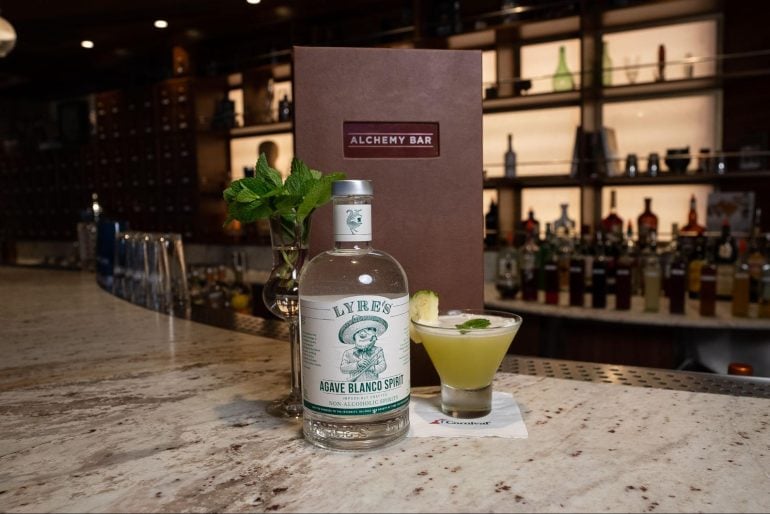 At the Alchemy Bar on Carnival Cruise Line, you can order nonalcoholic drinks such as the Spicy Chipotle Pineapple Martini. (Photo courtesy of Carnival Cruise Line)
Why are vacation spots adopting alcohol-free offerings?
Whether or not price is a motivator, people consume nonalcoholic beverages for plenty of reasons.
"The pandemic changed the mindsets of Americans to reevaluate their drinking habits and the money spent on going out and drinking," Zepf says. "Folks were searching for healthier alternatives during the pandemic, and that's when the nonalcoholic drink industry really started."
With alcohol comes the risk of a hangover — an outcome that mixes poorly with vacationers who might trek miles through theme parks and be coughed around on thrill rides the next day.
"As the theme-park capital of the US, where experiences and entertainment are paramount, Orlando is such an untapped market when it comes to the world of nonalcoholic drinks," Zepf says.
There's also the fact that more companies are now manufacturing nonalcoholic spirits. Seedlip, which bills itself as the world's first distilled nonalcoholic spirits brand, is still relatively young. Founded in 2015, Seedlip manufactures the three top-selling nonalcoholic spirits on Drizly, an e-commerce alcohol marketplace.
Drizly recorded a 50% increase in sales year-over-year for its nonalcoholic spirits in 2022. But while interest in booze-free beverages is growing, the market is still small. Drizly says nonalcoholic spirits accounted for just 0.06% of its overall 2022 sales.
"We're not trying to get you to give up drinking," Zepf says. "We're trying to help you see what alternatives are available, and our goal was to create a space that is a 'can't-miss' destination in Orlando for both locals and tourists."
The article More Bars in Top Vacation Spots Serving Up Nonalcoholic Drinks originally appeared on NerdWallet.