Local News
"When it comes to transportation, it feels like Massachusetts is stuck in neutral," MassINC summarized.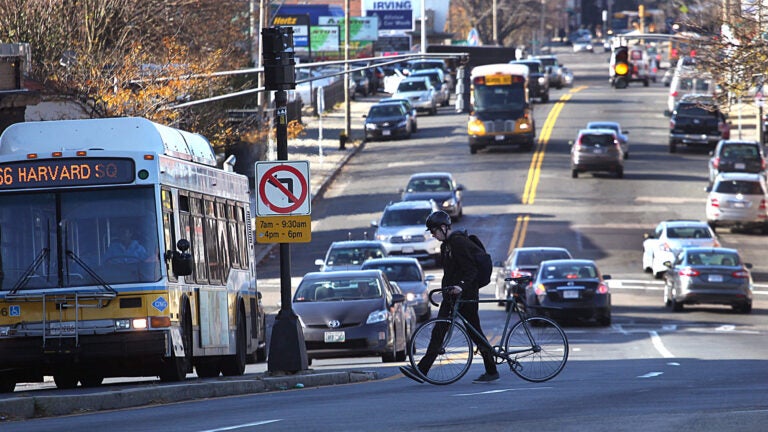 Facing world-infamous traffic and a $24.5 billion backlog of MBTA repairs, Bay Staters are unimpressed with the state of transportation — and they think Gov. Maura Healey and the Legislature have done a middling job of handling it, according to a new MassINC poll.
Sponsored by The Barr Foundation and released Friday, the poll found that few Massachusetts residents feel "very safe" on the state's roads or public transit, while more than half feel that traffic is worse than it was before the COVID-19 pandemic. And of the 1,390 residents who participated in the poll, pluralities gave Healey and state lawmakers C grades for their leadership on public transportation. 
"When it comes to transportation, it feels like Massachusetts is stuck in neutral," MassINC summarized.
Poll: Reckless driving, road rage, crime among top safety concerns
The state of the T and other public transit systems was the top transportation issue that residents cited, followed by traffic congestion and road conditions, according to MassINC. 
"Priorities do vary by region, with public transit dominant in Greater Boston and traffic and road conditions top of mind farther from Boston," the organization explained. "A quarter (23%) in Western Massachusetts want to see expanded public transit, including East-West Rail and expanded bus service."
Fifty-two percent of residents surveyed think traffic in their part of the state is worse now than it was pre-COVID, while another 37% think it's about the same. According to MassINC, residents within Interstate 495 were most likely to think traffic had worsened. 
Whether they drive, bike, or take the T, most respondents said they feel at least somewhat safe — if not very safe — while using transportation, according to the poll. 
Road rage and reckless, speeding, or distracted drivers were some of the top reasons residents feel unsafe on the roads, MassINC said. Cyclists also expressed concern about reckless or distracted drivers, while transit riders cited crime and violence, followed by overcrowding and old or broken infrastructure. 
According to the poll, Black, Latino, and Asian American and Pacific Islander residents generally feel safer on most modes of transportation. However, only 26% of Black residents said they feel very safe walking around in their community, compared to 40% of white residents, 38% of Latino residents, and 44% of Asian Americans and Pacific Islanders. About two-thirds of Black pedestrians who feel unsafe cited distracted drivers as a cause for concern, MassINC said. 
Black, Latino, and AAPI residents also gave Healey and the Legislature higher grades on transportation, though the overall results were still fairly lackluster; less than one-third of all respondents gave state leaders an A or B.
Still, MassINC noted that Massachusetts' transportation woes largely predate Healey, who took office in January. 
Even former Gov. Charlie Baker, who nabbed the title of America's most popular governor more than once, struggled with transportation — a UMass Amherst / WCVB Poll last year found that 57% of registered voters thought Healey's predecessor handled transportation and transit "not too well" or "not well at all."
Newsletter Signup
Stay up to date on all the latest news from Boston.com