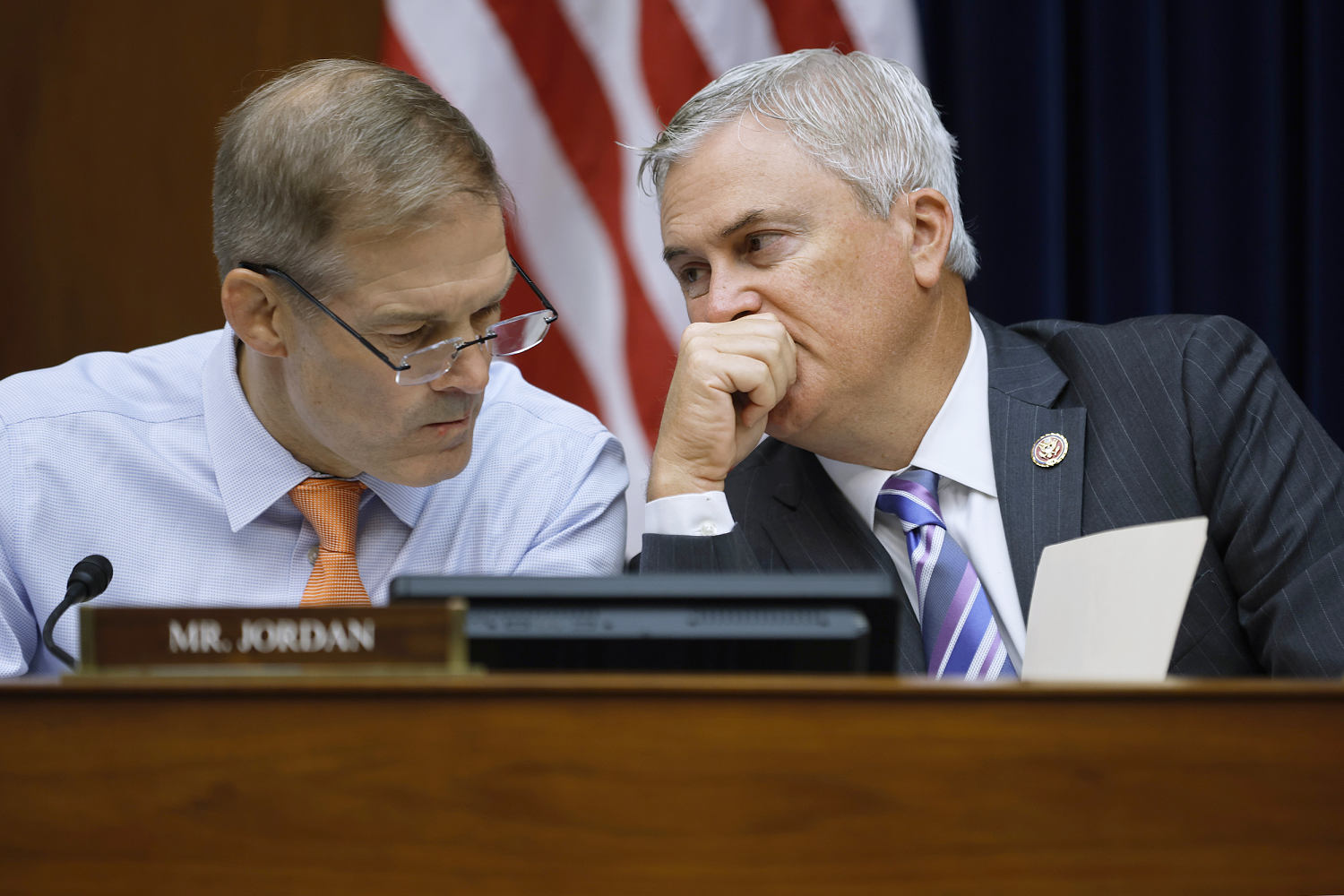 WASHINGTON — The White House is hitting back against House Republicans and their impeachment inquiry into the president by demanding that GOP lawmakers withdraw their subpoenas targeting Biden family members and administration officials.
In a letter obtained by NBC News, White House counsel Richard Sauber called the requests for information and interviews "unjustified," and characterized the overall impeachment inquiry as "illegitimate." The letter, dated Friday, was addressed to House Oversight Chair James Comer, R-Ky., and Judiciary Chair Jim Jordan, R-Ohio.
"Your latest steps follow an irresponsible set of subpoenas and requests for interviews that you launched last week, directed to multiple members of the President's family, all of whom are private citizens, including for example the President's deceased son's widow and her sister," Sauber wrote. "These unjustified requests were sent despite the fact that, after a year of investigating, voluminous records and testimony from dozens of witnesses have refuted your baseless allegations about the President."
Comer has released a long list of subpoenas and requests for interviews and documents focused on several Biden family members and their associates. Included in the group are the president's son Hunter Biden, brother James Biden, his daughter-in-law Melissa Cohen and the widow of his deceased son Beau, Hallie Biden. Sauber described the requests of information from the private citizens as an example of weaponizing the power of Congress to attack a political opponent.
The subpoenas of Biden family members came after House Republicans obtained thousands of pages of bank records connected to James and Hunter Biden. They released details on two interest-free loans from the president to his brother that were repaid in full during the period when Biden was not in office. Comer suggested that the loan arrangement was part of a suspicious business deal involving James Biden, but did not provide definitive documentation to back up that claim.
The status of the impeachment inquiry and whether it leads to articles of impeachment remains an open question. Speaker Mike Johnson, who as a rank-and-file member of Congress was very critical of the Biden family's business practices, has taken a more muted approach to the probe since taking the gavel. He has described impeachment as one of the "heaviest powers" that members of Congress have at their disposal and promised that he would not predetermine the outcome, preferring instead to see where the evidence leads.
Johnson's approach has led some conservative members of the House GOP caucus to raise concerns about where he stands while publicly pushing for Republicans to be more aggressive in their inquiry. Johnson huddled with the Comer, Jordan and House Ways and Means Chair Jason Smith, R-Mo., this week to get an update on the status of the inquiry and subsequently released a statement signaling the investigation was moving toward conclusion.
"At this stage, our impeachment inquiry has already shown the corrupt conduct of the President's family, and that he and White House officials have repeatedly lied about his knowledge and involvement in his family's business activities," Johnson said in a statement.
He went on to say, "I commend the good work of Chairmen Comer, Jordan, and Smith. As we move forward toward an inflection point in this critical investigation, they have my full and unwavering support."
In his letter Friday, Sauber argued that the impeachment inquiry was without merit.
"Rather than acknowledge the insufficiency of the evidence, you have consistently misrepresented the documents and testimony you have received and then moved the goalposts when your claims have been debunked, as you appear to be doing here," he wrote. "This pattern of distortions and falsehoods lays bare that no amount of truthful testimony or document productions will satisfy you and exposes the improper nature of your Committees' efforts."
Sauber also criticized the fact that the impeachment inquiry was launched without a vote on the House floor.
"You also claim the mantle of an 'impeachment inquiry' knowing full well that the Constitution requires that the full House authorize an impeachment inquiry before a committee may utilize compulsory process pursuant to the impeachment power—a step the Republican House Majority has so far refused to take," he wrote.
It is unlikely that Sauber's call to withdraw the subpoenas will lead to a different course of action by the GOP-led committees. As it stands, Hunter Biden is scheduled to participate in a closed-door transcribed interview on Dec. 13, a week after James Biden has been asked to appear.