Warning! Spoilers ahead for the Frasier reboot episode 7.
Summary
Frasier reboot episode 7 features a shocking moment as Frasier and Lilith, despite their contentious dynamic, end up making out.
The reunion between Frasier and Lilith reflects the idea that they will always be connected and have a tendency to rile each other up.
While there is a possibility of Frasier and Lilith getting back together in the future, it is unlikely to be resolved soon, and any continuation depends on the show's renewal.
Frasier reboot producer breaks down Frasier and Llilith's almost romantic reunion in episode 7. Marking the first guest star appearance from a familiar face, Bebe Neuwirth makes a triumphant return to the Cheers/Frasier universe as Frasier's ex-wife and Freddy's mother. Like Kelsey Grammer, the actor brilliantly reprises her role as Lilith, and together, they remain one of the most entertaining couples to watch, even though they haven't appeared together as their characters in nearly two decades.
In the Frasier reboot episode 7, Lilith visits Freddy for his birthday and unexpectedly runs into her ex-husband. Despite the pair's never-ending bickering, Frasier and Lilith end up making out, which is arguably one of the most shocking moments in the revival thus far. Talking to TV Insider, co-producer Chris Harris explains why their reunion almost turned romantic despite being separated for three decades. Read his full quote below:
"When we talked with both of them — and obviously both Kelsey and Bebe had some really clear thoughts about it — both of them talked about how Frasier and Lilith are each people in each other's lives where they're just always going to be connected. They're always going to be riling each other up and getting each other passionate, whether in anger or in passion. And Bebe especially wanted us to make sure that we have a moment where we reflect on that, where in a way they're past the most difficult parts of their relationship, but they can't help but fall into those patterns. That's what we decided to mine in that bedroom scene towards the end."
Can Lilith and Frasier Still Get Back Together?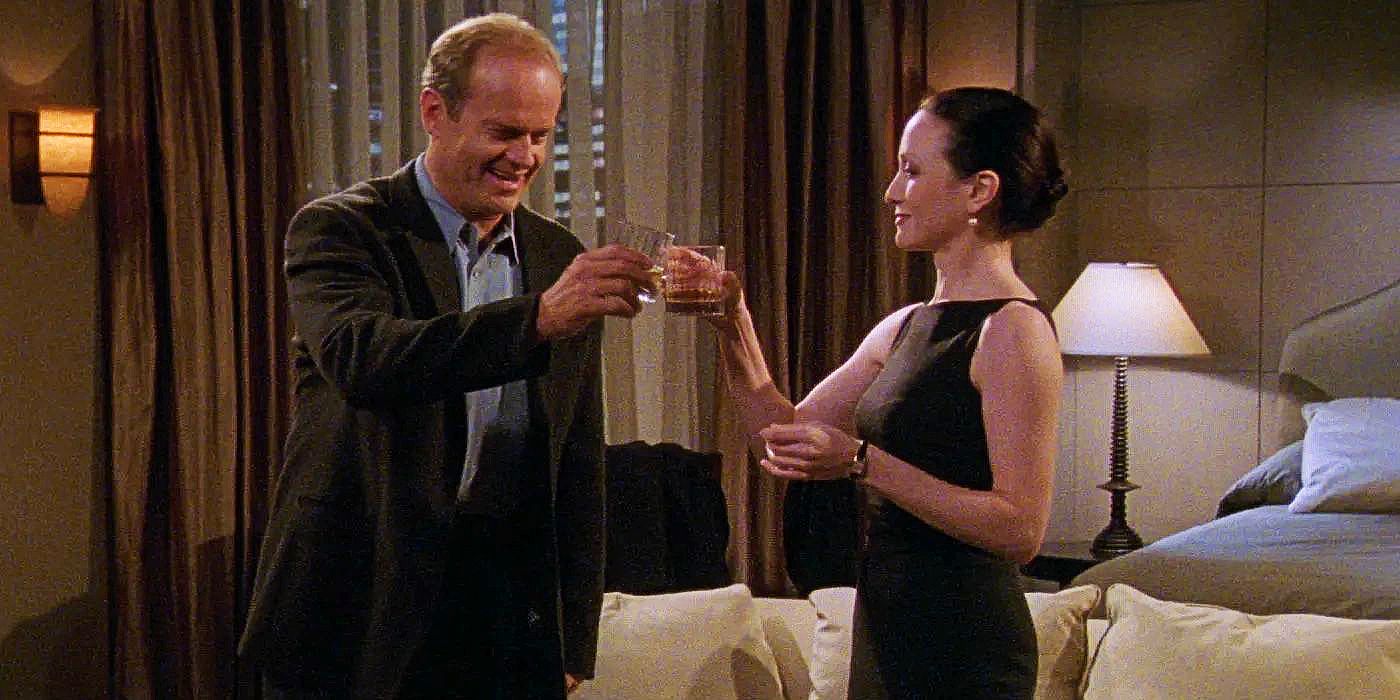 For context. Frasier and Lilith separated after the events of Cheers. Their divorce was actually what forced Frasier to go back to Seattle and start a new life. Despite their split, the pair remained involved in each other's lives, with Lilith routinely visiting the Emerald City for various reasons. Sometimes, she would come with Freddy, but in most cases, it was because she was seeking the help of her ex-husband with a personal or professional issue. It's uncertain how their relationship progressed in the 20 years between the old show and the revival, but it's clear that Frasier and Lilith never lost their penchant for poking fun at each other.
Although seeing them get romantic in the Frasier reboot episode 7 is shocking, these bouts of attraction between the pair aren't anything new. Arguably, they have always had feelings for each other, even despite their usually contentious dynamic. Because of this, it's not going to be difficult for the pair to get back together at any point in the future. The fact that Charlotte and Frasier have broken up and Lilith is seemingly unattached increases the chances of this happening. However, it's imperative that they deal with their past issues first before they jump back into each other's arms.
Related: Why & When Frasier & Lilith Got Divorced
Only time will tell if there's a future where Frasier and Lilith are together, but considering where the Frasier reboot episode 7 leaves them, it's unlikely that this is going to be resolved anytime soon. In addition to that, Neuwirth is also only guaranteed a one-episode appearance, which means that any possible return will happen only if the show is renewed by Paramount+. Given their history and enduring chemistry, it may not be a bad idea for Freddy's parents to try one more time to be a couple.
Source: TV Insider
Release Date:

1993-09-16

Cast:

Kelsey Grammer, Jane Leeves, David Hyde Pierce, Peri Gilpin, John Mahoney, Jack Cutmore-Scott, Anders Keith, Jess Salgueiro, Toks Olagundoye, Nicholas Lyndhurst

Genres:

Comedy

Rating:

TV-PG

Seasons:

11

Story By:

David Angell, Peter Casey, David Lee, Glen Charles, Les Charles

Writers:

David Angell, Peter Casey, David Lee

Network:

NBC

Streaming Service:

Paramount+

Directors:

David Lee, Kelsey Grammer, James Burrows, Pamela Fryman

Showrunner:

Christopher Lloyd, Chris Harris, Joe Cristalli