Toothpaste is an important part of oral care. Using it every day, twice a day, helps to remove plaque, prevent decay, freshen breath, and strengthen tooth enamel, among many other things. But unfortunately, many mainstream toothpastes are not vegan. Yep, while that little blob of paste on the end of your brush may look harmless, it can contain sneaky animal ingredients like glycerin and propolis. 
But that said, there are plenty of vegan options on the market–you just have to know where to look to find them. To help you out, here, we've gathered a few of the best vegan-friendly toothpaste brands to try. But first, why are there animal ingredients in toothpaste anyway?
Why are there non-vegan ingredients in toothpaste?
Toothpaste usually tastes minty fresh, so it's hard to imagine that there are any animal products in the formula. But many brands do use animal-derived ingredients. 
For example, glycerin (which can be plant-based but is often sourced from animal fat) helps to keep toothpaste moist. Propolis, which is a resin-like material made by bees with antibacterial properties, can also be added to toothpaste.
Some flavorings and food colorings used in toothpaste can also be non-vegan, but as the nonprofit Vegan Friendly points out, it can be hard to know for sure what's in your toothpaste formula, as ingredient lists can be vague and complicated.
If you're not sure if your toothpaste is vegan, you can contact the brand or manufacturer for more information. Or, alternatively, you can swap it out for a brand that you know for sure is vegan. Below, we've listed some of the best options to try!
Where to find vegan toothpaste: 9 of the best brands to try
1 Tom's of Maine
Founded back in the 1970s, Tom's of Maine is still one of the most popular vegan-friendly natural toothpaste brands on the market. Whether you're after whitening toothpaste, fluoride-free toothpaste, or children's toothpaste, this brand has plenty of options. But take care to read the ingredients carefully, as some of its oral care products do contain animal ingredients like propolis. 
Check it out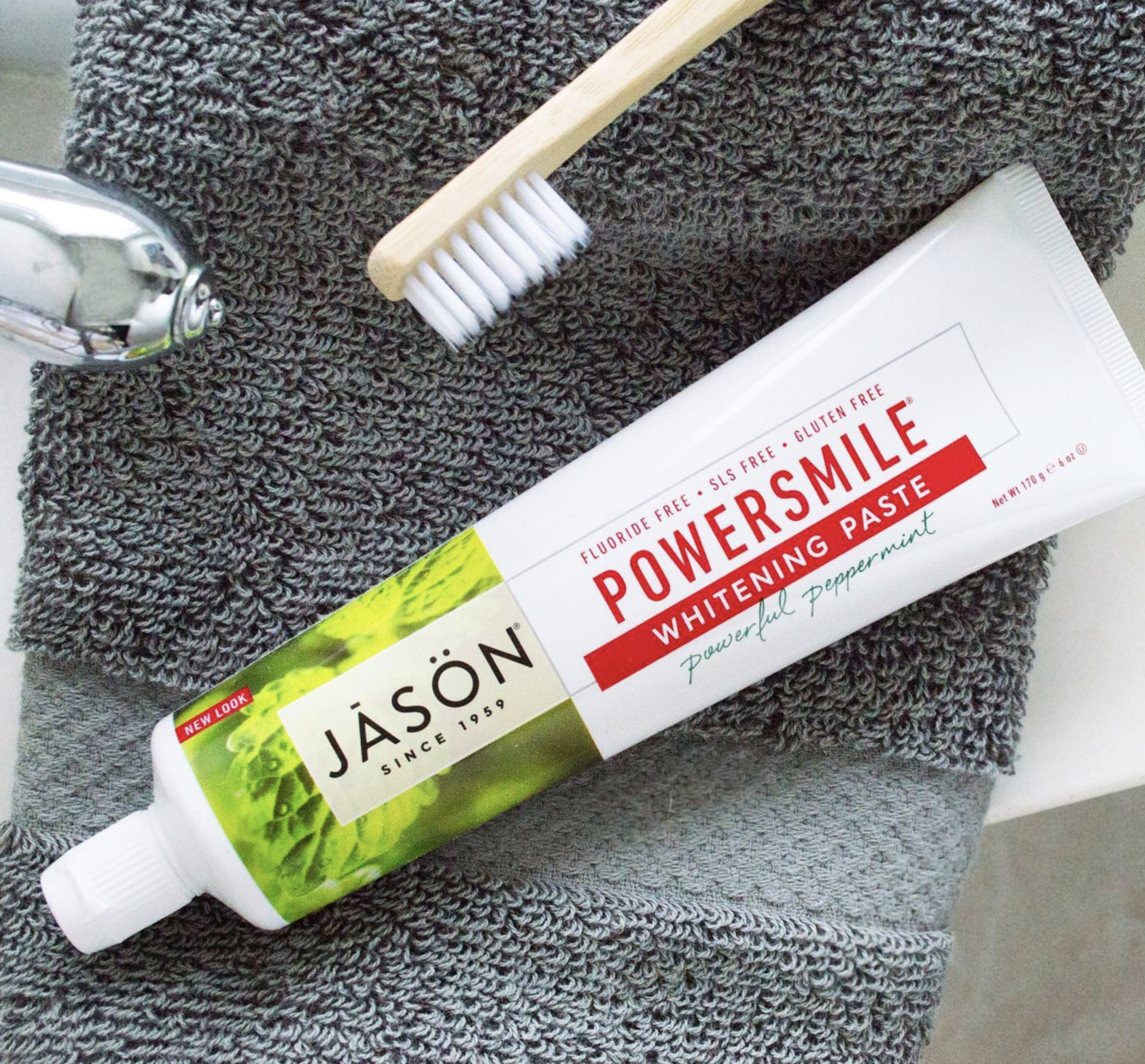 Jason Natural Care
2 Jason Natural Care
Jason Natural Care relies predominantly on natural ingredients to make its popular oral and body care products, and its toothpastes are no exception. Choose from a wide range of fluoride-free toothpastes, including Simply Coconut Whitening Toothpaste, which contains stain-reducing bamboo powder, and Simply Coconut Soothing Toothpaste, which contains ingredients like chamomile and aloe vera, and was formulated specifically for sensitive teeth. 
Check it out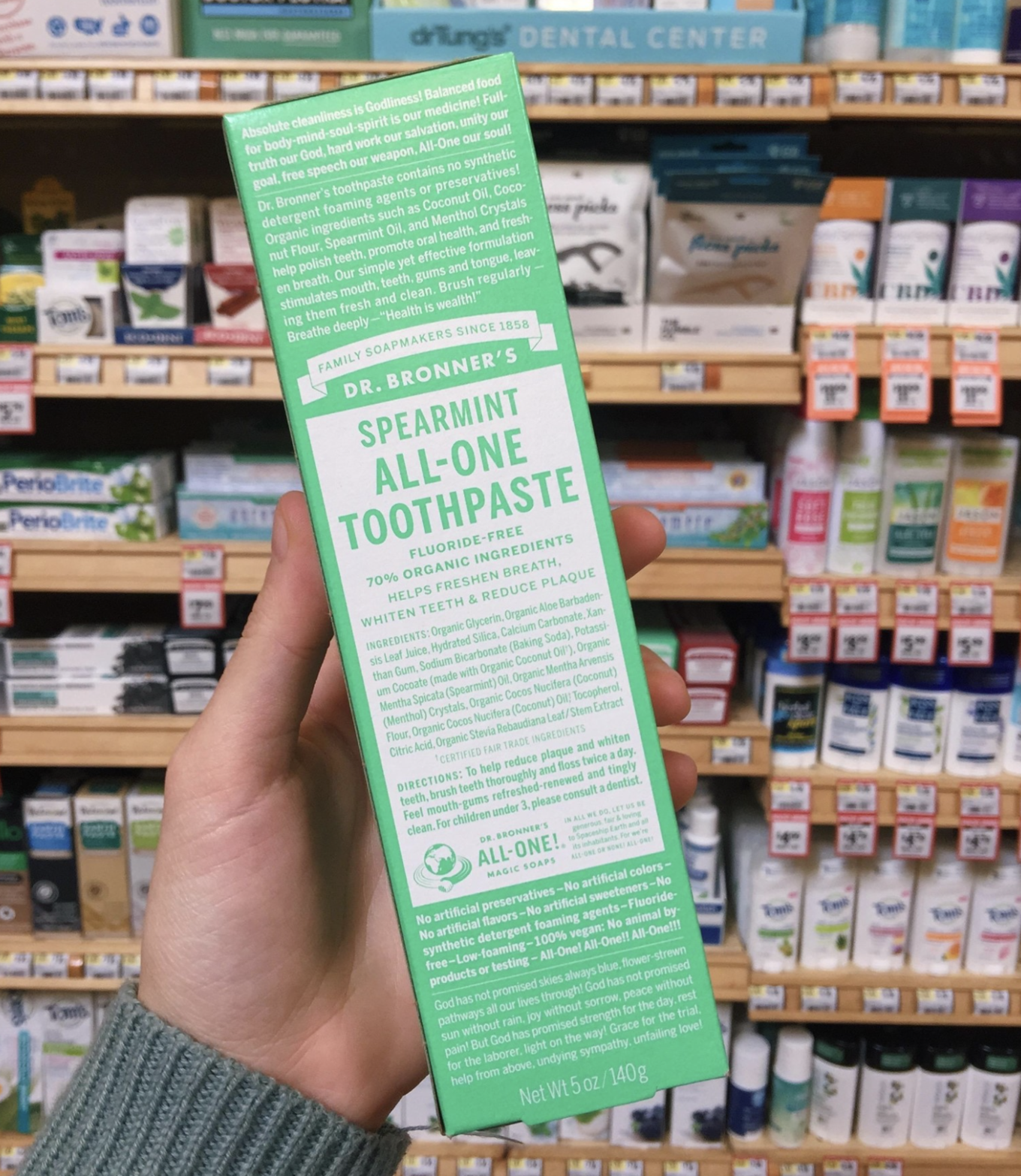 Dr. Bronner's
3 Dr. Bronner's
When you think of Dr. Bronner's, you likely think of soap, but as well as cleaning your hands, body, floors, and laundry, this brand can also help you clean your teeth, too. It has four toothpaste options to choose from—Peppermint, Spearmint, Cinnamon, and Anise—all of which are fluoride-free and made with 70 percent organic ingredients.
Check it out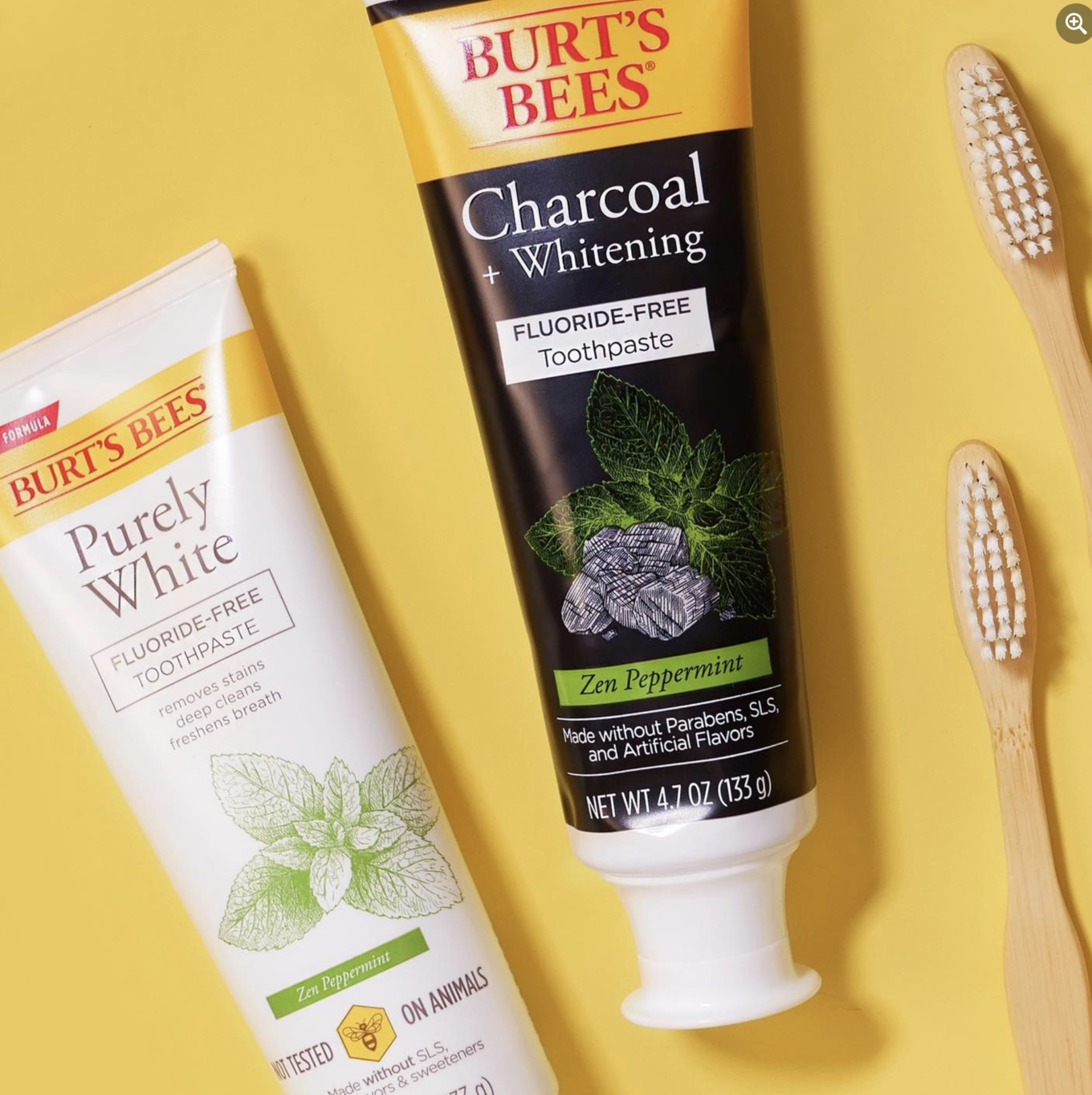 Burt's Bees
4 Burt's Bees
As the name indicates, Burt's Bees is not a vegan brand, because one of its signature ingredients is beeswax. But that said, it does have a number of vegan options, including toothpaste. The brand's Purely White Zen Peppermint toothpaste is fluoride-free and vegan, and so is the Charcoal + Whitening Mountain Mint option.
Check it out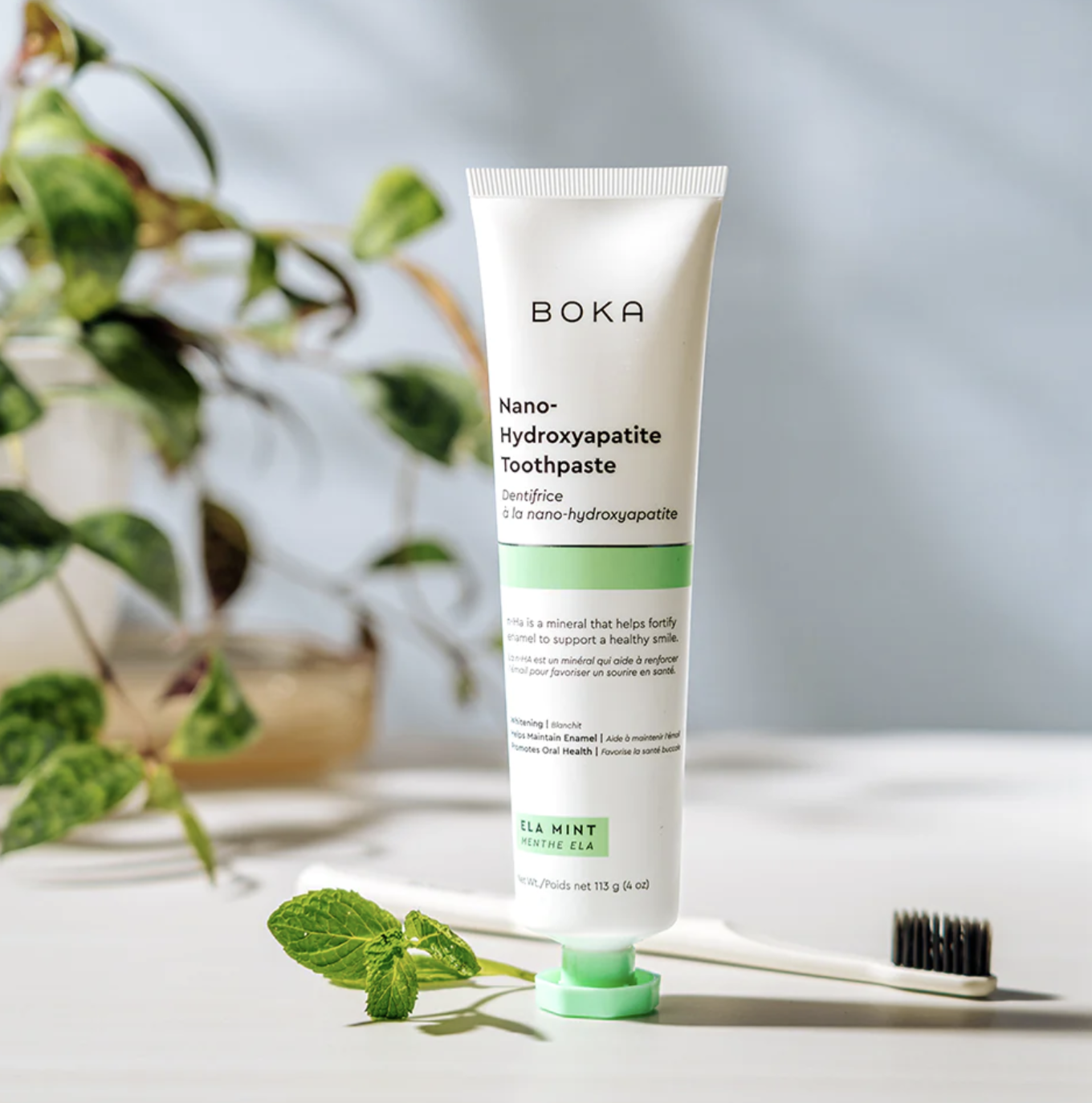 Boka
5 Boka
If you prefer to avoid fluoride, a chemical commonly found in toothpaste that helps to prevent tooth decay, there are other options available. Boka, for example, chooses to use nano-hydroxyapatite, a calcium-phosphate compound that also has the ability to repair enamel. The formula comes in Ela Mint flavor, but the brand also has a wide range of flavors to choose from if you're bored of the standard mint, including Coco Ginger and Lemon Lavender.
Check it out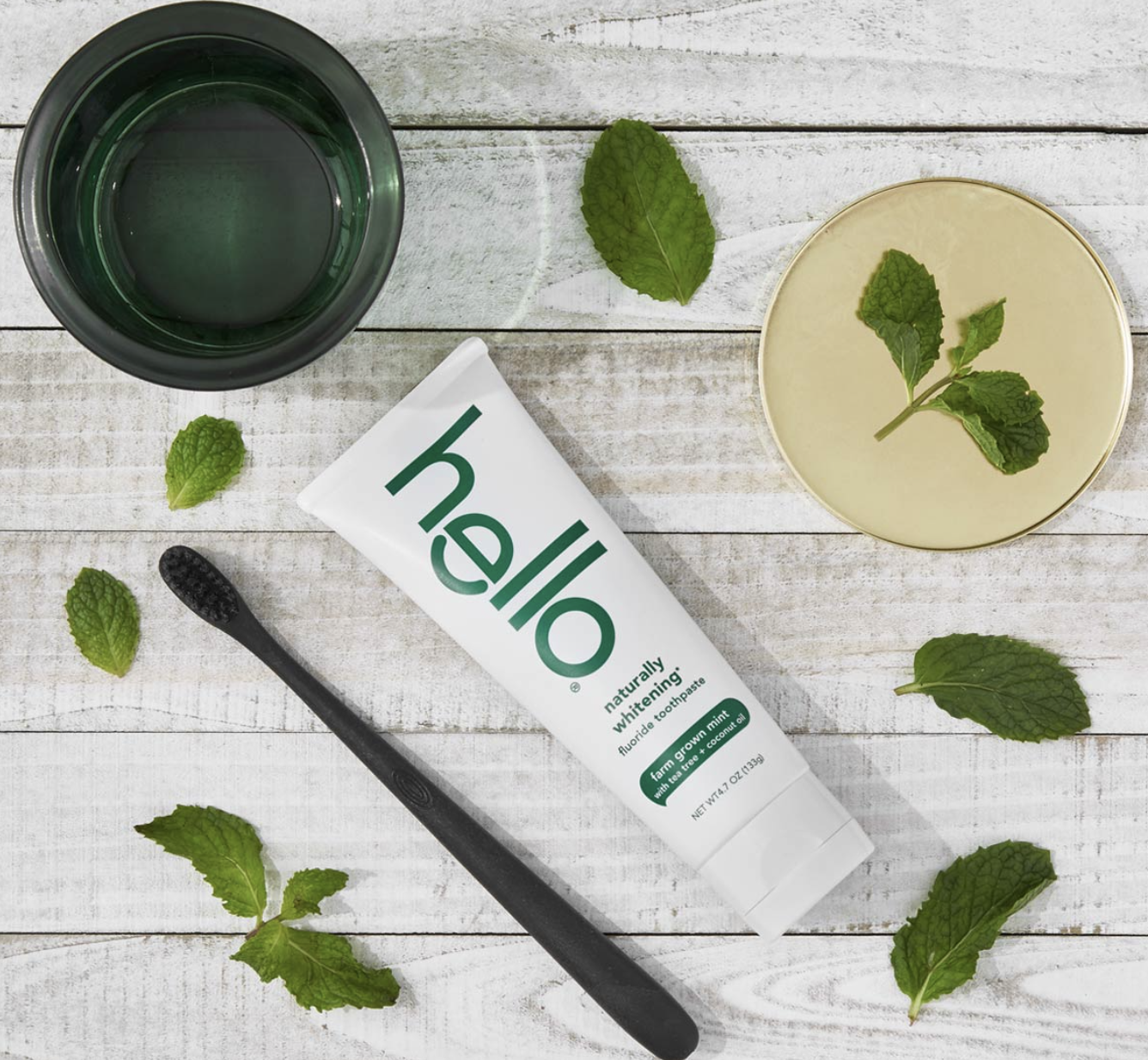 Hello
6 Hello
For that gleaming Hollywood smile, you need whitening toothpaste. And while Hello's popular fluoride-free charcoal toothpaste is black, it is designed to turn your teeth white. The vegan formula will also remove plaque and freshen breath. Plus its Leaping Bunny certified, so you can trust that it has never been tested on animals. If you're not down with charcoal, the brand also has options with tea tree and coconut oil, as well as an innovative Unicorn Sparkle option for kids, which tastes like bubblegum. 
Check it out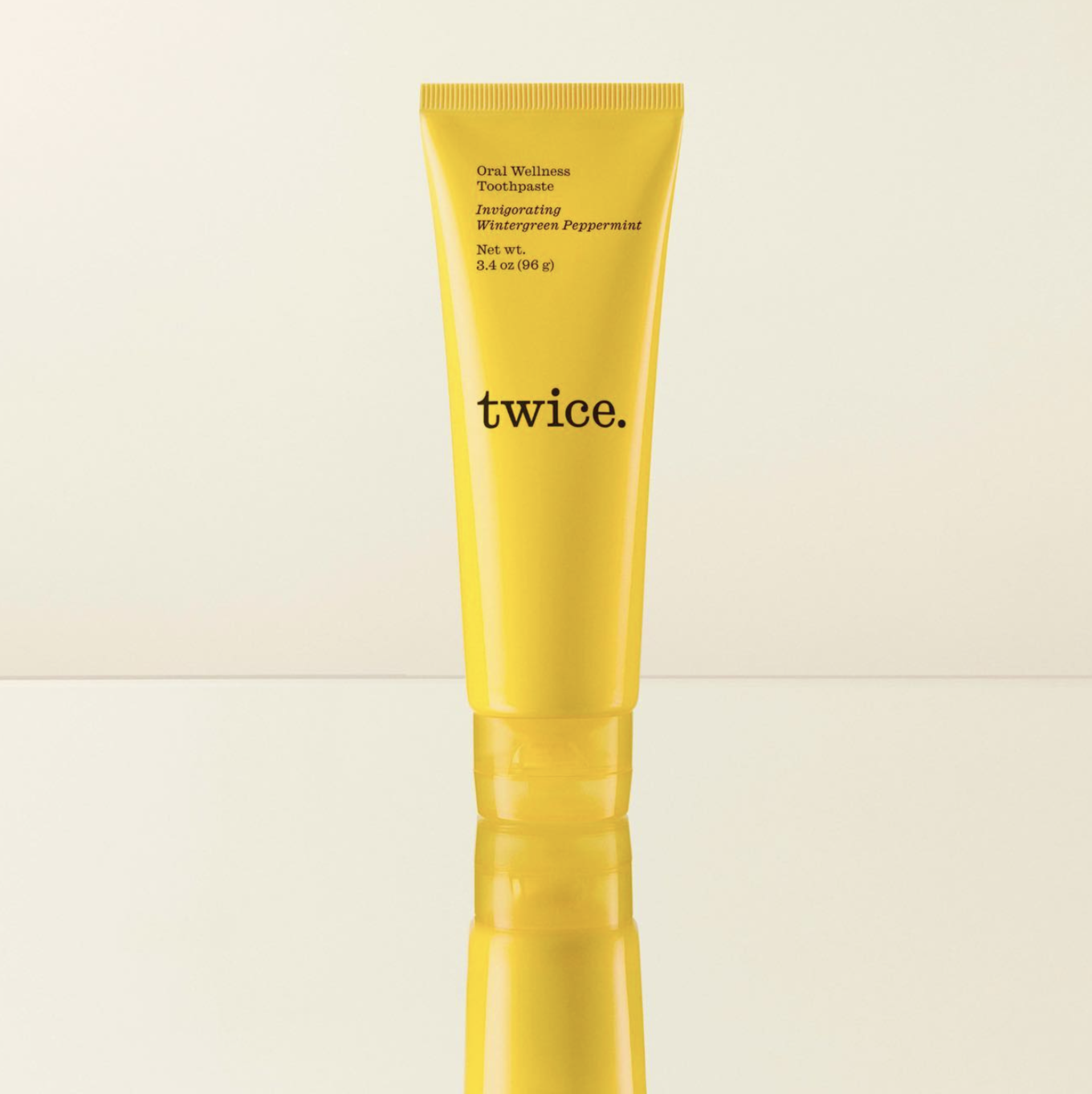 Twice
7 Twice
According to Twice, it combines "cutting edge science and clean ingredients" to make its toothpaste formulas, which are enriched with ingredients like aloe vera, vitamin A, and vitamin E, as well as coconut-derived foaming agents. Its toothpaste also helps to brighten, polish, and whiten teeth, thanks to the addition of hydrated silica and penta-sodium triphosphate. You can choose to have the brand's Oral Wellness Toothpaste with fluoride or without, and it comes in three different flavor options: Wintergreen Peppermint, Spearmint Eucalyptus, or Vanilla Lavender Mint.
Check it out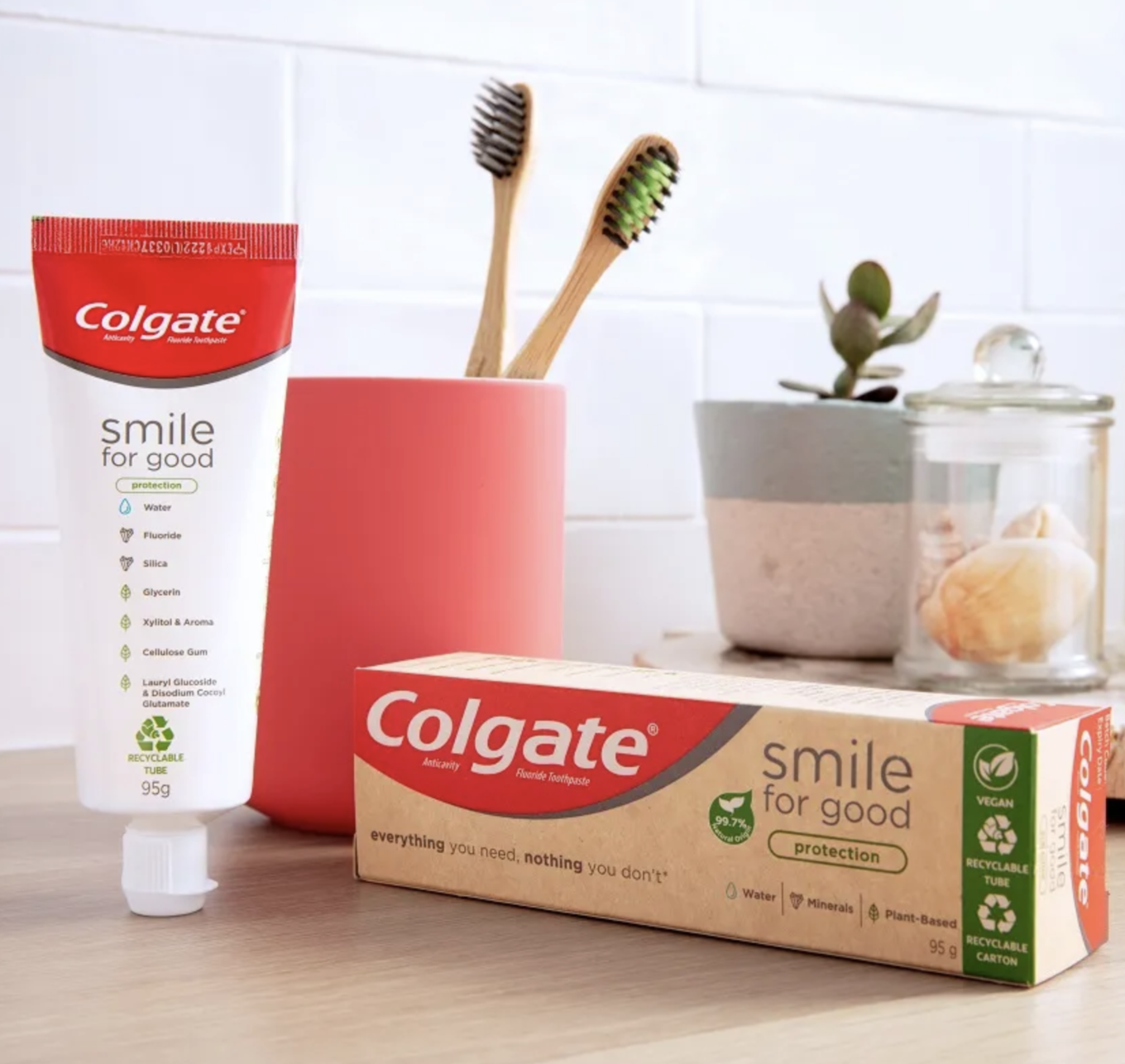 8 Colgate
One of the biggest toothpaste brands in the world, Colgate, is not vegan. But back in 2020, it did release a new vegan-friendly line called Smile For Good. The toothpaste is available in two varieties: Whitening and Protection, and both are packaged in recyclable tubes and cartons. 
Check it out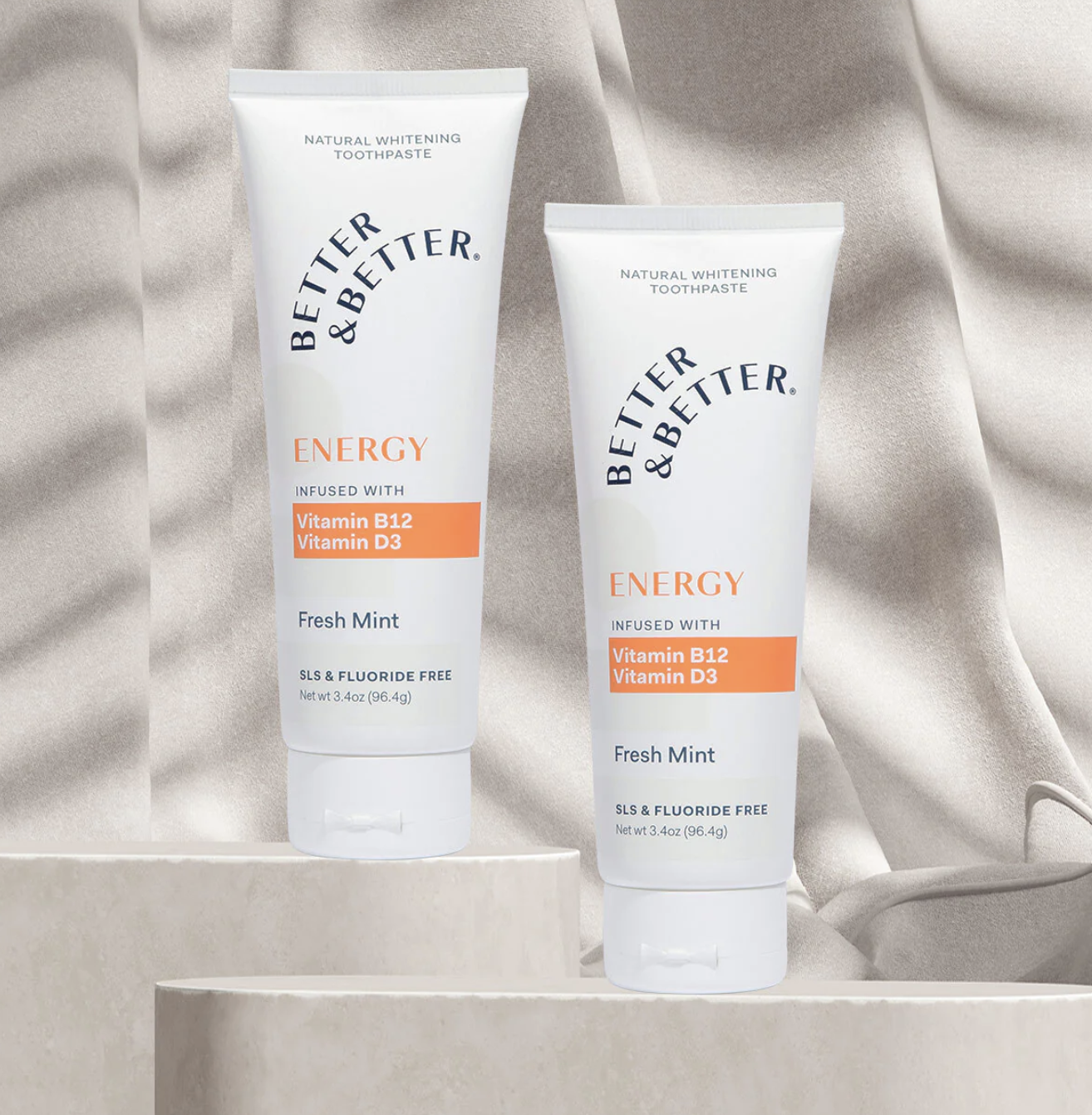 Better & Better
9 Better & Better
Everything that goes into Better & Better's toothpaste is natural, vegan, and organic, according to the brand. Plus, it's also "dentist-approved." It has a wide range of options, including the best-selling Energy Toothpaste, which is infused with vitamins B12 and D3, and Fortify Toothpaste, which is fluoride-free and formulated with remineralizing hydroxyapatite, which benefits tooth enamel.
Check it out
For more vegan health and beauty, read:
Here at VegNews, we live and breathe the vegan lifestyle, and only recommend products we feel make our lives amazing. Occasionally, articles may include shopping links where we might earn a small commission. In no way does this effect the editorial integrity of VegNews.