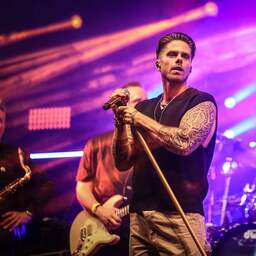 André Hazes lost confidence in his loved ones when it turned out that a personal letter he wrote to his ex Sarah van Soelen had been leaked. The singer says this in his documentary series, the first episode of which can be seen on Videoland on Saturday.
"That letter made me doubt everything and everyone," says Hazes. "I'm never going to find out who sent it. I dissected the entire video, hired a handwriting expert."
The letter Hazes is talking about was a personal story that he shared with his ex Sarah van Soelen. Juicing vlogger Yvonne Coldeweijer received the letter and shared the contents. She says she received the letter from Hazes' mother Rachel. In a case started by Rachel against Coldeweijer, the judge ruled that this could not be proven.
The relationship between Hazes and his sister Roxeanne has also cooled for some time. She, in turn, is involved in a conflict with mother Rachel about their father André's inheritance. "It's super complicated," says Hazes. "The conflicts my mother and sister are in, there is one to blame. Whoever it is – they have to fight it out themselves. I would rather distance myself from both than believe one and not the other."
Hazes emphasizes that he has no quarrel with either of them. "But every time you think: nothing can surprise me anymore, something else comes around the corner. Our family has fallen apart. And you have moments that you would have liked to share with each other. You never get used to that."
Hazes does say that he is at peace with the current situation. "I have given it a place that our family is the way it is," says De Live-singer. "But occasionally it is still confrontational."
Hazes' partner Monique also regrets that the family has no contact. She would like to see contact with Roxeanne restored. "André was once told to cut off contact." She doesn't say who did that. "There needs to be a good conversation about that at some point. I have a feeling that will happen one day."