Local News
John Madore, 33, entered New Hampshire Hospital on Friday afternoon and killed Bradley Haas, a state Department of Safety security officer.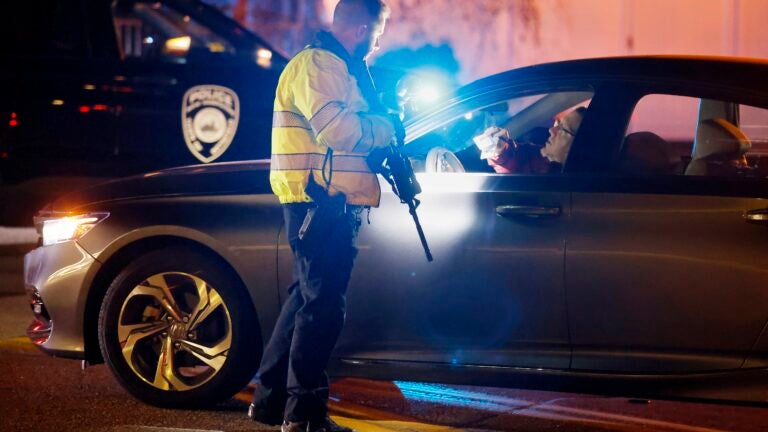 CONCORD, N.H. (AP) — A man killed by police after he shot a security guard to death at a New Hampshire psychiatric hospital has been identified, authorities said Saturday.
New Hampshire Attorney General John Formella said 33-year-old John Madore entered New Hampshire Hospital on Friday afternoon and killed Bradley Haas, a state Department of Safety security officer who was working at the front lobby entrance of the facility.
Formella said Madore was most recently living in a hotel in the Seacoast region and also had lived in Concord. He was wielding a 9mm pistol when he shot Haas, who was unarmed. Police also found an AR-style rifle, a tactical vest and several ammunition magazines in a U-Haul truck in the hospital's parking lot and were investigating connections between the truck and Madore.
"The actions of the trooper and Bradley Haas saved a lot of lives," Formella said.
The shooting happened around 3:30 p.m. at New Hampshire Hospital and was contained to the front lobby of the 185-bed facility, State Police Col. Mark Hall said late Friday. He said CPR was performed on Haas, who later died at Concord Hospital.
No motive was given.
Haas lived in Franklin, a small city about 20 miles (32 kilometers) from Concord. He worked as a police officer for 28 years and rose to become police chief, according to a statement from the state attorney general's office.
The Franklin Police Department mourned the death of the former chief, saying he dedicated decades to the city and police department before retiring in 2008.
"He continued to dedicate his time to the NH community by serving as a security officer helping and protecting those at the NH State Hospital," the police department said on their Facebook page. "The FPD will honor his memory by flying our flags at half staff and wearing mourning bands in our badges."
Friday's shooting was the latest act of violence at a U.S. hospital. Medical centers nationwide have struggled to adapt to the growing threats, which have helped make health care one of the nation's most violent fields.
It came weeks after 18 people were killed and 13 others injured in a mass shooting in neighboring Maine.
The hospital remained in operation but was closed to visitors Friday evening.
The facility is the only state-run psychiatric hospital for adults in New Hampshire. Located in the capital city, it is part of a large state office park that includes multiple state agencies and is near the city's high school and district courthouse. The Department of Safety provides security for the hospital.
Steve Ahnen, president of the New Hampshire Hospital Association, said in a statement that the hospital staff serves "patients with respect, compassion and with the utmost care, and that extends to all who work there.
"We extend our gratitude to New Hampshire's first responders and all those who swiftly acted to minimize further harm and provide care to those in need. We thank them for supporting the health and safety of New Hampshire residents and ensuring the health and safety of our patients, health care workers and our communities."
AP reporter Holly Ramer contributed from Concord, New Hampshire. Reporters Patrick Whittle and David Sharp contributed from Portland, Maine. Reporter Steve LeBlanc contributed from Boston.