"Floods like this, even my father, who is 73 years old, has never seen them"sighs Benoit Hedin, farmer on a 200-hectare farm where crops of cereals, beets, flax, corn and rapeseed are mixed.
Twice last week, the Dordogne (a tributary of the Canche) burst out of its bed, spreading into the commune of Bréxent-Énocq (Pas-de-Calais), until rushing into where it keeps its cows and heifers. Benoit Hedin had been alerted by a local resident after the retention basin located 10 kilometers from his farm overflowed and tried to prepare, but nothing helped.
Despite the small dike that surrounds his farm, " the water went over and I was about 50 centimeters on the ground », he describes. Thanks to platforms located slightly higher in the barn, the ruminants were nevertheless able to take refuge, avoiding having their legs in the water for too long. But the damage is there.
" The first time, we had to wait for the water to start again around half past noon to milk the cows at midnight instead of 5 p.m.. The second wave of water, this Thursday, did not recede until Friday at 3 a.m., preventing us from milking the animals for 36 hours. However, this should normally be done twice a day. ", he laments.
Miss to win
Beyond the pain suffered by the cows, this lack of milking represents a loss of income for the breeder whose production fell by a third over the week, he indicates. " We will succeed in going back, these events caused stress on the animals which can cause them illnessesspecifies the breeder, estimating that " the impact on breeding will last until next summer ", without however succeeding in quantifying the losses.
As for the extent of the damage to market gardening production, "difficult to say at the moment"indicates Benoit Hedin who nevertheless deplores that the heavy rains have transformed some of his fields "in real macadam".
Floods in Pas-de-Calais: more than 200 municipalities classified as natural disasters
Jean-Michel Delannoy, a farmer in the North in Avelin and vice-president of the Inter-profession of the fresh fruit and vegetable sector (Interfel), also blames the blow: "I have four hectares of corn that have not been harvested and 85% of my endives are still in the field, whereas at this time I should be at 80% harvest, which is worrying. Especially since the land is soggy so it is difficult to pass the machines".
He already knows that he will have to sacrifice part of his endive production. Likewise, the damage caused by water on the soil makes him fear a harvest halved, even for the next one.
" Generally speaking, the crops that were flooded were about to be harvested for sale and therefore marketed from December to April, or for storage », summarizes Anne Coupet, president of the section of the Departmental Federation of Agricultural Operators Unions (FDSEA) of Pas-de-Calais which lists: "These are autumn and winter vegetables, cabbage, celery, turnips, endives and even leeks." "And if field crops are underwater, the same goes for some in greenhouses with at least 20 centimeters of water," she indicates. And after eight days under water for certain vegetables, the water having not yet completely withdrawn, "the vegetables are asphyxiated and even if we manage to harvest them, their conservation is compromised"and therefore become unsaleable, she explains, lamenting: "This is irreversible damage." "It's really a disaster for the region," she still regrets.
A possible price increase on the shelves
Enough to decimate supermarket shelves: "the leeks and cabbages whose crops have been submerged will disappear", predicts, in fact, the farmer. It warns of a risk of shortage which could weigh on the prices of the French vegetables concerned. As a reminder, the price of fruits and vegetables is set daily using an over-the-counter sales system. And for Jean-Michel Delannoy, it is therefore necessary that "the margin of distributors be benevolent". In other words, "if mass distribution applies its usual coefficient on products purchased from producers, which will increase, it is the consumer who will pay the bill"he explains.
As for cereals, their prices being set by international prices, strong production on a global scale will push prices down, to the great dismay of French farmers, deplores the vice-president of Interfel, who hopes that "the aid will be equal to that distributed during the frost episode in 2021".
The government has already announced a fund with 80 million euros for farmers affected in Brittany, Normandy and Hauts-de-France. A sum which " will make it possible to cover both harvest losses, but also investment losses which would not be covered by insurance subjects", said the Minister of Agriculture, Marc Fesneau.
The biggest bill paid by farmers
In summary, the biggest bill will be paid by the farmers regrets Jean-Michel Delannoy, who cites the case of a father and his son – Réginald and Alexandre Graves – in Saint-Omer (Pas-de-Calais), who "will not have any money coming in before May or June due to lack of harvest". They deplore a total of around 750,000 euros in losses, including 200,000 euros for their cabbages, 10,000 euros for their carrots and even 500,000 euros for their equipment.
Agri-food systems: hidden costs exceed 10% of global GDP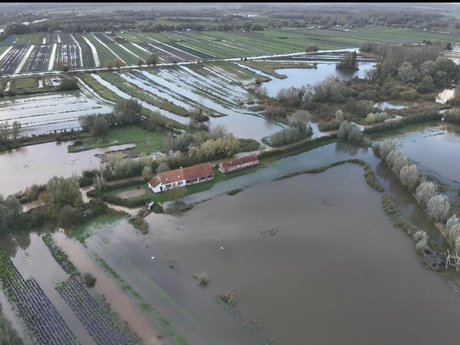 (The flooded farm of Réginald and Alexandre Graves in Saint-Omer. JM Delannoy)
A submersible area
Especially since, like Benoit Hedin, he keeps in mind that these types of devastating events will recur in the years to come. So how to protect yourself from it? If the farmer-breeder of Bréxent-Énocq feels very helpless – "we can't stop the water, if it has to pass it will pass" – for Jean-Michel Delannoy, the challenge is achievable.
"There is a whole problem of water retention which we need to avoid flooding and to allow irrigation", he says. Especially since it is the very geography of Pas-de-Calais which makes farms so vulnerable to flooding. In particular the Boulogne-Calais-St-Omer triangle. It is a polder, that is to say an artificial expanse of land reclaimed from the sea thanks in particular to wateringues, ditches created to evacuate floods. But the latter failed to fulfill their mission in the face of bad weather in recent days. This is evidenced by the damage "catastrophic" suffered by the Graves family and their 16 hectares of lost cabbages.
Natural disasters: home insurance premiums could soar in 2024
These are areas "heavily artificialized by man, which is not a problem in itself, but it appears that the current drainage system is no longer adapted to these heavy rains which it struggles to absorb", explains Matthieu Brun, scientific director of the foundation for agriculture and rural life in the world (FARM). "There is a hydraulic problem that must be tackled head on"confirms Jean-Michel Delannoy who regrets the lack of maintenance of the Wateringues.
"The system was designed in the 1970s, but there, with the climate changeit is necessary to have a real reflection on the water to channel it and so that it can go where it needs to go"concludes the farmer who hopes that these floods will cause "at least regional awareness".