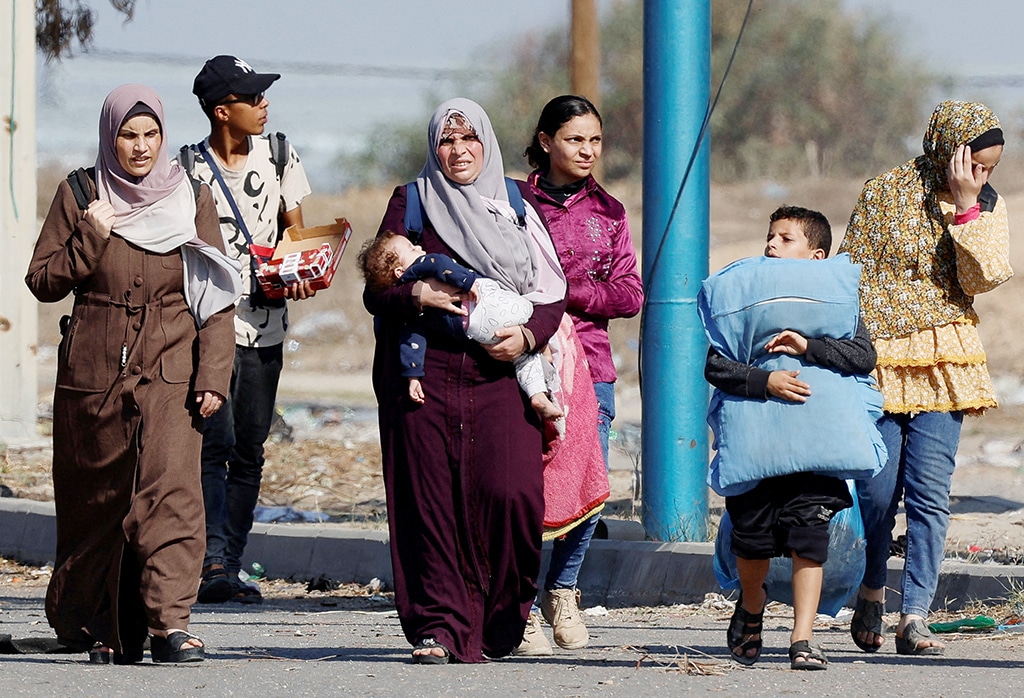 Jordan's foreign minister voiced doubt on Saturday that Israel could reach its goal of obliterating Hamas with its heavy bombardment and invasion of the Gaza Strip long dominated by the Palestinian Islamist movement.
"Israel says it wants to wipe out Hamas. There's a lot of military people here, I just don't understand how this objective can be realised," Ayman Safadi said at the annual IISS Manama Dialogue security summit in Bahrain.
Israel vowed to annihilate Hamas since its deadly Oct. 7 cross-border rampage into Israel. Since then, Israel has bombed much of Gaza City to rubble as it has subdued the enclave's north and turned to stepping up attacks on Hamas in the south.
Israel's devastating blitz of Gaza has raised questions over who would govern the densely populated enclave in the event of a Hamas defeat in the enclave it has ruled since 2007.
Only the Palestinian Authority (PA), the Western-backed entity that exercises limited self-rule in the Israeli-occupied West Bank, could run Gaza after the Israel-Hamas war is over, European Union foreign policy chief Josep Borrell said.
"Hamas cannot be in control of Gaza any longer," Borrell told the Manama Dialogue, an annual conference on foreign and security policy. "So who will be in control of Gaza? I think only one could do that – the Palestinian Authority."
Palestinian President Mahmoud Abbas has said the PA could play a role in administering Gaza if there was a full political solution – moves towards Palestinian statehood on lands Israel has occupied since 1967 – that also encompassed the West Bank.
Israeli-Palestinian peace talks have been frozen since 2014. The PA is deeply unpopular among Palestinians, perceived largely as a corrupt security subcontractor for Israel, and Israel is now under a hardline religious-nationalist government.
Hamas took over Gaza after a brief civil war in 2007 with Abbas' Fatah party. Years of reconciliation talks between the rivals failed to reach a breakthrough for resuming PA administration of Gaza. The PA still pays for electricity, water and some civil servant salaries in Gaza.
About two-thirds of Gaza's 2.3 million Palestinians have been displaced by Israel's onslaught. Many of those who have fled fear their homelessness could become permanent.
Safadi warned Jordan would do "whatever it takes to stop" such displacement. "We will never allow that to happen, in addition to it being a war crime, it would be a direct threat to our national security. We'll do whatever it takes to stop it."
Jordan, which shares a border with the West Bank, absorbed the bulk of Palestinians who fled or were driven out of their homes when Israel was created in 1948.
The Gaza war has stirred fears of upheaval in Jordan with officials seeing a risk that Israel could expel Palestinians en masse from the West Bank, where Israeli settler attacks on Palestinians have surged since the Oct. 7 Hamas attack.
"This war is not taking us anywhere but towards more conflict, more suffering and the threat of expanding into regional wars," said Safadi.
U.S. President Joe Biden's top adviser on the Middle East told the Manama conference that the release of hostages held by Hamas would lead to a surge in the delivery of humanitarian aid and a significant pause in fighting in Gaza.
"The hostages are released, you will see a significant, significant change," Brett McGurk told the Manama conference.
Bahrain's crown prince, addressing the gathering on Friday, called on Hamas to release Israeli women and children held hostage and for Israel in exchange to release from its prisons Palestinian women and children who he said were non-combatants.