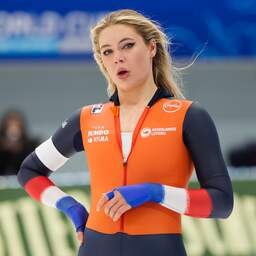 After eighteen victories in a row, Jutta Leerdam had to give up again on Saturday in the 1,000 meters. That happened precisely at the location of her failed Olympic Games, although she does not want to emphasize that.
Leerdam returned on Saturday to the stadium where she suffered her last defeat in the 1,000 meters in February 2022. At the time, the South Holland player lost the battle for gold to Miho Takagi, partly due to a mistake.
"I didn't think: 'oh the Games were here too," Leerdam began after the World Cup competition NOS. "But it did go through my head on the inside bend. I remembered that I almost fell there."
"But that has nothing to do with the end result," continued the 29-year-old Leerdam. "It's mainly the track and the ice here that I just don't enjoy."
On Saturday, Olympic champion Takagi was again faster than Leerdam (1.14.88) with 1.14.44. Leerdam also had to tolerate Kimi Goetz. The American recorded 1.14.45, meaning Leerdam had to settle for bronze.
Leerdam about family circumstances: 'Is indirectly related to it'
The defeat put an end to eighteen consecutive victories for Leerdam. After the Games in 2022, she won all six World Cup races and the 1,000 meters at the European Sprint Championships and national championships. She also won the world title in the kilometer for the second time.
Leerdam also won the 1,000 meters last week at the start of the World Cup season in Obihiro, Japan. At the time, the world champion was just faster than Takagi, but afterwards she announced that she was not feeling well due to sad family circumstances.
Without elaborating too much about those family circumstances, Leerdam said on Saturday that she is still not feeling well. "I think it has something to do with it indirectly. I try to focus, but it is what it is now."
"They are simply better today and it is not possible to compete in the World Cups all season with a knife to their throat. I am very proud of that long winning streak, but the focus is on the World Cup at the end of the season. I can do much better than this and I'm going to show that."