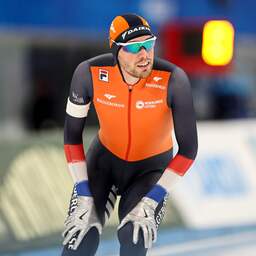 Nov 18, 2023 at 12:44 pm Update: 3 minutes ago
Patrick Roest also won the second World Cup 5 kilometer race in Beijing on Saturday. In Beijing, the reigning world champion was 2.85 seconds faster than Davide Ghiotto, his closest opponent.
Last week, Roest also fought a nice fight with Ghiotto, who already managed to beat him once last year. In a mutual duel, the Dutchman won gold in Obihiro, Japan thanks to a mighty final sprint and a track record.
On Saturday, 27-year-old Roest was the first of the favorites to take action. Against the Norwegian Sverre Lunde Pedersen he started with approximately the same split times as a week earlier, but he did not have the acceleration as a week earlier.
With 6.11.40, Roest nevertheless set a time that the competitors had not achieved a week earlier. In the last stage, Sander Eitrem and Ghiotto were able to help each other with fast laps in the beginning, but they also had to give in too much to Roest.
Chris Huizinga had previously driven 6.22.02. With that time, almost 3 seconds faster than a week earlier, he finished ninth. Jesse Speijers achieved 6.24.80 in his second race in the World Cup and finished twelfth.
Dutch people 500 meters far from medals
Earlier in the day, the Dutch did not come close to the podium in the second 500 meters. Kai Verbij was the best Dutchman in seventh place. The victory went to Japan's Wataru Morishige who won in 34.69 ahead of Laurent Dubreuil from Canada and his compatriot Yuma Murakami.
Merijn Scheperkamp finished fourth on Friday with 35.00, within 2 thousandths of a second, but was unable to match or improve on that performance on Saturday. With 35.25 he finished twelfth.
Verbij had qualified for the A group again on Friday with a second place in the B group. He achieved a time of 35.09. Janno Botman was also slightly faster than Scheperkamp. With 35.13 he came eighth.
Hein Otterspeer, who had canceled the day before because he was ill, rode 35.44. The 34-year-old sprinter finished seventeenth.