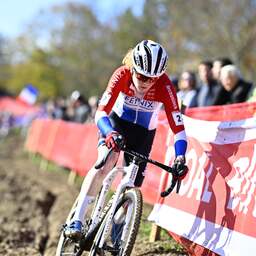 Nov 19, 2023 at 2:39 PM Update: a minute ago
Classification leader Ceylin del Carmen Alvarado has impressively won the Troyes World Cup among the women. Puck Pieterse made her return and finished second. In the men's race, Eli Iserbyt defeated Lars van der Haar.
Pieterse turned back a one-month break back in the field for the fourth World Cup match of the season. The all-rounder had a great time in sun-drenched Troyes.
The 21-year-old Dutch woman quickly opened up a gap with the rest of the cyclo-cross riders. Only compatriot Alvarado stayed nearby. The leader of the World Cup classification rode in Pieterse's wheel until the fourth lap and then passed her.
That first attack from the 25-year-old Alvarado proved to be enough. With a large lead over Pieterse, she was the first to cross the line in Troyes after six laps of 2.9 kilometers, after which she could not contain her emotions. The Rotterdam native fell into her mother's arms with tears in her eyes.
A lot of emotion from winner Alvarado
It was the second victory in a row for Alvarado, after her victory in Dendemonde. "I fell deep. Then it is great to win here today – also in the shirt of the leader in the World Cup," the 2020 world champion said in tears.
"I fought for every meter, despite some mistakes. I saw that Puck also got tired along the way. I never gave up." Pieterse gave in to the winner by 21 seconds at the finish. Afterwards, the Amersfoort player stated that he "may have started a little too enthusiastically". "Halfway through I felt like I had been out for a while," she said.
34-year-old Lucinda Brand completed the all-Dutch podium by finishing third. Fem van Empel, who won the first two World Cup races of this year, was not present. She took rest. The reigning world champion will be there again next week in Kortrijk.
Van der Haar relinquishes the lead to Iserbyt
Iserbyt in Troyes won the men's race. Van der Haar finished second and therefore relinquished his position as classification leader to the 26-year-old Belgian.
Iserbyt had to fight back in France after a bad start, partly due to a flat tire. Van der Haar took the lead on the first lap and opened a gap of about ten seconds with his pursuers.
In the fourth lap Van der Haar was still in the lead, but he saw Iserbyt getting closer. With a bike change, the Dutch champion tried to stay ahead of his Belgian competitor, but he still had to bow to Iserbyt, who rode very well in Troyes.
Iserbyt started the final lap with an eight-second lead over Van der Haar. The Belgian made no more mistakes, making him the new classification leader in the World Cup. Joris Nieuwenhuis came third. Last week he won in Merksplas.