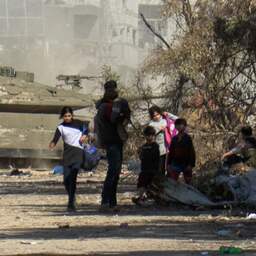 US President Joe Biden has indicated what should happen to the management of the Gaza Strip after the war between Israel and Hamas. He wants the Palestinian Authority to lead the area.
The Palestinian Authority already governs the West Bank. There are also many Israeli settlers there. "In our pursuit of peace, the Gaza Strip and the West Bank must be reunited under a single governing structure," Biden wrote in an op-ed in The Washington Post.
"Ultimately, that must happen under a revitalized Palestinian Authority, as we all work toward a two-state solution," Biden continued in the American newspaper. "There should be no forced displacement of Palestinians from Gaza, no reoccupation, no siege or blockade and no reduction of territory."
Israeli Prime Minister Benjamin Netanyahu emphasizes that Israel must maintain "overall military responsibility" in Gaza "for the foreseeable future." He is responding to the massacre by Hamas in Israel more than a month ago. Hamas has held power in the Gaza Strip in recent years.
Biden also says the United States is prepared to issue a visa ban against "extremists" who attack civilians in the West Bank.
Israeli settler violence against Palestinians in Israeli-occupied territory has increased since the October 7 Hamas attack. "I have strongly urged Israeli leaders to stop extremist violence against Palestinians in the West Bank and to hold those who perpetrate the violence accountable," the president wrote.