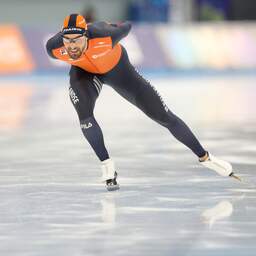 Nov 19, 2023 at 11:08 am Update: 4 minutes ago
Kjeld Nuis feels very much at home in Beijing. The three-time Olympic champion defeated the competition in the 1,000 meters on Sunday and recorded his second victory of the World Cup weekend.
With a time of 1.08.11, Nuis was almost a second faster than number two Havard Lorentzen (1.08.99). China's Ning Zhongyan finished third in 1.09.03.
Nuis was already the best in the 1,500 meters on Friday. He said then that the Olympic Hall in China is "his job". The 34-year-old Dutchman took his eighteenth World Cup victory in the 1,000 meters on Sunday and his 34th in total in the World Cup.
Lorentzen surprised with his second place. For the 31-year-old Norwegian, Olympic champion in the 500 meters in 2018, it was the first individual World Cup medal in almost five years.
The Japanese Masaya Yamada disappointed. He won the 1,000 meters in Obihiro last week, but now did not get further than seventeenth place (1.10.36).
Result 1,000 meters
1. Kjeld Nuis – 1.08.11
2. Havard Lorentzen – 1.08.99
3. Ning Zhongyan – 1.09.03
6. Jennings de Boo – 1.09.32
8. Tim Prins – 1.09.53
The Boo and Prince show up
Talents Jenning de Boo (19) and Tim Prins (20) did well on Sunday in their second 1,000 meters in the World Cup. De Boo finished sixth in 1.09.32 and Prins was eighth in 1.09.53.
Earlier on Sunday, Tijmen Snel was the best in the B group in a time of 1.09.20. Thomas Krol did not qualify for the 1,000 meters three weeks ago and was therefore not allowed to start at the distance at which he became Olympic champion in Beijing last year.
World champion Jordan Stolz is not in China. The American is training in Thialf with a view to the rest of the season.
Hoolwerf fourth on mass start
The mass start, the last part of the weekend, surprisingly turned out to be an Italian party. Andrea Giovannini won the chaotic bunch sprint and his compatriot Daniele Di Stefano finished second. Olympic champion Bart Swings from Belgium took bronze.
Bart Hoolwerf was the fastest in Obihiro last week, but now had to settle for fourth place. The Dutch leader was in a tight spot in the final and barely managed to avoid a crash entering the last corner. As a result, he was unable to sprint at full speed.