Summary
The Crown season 6 has received a low score of 54% on Rotten Tomatoes, a significant drop from season 4's 96%, which was praised for its addition of Princess Diana and Margaret Thatcher.
Despite the lower critical score, The Crown season 6 still maintains a high audience score of 95%, based on over 100 ratings, indicating that viewers are still enjoying the show.
The focus of season 6, part 1, is on the relationship between Princess Diana and Dodi Fayed.
The Rotten Tomatoes score for The Crown season 6, part 1 is in, and not comparing well to prior seasons. As it prepares to bow out as one of Netflix's most recognizable shows, the synopsis for the latest chapter of the historical drama focuses on the relationship between Princess Diana (Elizabeth Debicki) and Dodi Fayed (Khalid Abdalla), detailing what happened eight weeks before their fateful car accident. The first four episodes were released on November 16, with the remaining six set for December 14.
Rotten Tomatoes has now set a score for The Crown season 6, with the closing installment receiving the show's lowest of 54%. The audience score remains high at 95%, based on more than 100 ratings. The 54% score from television critics is a far cry from the highs of The Crown season 4, at 96%, which drew praise for bringing in Gillian Anderson as Margaret Thatcher and bringing in Princess Diana, who was initially played by Emma Corrin.
Why Has The Crown Slumped In Its Last Season?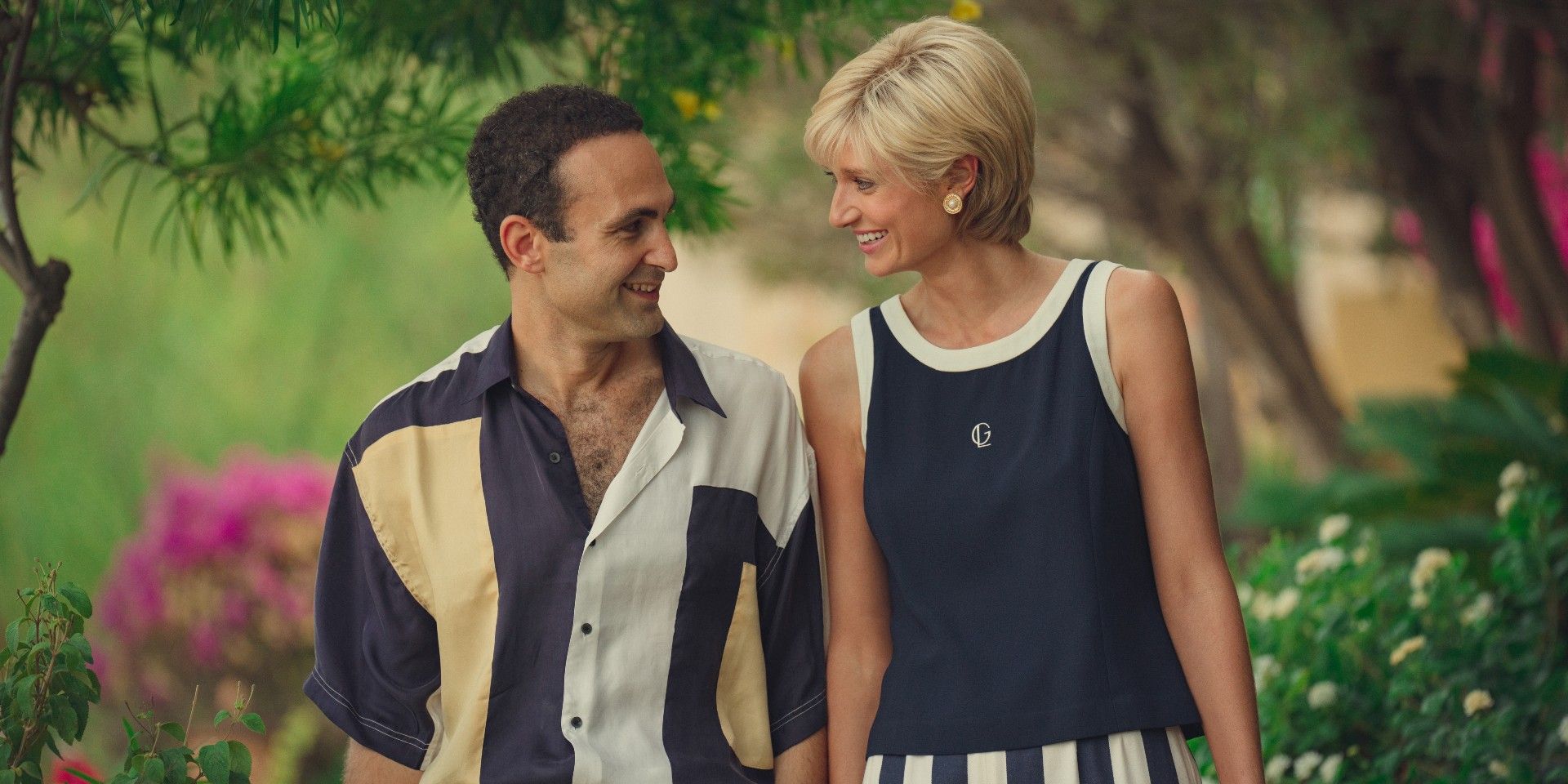 The Crown season 6 is being criticized for going over familiar ground with the story of Princess Diana and Dodi's deadly car accident. Peter Morgan, who created the Netflix show, is also behind the 2006 film The Queen. Some reviews mention how The Crown season 6 hits the same beats, especially as it relates to Queen Elizabeth's response to Diana's death. In turn, the show essentially ends up as something similar to Helen Mirren's Oscar-winning performance.
Another factor that's mentioned is the relative recency of the events in The Crown season 6, at least in terms of how the audiences perceive it. Older episodes of the Netflix series had a sheen of historical drama to it. The latest, meanwhile, delves into Diana's death which quickly became a tabloid scandal. Reviewers argued that the series rehashes the scandal without much in terms of a new perspective to offer.
This ties to another point about how Diana has taken over The Crown in its final outing, sidelining Queen Elizabeth and minimizing Imelda Staunton's portrayal at a time when she should be getting the spotlight. It could be that the second half of season 6 will adjust the imbalance. But for now, it's led to the drama's lowest Rotten Tomatoes score.
The Crown season 6, part 2 will premiere on Netflix on December 14.
Source: Rotten Tomatoes
Release Date:

2016-11-04

Cast:

Claire Foy, Olivia Colman, Imelda Staunton, Matt Smith, Tobias Menzies, Jonathan Pryce, Vanessa Kirby, Helena Bonham Carter, Lesley Manville, Victoria Hamilton, Marion Bailey, Marcia Warren

Main Genre:

Biography

Genres:

Biography, Drama, History

Rating:

TV-MA

Seasons:

5

Summary:

This drama follows the political rivalries and romance of Queen Elizabeth II's reign and the events that shaped the second half of the 20th century.

As the 1970s are drawing to a close, Queen Elizabeth (Olivia Colman) and her family find themselves preoccupied with safeguarding the line of succession by securing an appropriate bride for Prince Charles (Josh O'Connor), who is still unmarried at 30. As the nation begins to feel the impact of divisive policies introduced by Britain's first female Prime Minister Margaret Thatcher (Gillian Anderson), tensions arise between her and the Queen which only grow worse as Thatcher leads the country into the Falklands War, generating conflict within the Commonwealth. While Charles' romance with a young Lady Diana Spencer (Emma Corrin) provides a much-needed fairytale to unite the British people, behind closed doors, the Royal family is becoming increasingly divided.

Website:

https://www.netflix.com/title/80025678

Cinematographer:

Stuart Howell, Adriano Goldman

Creator:

Peter Morgan

Distributor:

Netflix

Main Characters:

Peter Townsend, Prince Philip, Anthony Eden, Queen Elizabeth, Princess Diana, Queen Mary, Prince Charles, Princess Margaret

Producer:

Andy Stebbing, Martin Harrison, Michael Casey, Andrew Eaton, Oona O'Beirn, Faye Ward

Production Company:

Sony Pictures Television, Left Bank Pictures

Sfx Supervisor:

John Smith, Chris Stoaling

Writers:

Peter Morgan

Number of Episodes:

50