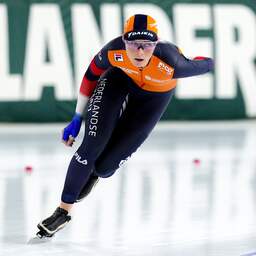 Nov 19, 2023 at 10:32 am Update: 3 minutes ago
Olympic champion Irene Schouten finished only eighth in the 3 kilometers at the World Cup in Beijing on Sunday after a very difficult race. Jutta Leerdam ended the weekend well with bronze in the 500 meters.
Schouten started the season excellently three weeks ago with a victory in the 3 kilometers at the World Cup qualifying tournament in Thialf (3.55.89). The three-time Olympic champion subsequently did not travel with her team to Obihiro, Japan, because coach Jillert Anema did not think that was a good idea with a view to the rest of the season.
31-year-old Schouten did board a plane to Beijing. Fifth place in Saturday's mass start was acceptable, but that did not apply to her race in the 3,000 meters on Sunday. With 4.10.62 she was almost fourteen seconds slower than last year at the Olympic Games (3.56.93). "This is really a terrible time," Schouten said NOS. "Maybe I have trouble with those long journeys after all."
Just like last week in Obihiro, the win went to Ragne Wiklund. In the final stage, the 23-year-old Norwegian defeated veteran Martina Sáblíková from the Czech Republic, who took silver: 4.03.41 at 4.04.86. Han Mei wrote history in his own country. The 25-year-old skater rode the third fastest time (4:05.45) and is the first Chinese to win a World Cup medal in the 3 kilometers.
Joy Beune fell just off the podium. The all-round star of Team IKO finished fourth in 4.06.20, a place she seems to have a subscription to in her career. Sanne in 't Hof (4.10.01) was the second Dutchwoman in seventh place.
Marijke Groenewoud was the fastest rider of the day. The Dutch rider rode to victory in the B group early on Sunday: 3.59.34. Japan's Miho Takagi (4:04.77) finished second at the second level and Elisa Dul (4:05.06) finished third.
Result 3 kilometers
1. Ragne Wiklund – 4.03.41
2. Martina Sáblíková – 4.04.86
3. Han Mei – 4.05.45
4. Joy Beune – 4.06.20
7. Sanne in 't Hof – 4.10.01
8. Irene Schouten – 4.10.62
Erin Jackson clearly the best at 500 meters
Leerdam had to accept a setback on Saturday when after eighteen victories in a row came to an end her winning streak in the 1,000 meters. A day later she recovered with a good 500 meters.
The 24-year-old Dutch woman set the third fastest time in the Olympic hall in Beijing with 37.88. She was very close to silver, but her South Korean opponent Kim Min-sun was just faster: 37.85. Erin Jackson was in a class of her own with 37.54. The American also triumphed in the 500 meters on Friday.
Femke Kok finished ninth in 38.57. The world champion is not fully fit; she canceled the first 500 meters in China because she had been in bed with a fever for three days. It was clear to see that the Frisian has not yet fully recovered, but for the World Cup points it was important that she started.
Marrit Fledderus finished sixth in 38.27, while Naomi Verkerk (38.43) achieved the best World Cup result of her career with eighth place.
Dione Voskamp made a big miss at the start. The 26-year-old Dutch woman recovered reasonably well in the full lap, but she did not get further than fourteenth place with a final time of 38.62.
Results second 500 meters
1. Erin Jackson – 37.54
2. Kim Min Sun – 37.85
3. Jutta Leerdam – 37.88
6. Marrit Fledderus – 38.27
8. Naomi Verkerk – 38.43
9. Femke Kok – 38.57
14. Dione Voskamp – 38.62