Online voting aids based on artificial intelligence are springing up like mushrooms. With one you can chat about party programs, with the other you can submit statements to political parties. However, they are not completely error-free.
A few times a week we receive a press release at NU.nl about a new voting aid that works with AI. By OpenElections for example, a website where you choose three parties and present them with statements on topics that you consider important. Or from Choosebot, a chatbot for WhatsApp that allows you to chat as if you were talking to a friend who happens to know all the party programs by heart. There are now a number of them.
It is not surprising that many of these types of chatbots are being created when you consider that artificial intelligence is ideally suited for processing large piles of information. Such as election manifestos, which are often dozens of pages thick. "I don't know anyone who reads all those programs," says AI expert Remy Gieling of AI.nl. "This makes it a little easier to test which parties stand for what you find important."
Political language, but simpler
With the arrival of ChatGPT, for example, it has become clear that AI can explain this information in simple language or summarize it concisely. "The technology is super interesting," says Martin Rosema, who is a political scientist at the University of Twente. "It can be a wonderful application if the AI ​​texts stay close to the content of the programs."
Rosema calls the possibility of having a political text summarized in simple language a nice addition. "This way you can reach a wider audience," he says. "Because not everyone has the language skills to read and understand a party program."
Other AI tools, such as VoiceChat, also work in other languages. For example in Frisian, Limburgish, German, Moroccan or Turkish. A solution for people who are allowed to vote in the Netherlands, but do not speak the language.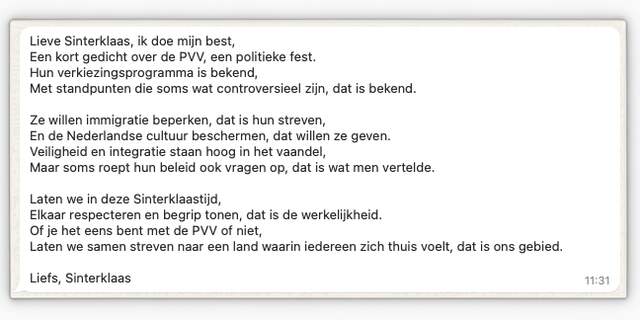 Mistakes can happen, but we don't know how often
It all sounds promising, but the models do not yet work perfectly. For example, Kiesbot reports that Forum for Democracy and JA21 advocate tribunals for politicians in their election manifesto. But neither party mentions this. And OpenVerkiezingen says that the VVD and D66 do not write anything about fireworks bans, even though they do indeed mention it.
Most of the AI ​​applications cover themselves with accountability on their website. For example, OpenElections warns against unexpected behavior. "Always check carefully whether the found and selected paragraph fits your statement and whether the answer sounds reasonable." StemChat also says it is not always completely accurate.
Rosema believes that mistakes can creep in. "A party operator can also be wrong," he says. What makes it difficult is that it is unclear how much noise there is in the systems and how often the errors occur. "That's the bad side of this. And that's why I would never advise anyone to use these tools as a basis on which to base a vote."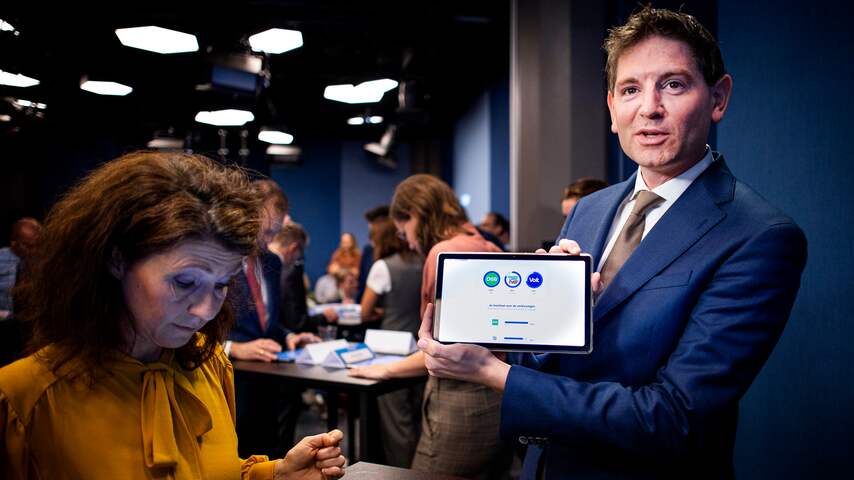 'Election manipulation is lurking'
In this phase, these types of AI voting aids are mainly for people with an excessive interest in politics and AI, Rosema thinks. Yet it is more work than completing a StemWijzer. "The average voter will not want to make that effort," says the political scientist. "But there will be a group of voters, not a huge one, who want to go a little more in depth without going through all the programs."
It is also not always known what language model is behind the chatbots and what information the AI ​​draws from. This makes it difficult to check how the computer arrives at its answers. It is also sometimes unclear who the makers are (and what interests they have).
And then election manipulation lurks, Gieling warns. "Suppose you create a very right-wing conservative language model and you advertise it on social media," says the AI ​​expert. This way, many people can be reached who may not know how the chatbot is set up. "Pay close attention to who the sender is, who the developer is and be aware that a language model can make mistakes."
According to Rosema, it is better to use the well-known voting aids. "It's best to do more than one. Because they all work slightly differently de Volkskrant as an approach to whether political parties have fulfilled their promises from last time. And StemWijzer looks at plans for the future. In addition, don't focus blindly on the top party. Take a good look at which statements you attach most value to, then the second or third party may emerge."